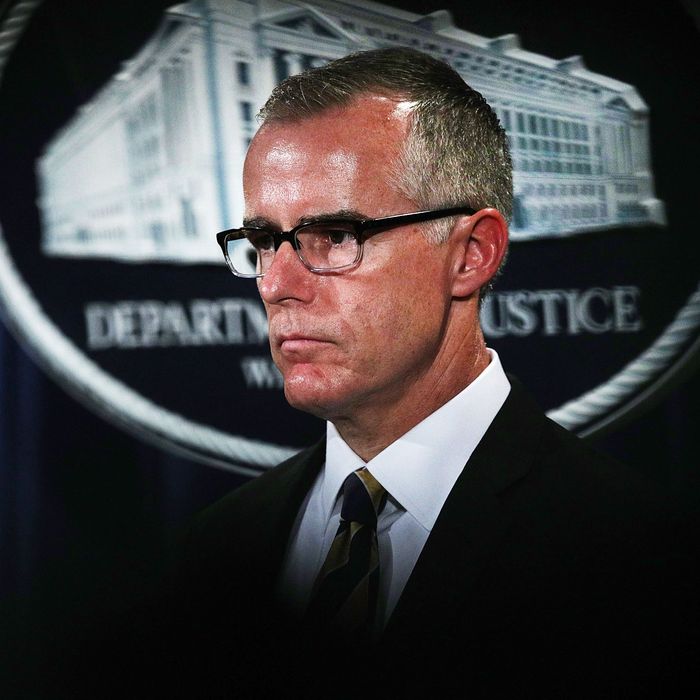 "I've decided to step down to spend more time with my secret society."
Photo: Alex Wong/Getty Images
In a heavy blow to the FBI's (fictional) secret society of cultural Marxists, Andrew McCabe is resigning from his position as the bureau's deputy director.
McCabe was one of the central villains on this season of Hannity. The longtime G-man first earned the right's ire in 2016, when The Wall Street Journal revealed that McCabe had declined to recuse himself from the investigation into Hillary Clinton's email server, despite the fact that his wife had run for the Virginia Senate as a Democrat the year before — and had, during that campaign, accepted political donations from then-Virginia governor Terry McAuliffe, a friend of the Clinton family. (Why Republicans believed that McCabe's wife's political activities rendered him unfit to investigate Hillary Clinton is unclear; Clarence Thomas's wife is a conservative activist, but the GOP has not, to my knowledge, called on him to recuse himself from any cases that implicate her causes.)
After Trump's election — and the appointment of special counsel Robert Mueller — right-wing media began portraying McCabe as the personification of a vast "deep-state" plot to destroy the Trump presidency. Shortly after firing FBI director James Comey, Trump reportedly asked McCabe to tell him who he'd voted for in the 2016 election, and McCabe refused. (CNN subsequently revealed that McCabe had not voted for anyone in that year's general election, but did cast a ballot in that state's Republican primary.)
Trump did not like that insubordination. He was also, ostensibly, unnerved by what his intelligence reports (i.e., Fox & Friends) were telling him about McCabe. And so, he (reportedly) had attorney general Jeff Sessions ask FBI director Christopher Wray to fire McCabe. Wray threatened to resign if McCabe was pushed out.
Last week, the White House made its desire to see McCabe ousted all but explicit. In response to reports of Wray's resignation threat, administration spokesman Raj Shah told reporters that the president "believes politically motivated senior leaders including former director Comey and others he empowered have tainted the agency's reputation for unbiased pursuit of justice," and implored Wray to make "the right choice" and "clean up the misconduct at the highest levels of the FBI."
McCabe was widely expected to retire in March, when he would ostensibly become eligible for full pension benefits. But according to CNN's David Wright, McCabe's decision to bow out early — using his accumulated unclaimed leave time to hit the threshold for retirement benefits in absentia — was a surprise to his peers.
Will Robert Mueller be the next to hear Trump's signature catchphrase? Find out on the next episode of The Autocracy Apprentice.