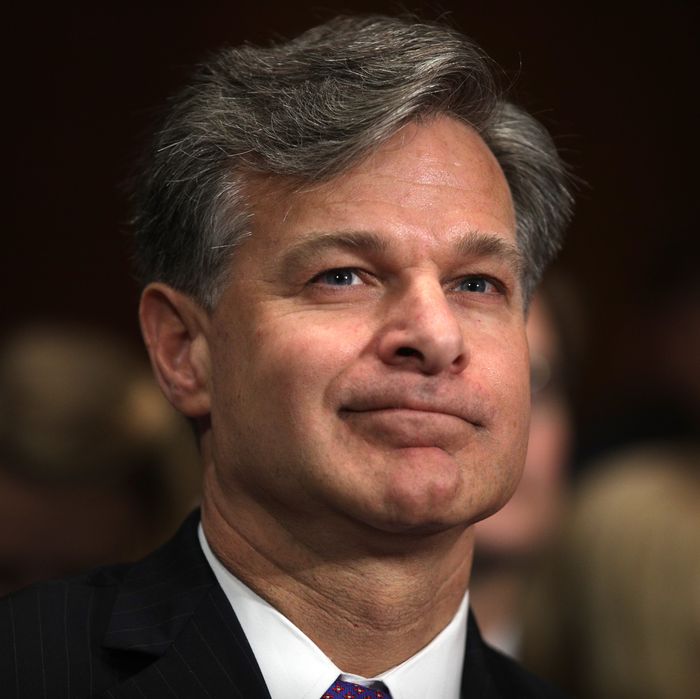 Wray did not immediately cave to political pressure. Huzzah!
Photo: Alex Wong/Getty Images
President Trump has repeatedly demonstrated that he has little to no respect for the independence of the Justice Department, leaving many convinced that it's just a matter of time before he carries out his own Saturday Night Massacre. But the wait might be a bit longer than anticipated. Axios reported on Monday that Attorney General Jeff Sessions has been pressuring FBI Director Christopher Wray to fire Deputy Director Andrew McCabe, but Wray refused, and even threatened to resign if McCabe was removed.
We live in a world where it's no longer shocking that the White House would push to fire top FBI officials for political purposes, but this tells us something about the Trump administration's current thinking, since Wray still has a job.
Over the weekend, Axios reported that Sessions has been pushing Wray — who replaced fired FBI director James Comey — to make a "fresh start" by purging top FBI officials, including McCabe. "The conversations about McCabe and the core team started shortly after Wray was confirmed [in August]," said a senior administration source. "They intensified from there."
Now Axios says Wray conveyed to Sessions that he was fed up with being pressured to fire McCabe. Sessions then conferred with White House counsel Don McGahn, who urged the attorney general to back off, saying it wasn't worth triggering another showdown between the Trump administration and the FBI. The Washington Post backed up much of this reporting, but said the discussions between Sessions and Wray occurred mainly in December. Several sources told the paper that they weren't aware of any explicit resignation threat from Wray.
For those who haven't been keeping track of all of Trump's grudges, his issues with McCabe can be traced back to a Wall Street Journal report that ran shortly before the 2016 election. The paper revealed that in 2015, Virginia Governor Terry McAuliffe recruited McCabe's wife to run for a state Senate seat. McAuliffe's political action committee poured nearly half a million dollars into the race, but she lost. Months later McCabe was promoted to deputy director of the FBI, which meant he helped oversee the investigation into Hillary Clinton's emails. So where's the scandal? McAuliffe, like many Democratic officials, has close ties to the Clintons.
After Comey's firing, McCabe became acting FBI director and gave Trump more substantial, though improper, reasons for wanting him gone. In testimony before the Senate Intelligence Committee, McCabe refuted the White House's claim that Comey had lost the confidence of FBI personnel, and called the Trump-Russia investigation "highly significant."
Over the summer Trump attacked McCabe on Twitter, falsely claiming that his wife received donations directly from Hillary Clinton, and complaining that Sessions hadn't fired him. Right-wing conspiracy theories about McCabe got more fuel last month when we learned an FBI agent was removed from Special Counsel Robert Mueller's investigation for sending anti-Trump text messages to FBI lawyer Lisa Page, with whom he was having an affair. Page worked for McCabe, and one of her texts made cryptic reference to talk of an "insurance policy" in "Andy's office." It appears the officials were merely saying they should continue investigating Trump's Russia ties, just in case he won.
Following reports last month that McCabe is planning to retire in March, Trump posted a tweet that appeared to mock him for waiting until his pension is fully vested. If true, McCabe will be gone in a few weeks anyway, yet White House spokesperson Raj Shah released a statement on Monday night that seemed to say Wray should prove he's unbiased by dismissing "politically motivated senior leaders" like McCabe.
"The president has enormous respect for the thousands of rank-and-file FBI agents who make up the world's most professional and talented law-enforcement agency. He believes politically motivated senior leaders, including former Director Comey and others he empowered, have tainted the agency's reputation for unbiased pursuit of justice,'' said Shah. "The president appointed Chris Wray because he is a man of true character and integrity, and the right choice to clean up the misconduct at the highest levels of the FBI and give the rank and file confidence in their leadership."
While the White House is abandoning all pretense of avoiding interference in FBI operations, there's some good news here. First, Wray appears to be making good on his promise to stand up for the bureau's independence. During his Senate confirmation hearing, Wray said he wouldn't be "pulling punches" as FBI director. "I will never allow the FBI's work to be driven by anything other than the facts, the law, and the impartial pursuit of justice. Period," he said.
If Wray did threaten to quit, it may not be the first time. In 2004, Wray, who ran the Justice Department's criminal division at the time, reportedly told Comey, then the deputy attorney general, that if he and other top officials quit over the George W. Bush administration's use of warrantless wiretaps, he would join them. "Look, I don't know what's going on, but before you guys all pull the rip cords, please give me a heads-up so I can jump with you," Wray reportedly said.
The more surprising news in the Axios report is that Trump officials don't think they can get away with another Comey-esque scandal right now. As Jack Goldsmith and Benjamin Wittes wrote for Lawfare Blog:
… while the situation is fluid and Trump's temperament makes the future impossible to predict, the reality in which Wray holds a lot of cards in his hand may be a stable one. Trump has already fired one FBI Director for standing up to him and defending the institutional integrity of the Bureau. He did not materially improve his position by doing so. Indeed, since it resulted in the appointment of Robert Mueller and Wray himself, it almost certainly worsened it. McGahn seems to be acknowledging in the Axios story that Trump cannot afford to do this again. The power to fire is the power to direct. The unwillingness to fire, however, makes direction impossible. If Wray is not willing to facilitate the politicization of the FBI and the White House doesn't have the stomach to remove him, then a lot its leverage to effectuate the politicization it so apparently desires disappears. Ironically, President Trump has handed Wray this leverage by firing his predecessor and by acting so inappropriately towards the FBI since Wray became its Director.
The Trump administration's fear of triggering a cascade of firings and resignations may also suggest that Mueller's job is safe for now. But as Goldsmith and Wittes noted, you never can tell with Trump. Maybe certain former FBI officials concerned about maintaining the bureau's integrity should refrain from posting tweets that might encourage Trump to challenge it.