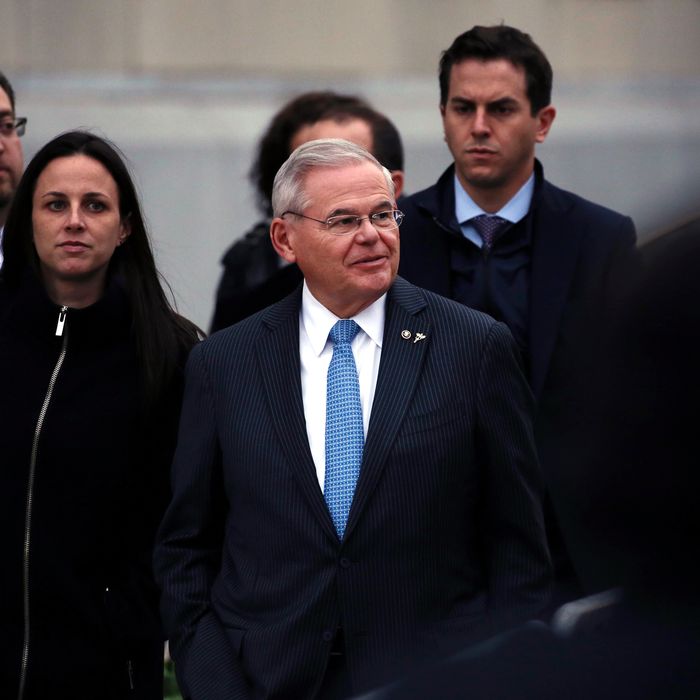 The New Jersey Democrat outlasted his tormenters, it seems.
Photo: Peter Foley/Bloomberg via Getty Images
In a big personal victory for Senator Robert Menendez — and, indirectly, for Democratic hopes of a successful 2018 midterm election — the Department of Justice has formally filed a court motion to drop its corruption case against the embattled New Jersey lawmaker. This action reversed a decision by prosecutors earlier this month to pursue a retrial of Menendez following the declaration of a hung-jury mistrial in November.
The development that seems to have unraveled the case was a federal judge's dismissal of seven of the 18 counts against the senator and his co-defendant, ophthalmologist Salomon Melgen, who was accused of making large campaign contributions and providing extensive perks in exchange for help in a Medicare-fraud case.
"Given the impact of the court's Jan. 24 order on the charges and the evidence admissible in a retrial, the United States has determined that it will not retry the defendants on the remaining charges," said a Department of Justice spokeswoman.
The possibility of a retrial had threatened to disrupt Menendez's 2018 reelection campaign. His approval ratings have already tanked after the extensive media coverage of the original trial, and though most of the experts still rated him as a favorite for reelection (his race was listed as "Likely Democratic" by the Cook Political Report) in his heavily pro-Democratic state, he attracted a primary opponent just a few days ago. The wolf wasn't at the door, but it was in the neighborhood.
Now, Menendez will have some time to repair his standing among voters, while Republicans decide whether it's worth the trouble to find a viable challenger and launch an expensive effort to oust him in a bad year and a bad state for them. Odds are they'll look elsewhere for Senate wins.