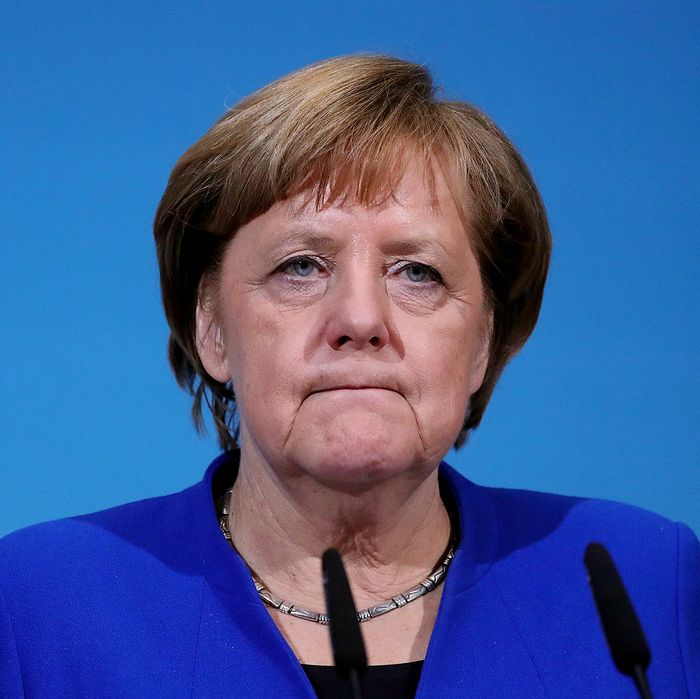 Angela Merkel at a press conference following overnight negotiations at the Social Democratic Party headquarters in Berlin, Germany, on Friday, January 12, 2018.
Photo: Bloomberg/Bloomberg via Getty Images
Germany finally came one step closer to forming a government on Friday, months after an election that saw both of its major parties lose seats, empowered the far right, and left Chancellor Angela Merkel scrambling to assemble a coalition, even as she secured a fourth term in office.
After a week of marathon negotiations, culminating in a nearly 24-hour session from Thursday into Friday, Merkel's center-right Christian Democratic Union (CDU), its Bavarian sister party the Christian Social Union (CSU), and their traditional rivals the Social Democrats (SPD) emerged with a framework for relaunching the "grand coalition" that Merkel presided over after the 2005 and 2013 elections.
The SPD had originally ruled out reforming the grand coalition after September's elections, but reconsidered after Merkel's first attempt to form a coalition with the environmentalist Green Party and the neoliberal Free Democratic Party fell through. "At a time when [German] society is drifting apart, we wanted to hold the society together," SPD chairman Martin Schulz said after the preliminary deal was announced on Friday.
One downside to the grand coalition is that it leaves the right-wing nationalist Alternative for Germany (AfD), which made a surprisingly strong showing in September's polls, as the largest opposition party, giving it a number of advantages including public funding and leadership roles in some parliamentary committees. The AfD, the closest thing to Nazis to win seats in the Bundestag since the actual Nazis, ran a racially inflected populist campaign that capitalized on widespread anxieties about the influx of refugees and migrants from the Muslim Middle East, which the AfD said were threatening both Germany's national security and its national identity.
Friday's breakthrough is just the first phase of the coalition process; the leaders must now get their parties to sign off on the framework. For the Social Democrats, that means putting it to a vote next Sunday among their entire membership, who are likely to balk at some of the compromises it contains. That puts Schulz in the delicate position of persuading his party to form another government with Merkel after having vowed never to do so again.
If those talks fall through, the only options are for Merkel to form a minority government (meaning she will have to assemble a separate partnership with one of the other parties for each and every legislative initiative), or for President Frank-Walter Steinmeier to call new elections. Neither of these options is desirable.
Merkel remains remarkably popular for a head of government who has been in power for a dozen years: A recent survey found that 65 percent of Germans consider her a good chancellor, while 70 percent associate her with stability. In that same survey, however, two-thirds said her best days were past, 75 percent said they favored renewal within the CDU, and 45 percent said they'd be comfortable with her handing over power to a successor before her fourth term is up.
Part of Merkel's problem is that she represents a waning generation of political leadership whose preference for moderation and incremental progress is being rejected in favor of bold new ideas on both the right and the left. German voters flocked to smaller parties in September, particularly the AfD and FDP, while the Greens and the Left made gains among younger voters.
Younger members of Merkel's own conservative party have been urging her step aside, while a rising generation of leaders is waiting in the wings to succeed her. The most talked-about potential successor is 37-year-old Jens Spahn, an openly gay man who has criticized Merkel from the right on immigration issues. Another name that comes up is Ursula von der Leyen, the current defense minister, whose positions are more liberal.
The other mainstream parties are also looking at generational transitions: CSU chairman Horst Seehofer is handing the Bavarian premiership over to Markus Söder, 18 years his junior, while many Social Democrats are looking to oust their leader Martin Schulz after their disappointing performance in September.
One of Merkel's weaknesses, political analyst Paul Hockenos observes in an op-ed for CNN, is that her trademark style of governing relies heavily on her own person: "[A] tenet of Merkelism is that there is no alternative to Merkel herself." Hockenos dings Merkel for pushing aside potential rivals within the CDU, leaving the party with a shallow bench and herself with no obvious successor.
If the ongoing negotiations succeed, the new grand coalition will be a fractious one: The SPD intends to stick to its left-wing guns on social welfare and tax policy to differentiate itself from its strange bedfellows, while the CDU and CSU are poised for a rightward course correction from Merkel's liberal refugee policy, with a wary eye on the AfD. Major points of contention still exist among the three parties on how to handle the refugee crisis, reform the European Union, and fund Germany's social safety net.
Considering that these would-be partners ran on diametrically opposed platforms on these issues, it is remarkable that they reached any kind of deal in last week's talks; unfortunately, that also means the coalition will be hard to hold together and unable to do anything especially big or bold.
That's bad news for Merkel, for Germany, and for Europe as a whole, as there are numerous pitfalls facing the E.U. in the year ahead. French President Emmanuel Macron has been pushing for large-scale reforms to strengthen European integration on issues like migration and defense, as well as creating fiscal and monetary policy mechanisms for the entire Eurozone to protect member states against economic shocks.
This proposed overhaul can't succeed without the support of Germany, the largest economy in Europe and the de facto leader of the E.U. The union's very integrity is in doubt without some heavy-duty reforms, so the stakes here are extremely high. At the same time, both Macron and Merkel are under pressure to prove the value of the E.U. to their voters in the face of insurgent, Eurosceptical right-wing nationalists.
In an encouraging sign, Berlin and Paris are set to begin talks on these issues this week, before Germany's new government is fully formed up. Yet these are not the only challenges facing the E.U. this coming year: Brexit must still be negotiated, democracy is backsliding in Eastern European countries like Poland, and Russia is taking advantage of the prevailing political malaise throughout the continent.
Merkel's steady hands are not well suited to shaking things up and whether the grand coalition negotiations succeed or fail, her next government is going to be weak, politically vulnerable, and in a tough position from which to act on big ideas. The coming year may well determine whether she is remembered as the leader of the free world in these anxious times, or as the one who let Europe fall apart.