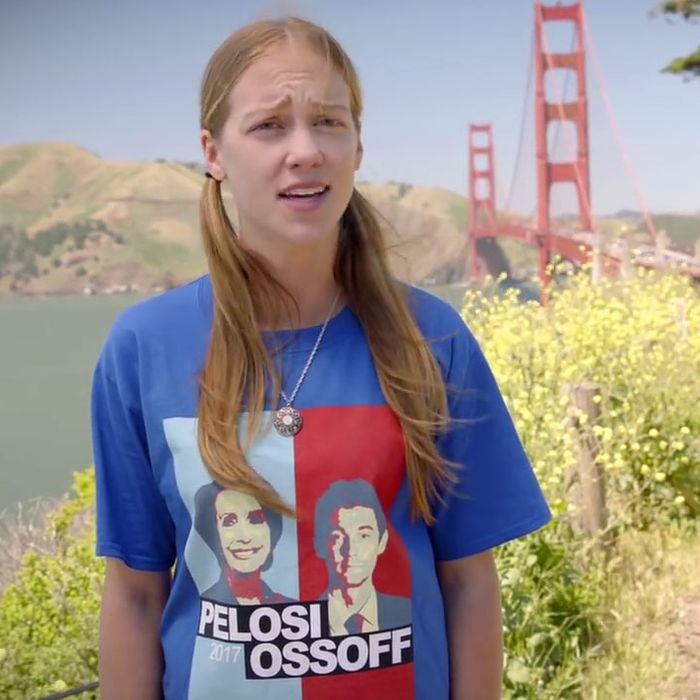 Georgia Republicans bestirred themselves to go out and vote for Karen Handel to stop Nancy Pelosi from controlling their lives. Could it work elsewhere?
Photo: Congressional Leadership Fund
Looking back at what was generally a disastrous 2017, Republicans view Karen Handel's come-from-behind special-election runoff win in GA-06 as a bright spot. Sure, no Democrat had won in this district since the Carter Administration, but given Donald Trump's relatively poor 2016 performance in GA-06, and the money and excitement generated by Handel's opponent Jon Ossoff, it was at the least an epic dodging of a bullet.
What Handel seems to have done especially well is to mobilize Republican voters without getting too cozy with the Visigothic president many of them were still wary of. And one of the key devices that she and her outside-group moneybags supporters deployed was to repeatedly remind GOP voters that Ossoff was a stooge of Nancy Pelosi and the satanic baby-killing sodomites of sinful San Francisco. Who can forget this classic ad?
For your average old white Deep South Republican voter, this ad was like a Red Bull–laced shot of Geritol. It's got hippies; it's got minorities; it's got military-hating lefties; and it's got the famously gay-friendly City by the Bay front-and-center. Ossoff couldn't be One of Us, because he was One of Them. And if it's impossible to prove it worked, it didn't seem to hurt, as Handel won thanks to strong GOP turnout.
Now it seems that nervous House Republicans facing an increasingly likely Democratic wave this November are looking to Handel for advice and inspiration, as reported by Politico:
Rep. Karen Handel (R-Ga.), appearing at a closed-door conference meeting Wednesday morning, discussed how she won in a tough environment, defeating Democrat Jon Ossoff last June in a special election that gained national attention as a referendum on President Donald Trump …




Handel, who ran largely on an anti-Pelosi platform, won by almost 4 points, saving Republicans from an embarrassing loss of a seat they'd controlled for nearly 40 years …




Leaders believe that Handel's success shows that Republicans can win — even as Trump's approval ratings remain underwater. Her campaign proved to Republicans that they can tie Democratic candidates to unpopular party leaders, even in districts where Hillary Clinton ran roughly even or ahead of Trump in 2016. Handel, for instance, frequently suggested Ossoff would be a "puppet" of Pelosi and her "San Francisco values."
Tying red-state Democrats to blue-state celebrity Democrats is, of course, an old tactic, which probably reached its zenith in the days when no GOP fundraising screed was complete without a reference to Barney Frank. But the Pelosi-bashing could achieve similar levels this year, particularly after this new development:
She might be more familiar with democracy, but top House Democrat Nancy Pelosi is soon going to show her expertise on a certain kind of monarchy: The California congresswoman is slated to appear as a guest judge on RuPaul's drag-queen competition show "Drag Race All Stars."




Yep, the former House speaker will be sizing up the runway action as Mama Ru's bewigged ladies strut their stuff in search of the coveted crown.
Some scenes from this preview may already be under development as snippets in GOP attack ads:
You may not think that in this day and age that going after Pelosi for appearing on an Emmy Award–winning reality show would make a lot of sense, particularly if the sponsors are allies of the grab-em-by-the-va-jay-jay chief executive. And that may be what they decide. But you have to remember the target audience for these anti-Pelosi ads: hard-core Republicans who need extra motivation to go out and vote against some blow-dried, moderate-sounding Democratic House candidate. Many conservative older white men, in particular, probably object to RuPaul's very existence, while regarding Trump's sexual antics as a parody of scenes from an early Rat Pack movie.
We can be certain that even now focus groups are being assembled to test that proposition. And in any event, San Francisco's unsavory image among conservatives has only gotten worse after the acquittal last month of the immigrant charged with Kate Steinle's murder. Without question, voters in close House races will be shown images of San Francisco and told more than once that the Democrat is "one of them."