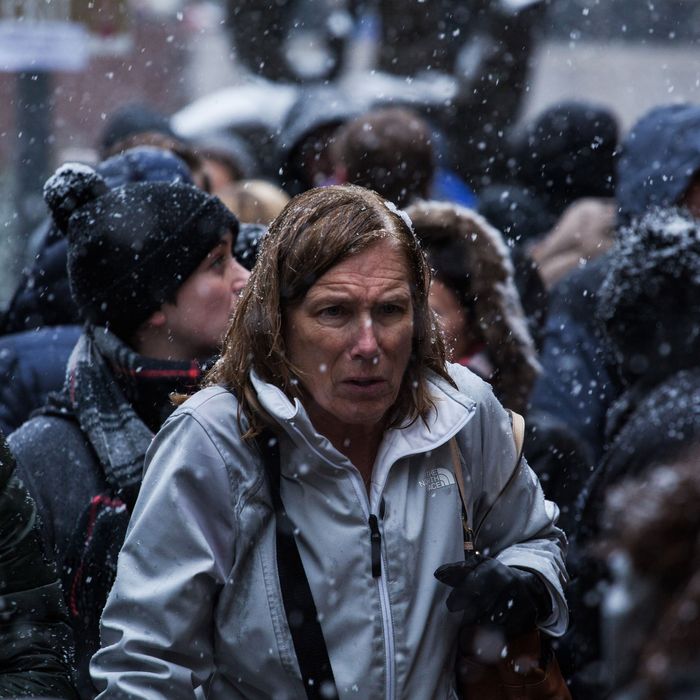 Photo: Konstantin Sergeyev
The bitter cold that has gripped much of the U.S. for the past week is about to get worse, and the East Coast will bear the brunt of it.
The National Weather Service on Wednesday warned of "snow, ice, rain, strong winds, and tidal flooding" from the southeast U.S. to New England as a storm described as a winter hurricane batters the Eastern seaboard.
And if a winter hurricane doesn't sound bad enough, then how about "bomb cyclone"? That's the term used to describe a winter storm that has undergone "bombogenesis," which happens when a storm's pressure falls by 24 millibars in 24 hours. This storm's minimum central air pressure is expected to drop from 998 millibars Wednesday to 950 millibars Thursday, making it roughly equivalent to Hurricane Sandy, Mashable's Andrew Freedman explains:
In general, the lower the air pressure, the stronger the storm. Storms of this intensity are extremely unusual in this part of the Northwest Atlantic Ocean Basin when compared to climate records during the past 30 years. Hurricane Sandy, which had tropical characteristics, ruling it out as a direct comparison, had a minimum central air pressure of 946 millibars when it made landfall in New Jersey in October 2012.
The storm has already started dumping snow on northern Florida, where schools and some sections of the highway were closed after a 0.1 inch accumulation in Tallahassee.
As it moves north, the storm will leave behind more and more snow. Forecasters are calling for a record-setting five-and-a-half inches inches in Savannah and five to eight inches on the beaches of Virginia and Maryland. New York City could be hit by six inches overnight, while Boston could be hit with a foot of snow.
But that's just part of the trouble that lies ahead. Winds will also be whipping through at speeds as high as 70 miles per hour in New England. In coastal areas, that means an increased chance of flooding as sea levels rise as much as 30 inches and threaten roads and basements, the National Weather Service says.
The threat won't just come from rising waters. Ice chunks could also be blown in from the ocean and wreak havoc on land.
With all the wind, snow, and rising waters come a risk of power outages, which could be devastating given the historic cold gripping the Northeast. The Weather Service has warned that power outages "would force considerable hardship where heat would not be available."
The concern is particularly acute in New England, where temperatures are breaking records. And after the "bomb cyclone" hits on Thursday, it's expected to get even colder. Wind chills on Friday could dip as low as -35, leaving those without power in a desperate situation. The nationwide cold snap has already taken the lives of 11 people. The "bomb cyclone" is poised to make it worse.