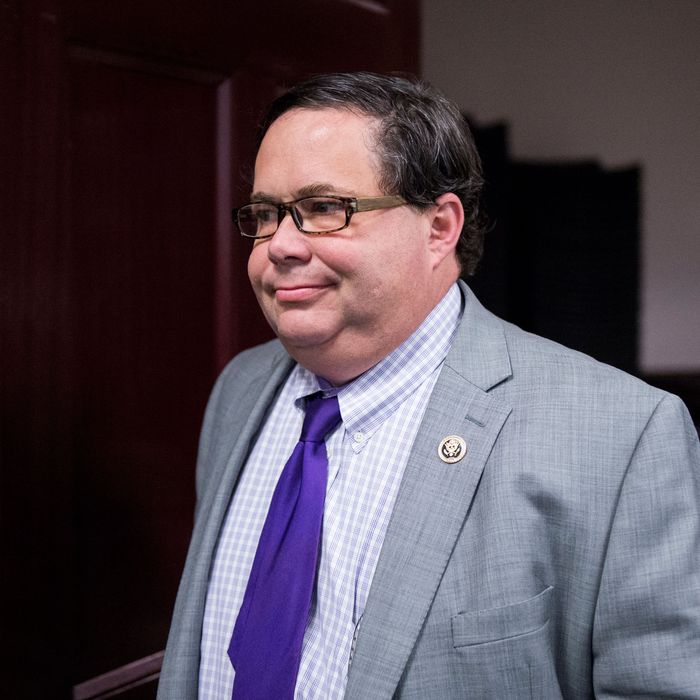 Representative Farenthold allegedly told a staffer to show her nipples around the office.
Photo: Bill Clark/CQ-Roll Call,Inc.
Blake Farenthold, the Texas congressman who promised to pay back the $84,000 of taxpayer money used to settle a sexual-harassment lawsuit against him is now holding the money hostage.
In early December, Farenthold admitted to using a little-known fund to pay off his former communications director, who accused him of encouraging her show her nipples at work, among other transgressions. Farenthold denied her claims but settled the suit in 2015. And when the information became public, he promised to pay the taxpayers back.
"I want to be clear that I didn't do anything wrong, but I also don't want taxpayers to be on the hook for this," Farenthold told a Corpus Christi TV station. His plan was to take out a personal loan, he added, with the intention of giving House Speaker Paul Ryan a personal check within days.
A month later, the check still hasn't been delivered. Farenthold, who has said he won't run for reelection this year, is waiting to see what, if any, changes are made to the Congressional Accountability Act (CAA) before keeping his word, CNN reports.
The CAA is the 1995 law that created the Office of Compliance, which has paid out $17 million in the last 20 years to settle workplace complaints in Congress.
Some members of Congress have called for changes to the secretive office in light of recent revelations. California Representative Jackie Speier, who has introduced a new bill that would amend the handling of congressional workplace complaints, told Face the Nation in November that the office enables abuse.
"We have a system in place that allows for the harasser to go unchecked. Doesn't pay for the settlement himself and is never identified. So the Office of Compliance, to which a victim must apply or complain, is a place that has really been an enabler of sexual harassment for these many years because of the way it's constructed," Speier said.
Maybe Farenthold agrees with her and is eager to see the same changes before paying back his money. Given his alleged history though, that doesn't seem likely.