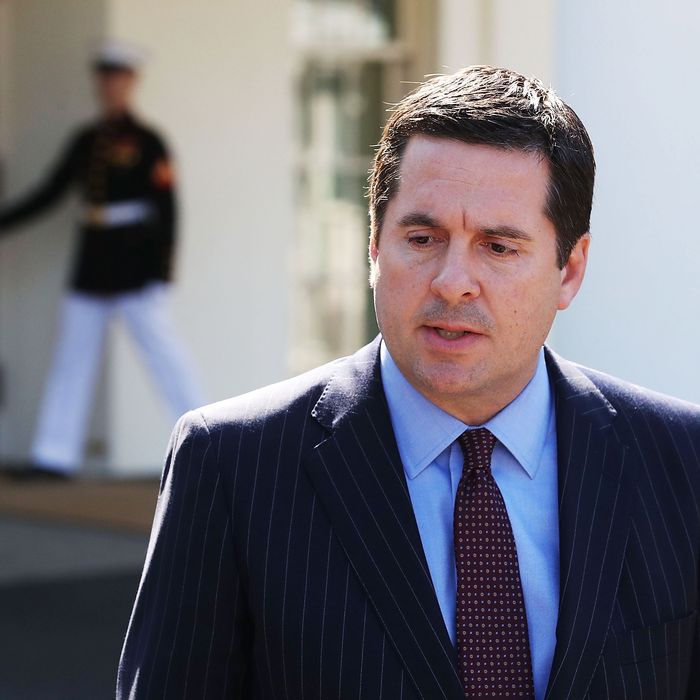 Now I can finally learn what I'm trying to hide.
Photo: Mark Wilson/Getty Images
Republicans on the House Intelligence Committee have decided that they must release a document compiled by committee chairman Devin Nunes, which appears to be aimed at bolstering President Trump's claims that the probe into his campaign's ties to Russia are bogus — for the good of the American people, of course.
Members of the Republican-controlled committee voted on Monday to release a classified four-page memo written by Nunes and his staffers that is said to use information from Justice Department documents, informants, and whistle-blowers to suggest that top FBI officials directing the Russia probe were biased against Trump. Specifically, it alleges that when seeking a warrant for the surveillance of Trump campaign adviser Carter Page, DOJ and FBI officials did not make it clear to a Foreign Intelligence Surveillance Court judge that much of their information on him came from the infamous Steele dossier, which was financed by the Democratic National Committee and Hillary Clinton's campaign.
While Obama administration officials initially sought to surveil Page, the New York Times reported on Sunday that Deputy Attorney General Rod Rosenstein approved an application to extend that surveillance. It appears Rosenstein's use of information from the Steele dossier is meant to lay the groundwork for Trump to dismiss him and put someone more "loyal" in charge of the Russia probe — though all this actually shows is that under both Obama and Trump, the DOJ found reason to suspect Carter might be working as a Russia agent.
In recent weeks Republican lawmakers have whipped the #ReleaseTheMemo campaign into a frenzy on the right, though they had the ability to make the document public at any time.
"It's just so bizarre to watch Republicans calling for releasing the memo as though the power to release it is within the hands of anyone other than themselves," Glenn Greenwald, co-founder of the Intercept, told Vox. "I mean, they're holding a document that only they can release, while pretending to be advocating for its release. It's a bizarre spectacle."
Republicans on the House Intelligence Committee did break new ground, as the panel has never before used its power to declassify a memo they wrote. Now the White House has five days to review the document and potentially block its release, but that seems unlikely. Trump reportedly erupted in anger when he learned that DOJ officials were trying to keep it classified, arguing that releasing it would be "extraordinarily reckless."
Democrats who have read the memo say it's misleading because it cherry-picks facts to create a false impression of DOJ malfeasance. They note that even if all the information in the Steele dossier had been discredited — which is not the case — officials would have needed additional intelligence to obtain a FISA warrant. There are concerns that the document's release could jeopardize those other sources. Democrats drafted their own memo, which is said to be a point-by-point rebuttal to the Nunes document. The committee voted to make it available to the full House, but decided that memo should not be released to the public without further review.
"We have crossed a deeply regrettable line on this committee," said Representative Adam Schiff, the panel's top Democrat. "We had votes today to politicize the intelligence process, to prohibit the FBI and the Department of Justice from expressing their concerns to our committee and to the House, and to selectively release to the public the majority's distorted memo."