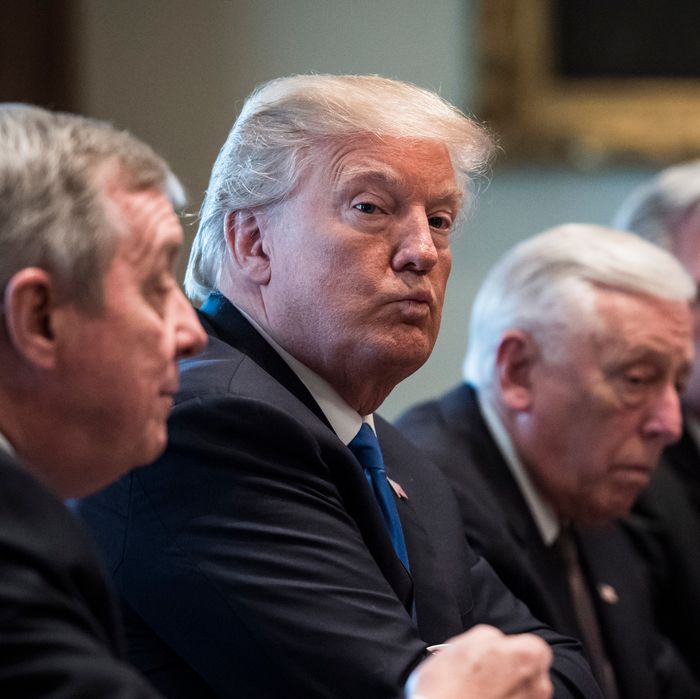 Trump tells lawmakers that he'll sign whatever immigration deal they give him, two days before rejecting their immigration deal.
Photo: The Washington Post/The Washington Post/Getty Images
In recent years Congress has become accustomed to the constant threat of government shutdown, but no president had openly called for one until President Trump tweeted in May that perhaps "our country needs a good 'shutdown.'"
Like so many things that appear on Trump's Twitter feed, bringing the federal government to a grinding halt did not become official White House policy. Yet thanks in part to the president's inability to refrain from complaining about the number of people who immigrate to the U.S. from "shithole" countries, we're now closer to a shutdown than we have been at any point during this administration.
Here's a guide to how we got here, and what needs to happen to avoid a shutdown at midnight on Friday, January 19.
Why does Congress have to act by Friday?
By the time the new fiscal year starts on October 1, Congress and the president are supposed to enact 12 appropriations bills that fund the government's discretionary programs. Despite threatening once again to shut down the government if he didn't get funding for his big, beautiful border wall, in September President Trump cut a deal with "Chuck and Nancy" for a continuing resolution, which would keep the government funded at current levels through early December.
While budget negotiations have been underway for weeks, Congress was unable to reach an agreement while fighting over Trump's tax cuts, so they pushed this and many other issues off to 2018. Congress wound up passing two more continuing resolutions, leaving us with January 19 as the new shutdown deadline.
Are they close to a spending deal?
Senate Majority Leader Mitch McConnell claimed it was possible in early January, saying, "I am optimistic that we can begin 2018 with a bipartisan, two-year funding agreement that meets several critically important objectives."
Both sides want to lift spending caps on defense and domestic programs, remnants of the 2013 sequester that could trigger an automatic $6 billion in cuts this fiscal year. However, Republicans are calling for an increase in defense spending, while Democrats say that should come with an equal boost for domestic spending.
"There is no reason why funding for our national security and our service members should be limited by an arbitrary political formula that bears no relationship to actual need," McConnell said during his first remarks on the Senate floor in 2018.
Complicating matters further is the possibility that other issues pushed into 2018, such as funding for disaster relief and the Children's Health Insurance Program, will be addressed in the spending bill.
Last week House Speaker Paul Ryan suggested negotiations probably wouldn't be wrapped up by January 19, and on Monday the Washington Post reported that Republicans are now looking to pass another continuing resolution, which would probably last until mid-February. "Even if we had a deal, which we don't, there's no time left to draft it," said a senior Senate Republican aide.
Can't they just change the deadline again?
Yes, but it's unclear if a continuing resolution would pass this time. Defense hawks have been sounding the alarm about the effects of stopgap measures on the military, saying the budget unpredictability endangers troops and their mission.
Any funding measure will require the support of nine Senate Democrats, so the party suddenly has leverage despite not holding power in Congress or the White House. Many have threatened not to vote for a short- or long-term spending measure that doesn't address the nearly 800,000 undocumented immigrants protected by the Deferred Action for Childhood Arrivals program.
What does this have to do with immigration?
Republicans hoped to keep the two issues separate, but many Democrats see this as their best chance to address the crisis President Trump initiated in September when he announced that he was ending DACA.
Before a federal judge blocked Trump's order earlier this month, DACA was set to end in March (and despite the federal injunction, Dreamers are still living in limbo). Trump had called on Congress to come up with a legislative fix, and though the White House was never clear on what exactly he was willing to sign, last week a bipartisan group of lawmakers came to him with a deal. It involved giving Dreamers a path to citizenship, in return for border-security funding that could have gone toward Trump's wall.
Trump seemed happy with the agreement when Democratic Senator Dick Durbin described it on the phone, and he invited Durbin and Republican Lindsey Graham to the White House, according to the Washington Post. But when they arrived, they were surprised to find Trump sitting with immigration hardliners like Republican Senator Tom Cotton. Afraid that "Graham and Durbin would try to trick Trump into signing a bill that was damaging to him and would hurt him with his political base," administration officials had called lawmakers to the White House so Trump would be surrounded by conservatives.
The ploy worked — possibly too well. With GOP lawmakers urging him on, Trump rejected the bipartisan deal, saying it needed to be far more conservative. Then while discussing immigrants from Haiti, El Salvador, and African countries, he asked, "Why are we having all these people from shithole countries come here?" and suggested the U.S. should take more people from places like Norway. "Why do we need more Haitians?" he reportedly commented, "Take them out."
As one GOP Senate aide put it, President Trump "dropped a grenade into the middle of everything."
The impact of Trump's "shithole" remark.
Throughout the long weekend, the national conversation focused on whether or not the president said something racist, not the underlying policy issues.
Republican Senators David Perdue and Tom Cotton, who were in the meeting, claimed they didn't hear Trump say "shithole" (but perhaps he said "shithouse"). Senator Durbin stood by his accusation, and Senator Graham made a dig at his GOP colleagues, saying, "My memory hasn't evolved. I know what was said, and I know what I said."
Meanwhile on Twitter, Trump accused Durbin of destroying any chance for a DACA deal, and using the issue as an excuse to shut down the government:
While Republican Senator Jeff Flake insisted that "Democrats are negotiating in good faith," Trump's remarks probably did embolden Democrats to fight for DACA, even if it sparks a shutdown.
It was already widely assumed that since Republicans control Congress and the White House, they would take most of the blame for a shutdown. While Democrats have been under tremendous pressure from immigration advocates, they had worried that pushing the issue could derail their 2018 prospects, particularly in states that voted for Trump. Now they're far more confident that voters will see the president who (probably) said something racist about immigrants as the reason for the DACA impasse.
"To believe that you can successfully blame Democrats for a shutdown over the DACA debate is naïve," Senator Graham told the New York Times.
At least three groups of lawmakers are still trying to hammer out a DACA deal. Representatives Mark Meadows and Bob Goodlatte said they're amending a conservative immigration bill backed by many other House Republicans, but it's unlikely to pass in the Senate.
GOP aides have more faith in the efforts of four deputy leaders from both chambers: Senators Durbin and John Cornyn, House Majority Leader Kevin McCarthy, and House Minority Whip Steny Hoyer. And Graham is still pushing the plan that Trump rejected.
"I expect that we'll get more Republican support for the proposal because it's really the only game in town. I expect there will be more negotiations — we didn't write the Bible," Graham said Monday. "We wrote a proposal that over time we can make it better."
The big question now is whether Democrats can remain united. The Post reports that Republicans are considering attaching funding for the Children's Health Insurance Program to force them into backing a continuing resolution that doesn't include DACA protections.
Some Democrats were already opposed to the deal Durbin and Graham presented, and as Senator Claire McCaskill told the Times, there are divisions within her party on how hard to push on immigration issues.
"We've got people running for president all trying to find their base, and then you've got people from Trump states that are trying to continue to legislate the way we always have — by negotiation," McCaskill said. "And never the twain shall meet."
Of course, the biggest X factor in the shutdown fight may be which Donald Trump shows up to the next immigration discussion. Two days before rejecting the bipartisan deal, he basically told lawmakers that he'd sign whatever they put in front of him.
"I told him that the President Trump that showed up Tuesday is the one that can lead the country on multiple levels," Graham said. "I think the president realizes that it takes a bipartisan solution. But you're not going to get a deal by tweeting, you're going to get one by talking."