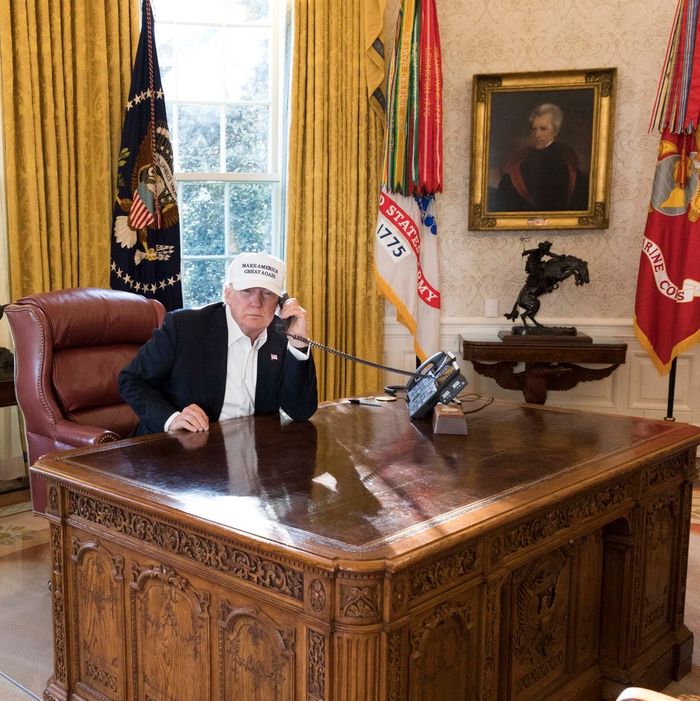 President Trump holding a phone in the Oval Office during the government shutdown.
Photo: White House
Just like that, our short national nightmare is over.
The Senate overwhelmingly voted yes on Monday afternoon to reopen the government until February 8 after a three-day shutdown that consisted mostly of Democrats and Republicans pointing fingers at each other.
Democrats had ostensibly declined to approve a short-term spending bill on Friday in order to force a vote on DACA before the government reopened. They caved on that demand, but they did get a six-year extension of the Children's Health Insurance Program and Mitch McConnell's vow to very possibly allow a vote on DACA — for whatever that's worth. If McConnell reneges on his word, we could be back in shutdown-land again very soon.
See how the deal is playing in the updates below:
1:35 p.m. The Paul Ryan Problem
After getting Mitch McConnell's sacred word, Democrats are confident a DACA bill will pass the Senate. But what about the House? A similar bill would likely pass there, but Speaker Paul Ryan has shown no enthusiasm in putting one up for a vote. If the Senate does advance a bill, he will be under an enormous amount of pressure from Democrats and perhaps the public, which in poll after poll has shown it does not want to see Dreamers deported. But relying on Ryan to cave is not necessarily where Democrats wanted to be at this stage.
1:10 p.m. McConnell's Spotless Record of Trustworthiness
12:51 p.m. Did Democrats Get Hosed or Not?
Many liberal lawmakers and activists have already expressed displeasure at the shutdown-ending deal, since it hinges only on Mitch McConnell's word to hold an immigration vote. But there are more optimistic takes out there:
12:46 p.m. Democrats Voting No Have Something in Common
12:44 p.m. Progressive Activists Not Thrilled Either
12:40 p.m. Progressive Senators Not Thrilled
Democrats are reopening the government on Mitch McConnell's assurances that the Senate will vote on DACA in the next two weeks. Unsurprisingly, this isn't good enough for liberal lawmakers who were hoping that their caucus would stand a little firmer, or at least for a little longer:
12:21 p.m. Schumer Makes It Official
12:07 p.m. Let the Democratic Recriminations Begin!
11:40 a.m. Intra-Party Tensions on Both Sides
As the Senate prepares for another vote to end or continue the government shutdown, the prevailing mood of partisanship disguises some significant intra-party tensions.
Five Democrats voted with Republicans on Friday's night's big Senate vote. Mitch McConnell would need at least six more to get the 60 votes needed to end a Democratic filibuster and reopen the government. At this point, that would require a rebellion by the centrist Democrats who have been working with Lindsey Graham and the handful of other Senate Republicans who are seeking to resolve the crisis with or without McConnell's cooperation.
That Democrats are having to worry about a centrist revolt is actually a reminder that the intraparty tensions in the Senate that so many observers anticipated going into the Trump presidency largely have not appeared, at least since the vote to confirm Neil Gorsuch as a Supreme Court Justice. So far Senate Democratic solidarity has held.
Meanwhile, there is a Republican intra-party rift at the very center of the congressional impasse. The assurances over an immigration debate that Democrats are demanding from McConnell depend on cooperation from Paul Ryan, who in turn is wrestling with a nativist faction in his own caucus that is aligned with Stephen Miller and John Kelly in the White House.
These fissures may ultimately matter more than the more obvious partisan divisions that continue to be on full display.
11:15 a.m. Robert Mueller Is Not Being Furloughed
Buzzfeed reports that Special Counsel Robert Mueller's office is not affected by the government shutdown. That's because it's funded by a permanent, indefinite appropriation, which also covers "other Justice Department sections that support the special counsel's work."
The DOJ is generally not as hindered by the shutdown as other federal departments; about 83 percent of its workforce, which comprises 95,000 people, will still be able to go to work, thanks to a contingency plan adopted last year.
10:30 a.m. Even the Voicemail Is Partisan
All of Washington is engaged in a blame game over the government shutdown, and that includes the voicemail system at the White House, which is spinning madly:
"Thank you for calling the White House," the voicemail begins politely enough.




Then it adds:




"Unfortunately we can not answer your call today because Congressional Democrats are holding government funding including funding for our troops and other national security priorities hostage to an unrelated immigration debate. Due to this obstruction, the government is shut down."
This being a government office, the voicemail text shows some restraint by not adopting the "obstructionist losers" label for Democrats that was featured in a White House press release when the shutdown began. Maybe that's next.
10:15 a.m. The White House Wants More Than a Wall
9:30 a.m. The End Is Probably Not Near
1:15 a.m. Weekend Ends for Federal Workers, But Break Is Just Beginning
While congressional leaders had hoped to resolve the shutdown before anyone really noticed, now it will affect hundreds of thousands of federal workers heading back to work on Monday. During the last shutdown 800,000 people were furloughed, but there's no official count of how many employees will be sent home without pay this time. Even worse, some federal workers were not told whether their jobs were deemed "essential" on Friday, so they might be heading to the office only to be sent home.
Washington, D.C., and the surrounding area will be hit particularly hard. According to the Washington Post, a quarter of the region's workforce of 3.2 million people could be affected, and it could lose an estimated $200 million per day in productivity.
11:55 p.m. Shutdown Not As "Good" As Trump Expected
The shutdown already forced President Trump to give up his inauguration-anniversary party at Mar-a-Lago on Saturday night, and if it doesn't end soon it's going to ruin his trip to Davos too. An unusually high number of Trump administration officials were planning to schmooze with other rich and powerful people in the Swiss Alps this week, but Politico reports the entire trip is now in question. "It would not look very good to have a bunch of senior people in Switzerland if the government is still shut down," a senior administration official noted.
The shutdown is also hampering preparations for Trump's State of the Union on January 30. Advisers had urged the president to adopt a more bipartisan tone in the speech, but that won't work if Congress is in day 11 of a bitter showdown. At least Trump has a lot of time to think about it.
10:10 p.m. Vote Delayed As Talks Continue
Hopes that the shutdown might be confined to the weekend were dashed when Senate Majority Leader Mitch McConnell pushed the next vote from 1 a.m. to noon on Monday, and adjourned for the night.
Senators will be voting on whether to end debate on a measure being negotiated by Senate moderates that involves funding the government through February 8 and a promise from GOP leaders to vote on an immigration bill before then. HuffPost explains:
McConnell said it was his intention for the Senate to finish, "as quickly as possible," a large appropriations deal that would address spending and disaster relief, as well as continue negotiations on border security and protections for young undocumented immigrants at risk of losing deportation protections after President Donald Trump rescinded the Deferred Action on Childhood Arrivals program, or DACA.




"However," McConnell said, "should these issues not be resolved by the time the funding bill before us expires on February 8, 2018 — assuming that the government remains open — it would be my intention to proceed to legislation that would address DACA, border security, and related issues."
This commitment to address immigration in the coming weeks could be crucial. Senators Lindsey Graham and Jeff Flake, two of the four Republicans who voted against Friday's continuing resolution, said they would support the three-week deal.
However, McConnell would need the support of seven Democrats too, and Minority Leader Chuck Schumer said his caucus isn't there yet. "We have yet to reach an agreement on a path forward that would be acceptable for both sides," he said. Negotiations are expected to continue on Monday morning.
One major roadblock: Earlier on Sunday House Speaker Paul Ryan said that while a bill to fund the government through February 8 was acceptable, the House would not vote on an immigration bill unless it was supported by the president and included a "comprehensive" approach.
Some Senate Democrats suggested they'd need Ryan to commit to an immigration vote in the House, too. In 2013 the Senate passed a bipartisan immigration bill, but the House never voted on it.
"It depends on whether it's part of a must-pass bill. That is my strong preference. The goal is to have the [DREAM] Act passed," said Democratic Senator Richard Blumenthal. "I have no confidence, zero, in Paul Ryan bringing that bill to the floor."
9:30 p.m. Fashion Furlough
Casual wear was spotted throughout the Capitol over the weekend, as some lawmakers embraced the shutdown chaos and others felt the consequences of packing light. "People are starting to run out of clean clothes," Representative Mike Quigley told The Wall Street Journal.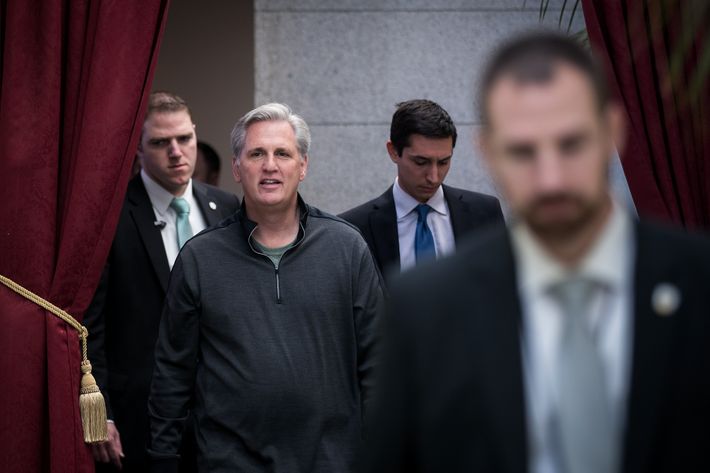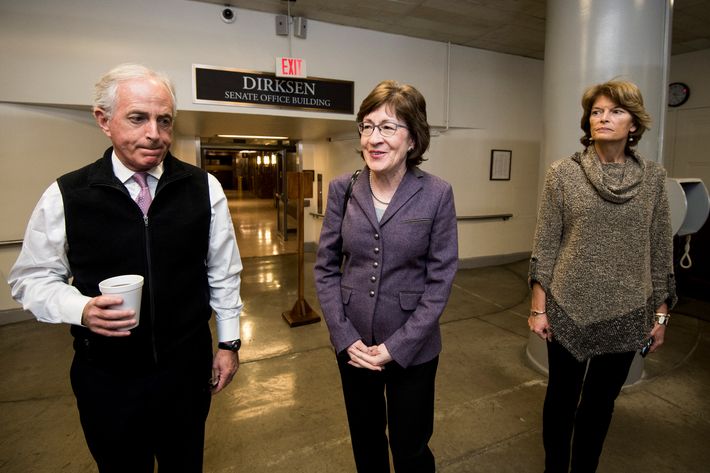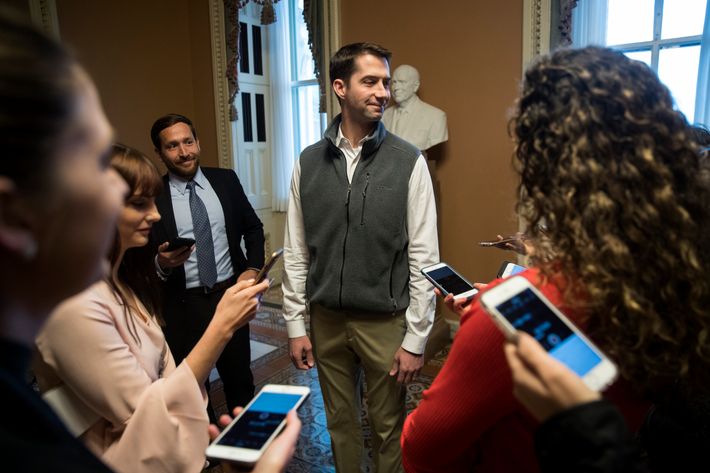 6:30 p.m. Another Shutdown Letdown?
As of mid–Sunday evening, the shutdown looks likely to remain in effect for the start of the workweek on Monday. That's despite a meeting between Mitch McConnell and Chuck Schumer and some bipartisan semi-optimistic buzz about a continuing-resolution compromise.
A post-midnight deal remains possible, but it's not yet clear how, as there is still no agreement in place.
It also remains unclear how or why Democrats would trust GOP promises about allowing that vote, or how House Republicans would respond.
5 p.m. Mano a Mano
4 p.m. Statue of Liberty to Reopen
After a two-day closure, New York governor Andrew Cuomo said the state would step in to make sure visitors can return to Lady Liberty on Monday, even if the federal shutdown drags on.
2:15 p.m. Lindsey Graham Goes After 'Outlier' Stephen Miller
Republican Senator Lindsey Graham spoke with reporters on Sunday afternoon and expressed optimism that a deal to end the shutdown would come together soon, even teasing a breakthrough on Sunday night. He also made a point to go after President Trump's senior policy advisor, Stephen Miller, for being a destructive influence on the process:
Graham had also cricitized Miller, though not by name, in a CNN interview last week. "There are people in the White House who are outliers," he told anchor Dana Bash on Thursday. "There are people around the president who have an irrational view of immigration. They always have, and if you follow that lead we'll never get anywhere."
In the same interview, Graham also questioned White House chief of staff John Kelly's ability as a dealmaker. Reports have circulated that Kelly has taken on the primary role in negotiating with lawmakers on behalf of the White House, a responsibility that may include convincing Trump that his own dealmaking is insufficient. To Graham, Kelly may not be irrational like Miller, but Kelly's also "never closed a deal before."
Graham, like Senate minority leader Chuck Schumer, appears to be attempting to use the media to cajole President Trump into taking total control of the White House's shutdown negotiations. Their colleagues may not all agree with that idea:
1:45 p.m. Schumer: 'Only Trump' Can End the Shutdown
Senate Minority Leader Chuck Schumer continued to ding President Trump's ego on Sunday, noting on the Senate floor that "only Trump" can stop the "Trump shutdown":
Schumer also told CNN on Sunday that he will not support a three-week continuing-resolution stopgap, nor would he support a small deal. "We need a good bipartisan agreement that allows us to get a good defense number, get a good non-defense number, get a vote on the Dreamers bill and get that done, and deal with the disasters, too," the senator said.
1:00 p.m. A February 8 Compromise?
A bipartisan group of moderates in the Senate is reportedly meeting in the hopes of providing a compromise plan to fund the government through February 8, which would involve a commitment from GOP leaders to hold an immigration vote before then. Politico reports that, according to one unnamed senator, "the moderate group does not want the Senate to vote on any particular immigration proposal but instead on 'whatever can get 60' votes." Whether an immigration vote would also be possible in the House is far from certain.
A Senate vote on a bill to reopen the government through February 8 is already scheduled for 1:00 a.m. Monday, but there is no sign that it will be successful as of midday Sunday.
12:00 p.m.: How Bad Is the Stalemate?
It still looks pretty bad. As of Sunday morning, Schumer hadn't spoken to President Trump or White House chief of staff John Kelly since Friday. Schumer and Trump had apparently worked out some kind of deal on Friday — including all the funding for Trump's border wall — but it was blocked by Kelly, likely at the urging of GOP leaders in the Senate and Freedom Caucus members in the House.
In other words, unlike previous administrations, this White House and this president are not one and the same, and GOP leaders in Congress clearly have little faith that Trump is capable of negotiating in their best interests. If Trump has little power to agree to anything, it's not clear what value there is in appealing to the president at all. Though the White House literally promoted the image of Trump being hard at work on Saturday, the New York Times reports that he has been effectively sidelined and spent the day anxiously watching cable news and worrying about perceptions of his leadership while Kelly worked with GOP lawmakers. White House legislative director Marc Short claimed on Sunday that shutdown talks are underway and making progress.
As NBC's Kasie Hunt points out, this probably means that party leaders in the Senate will be the central players if any kind of deal is to be reached in the next 24 hours.
In the end, Democrats may seek only a promise from McConnell to let an immigration deal make it to the Senate floor. But that doesn't mean the deal will make it through either chamber or past the president. And there's enough evidence to theorize that Republican leaders will never accept a compromise on DACA at all, which might be one reason they're not enthusiastic about negotiating.
Then again, some D.C. insiders who spoke to Axios think that both parties are just using the shutdown to throw chum to their respective bases and will come together for an inevitable deal, both declaring victory after a few days. We'll see.
11 a.m.: Marc Short: White House Not Involved With Deranged Ad
White House director of legislative affairs Marc Short told Chuck Todd on Meet the Press that the White House had nothing to do with a commercial released Saturday accusing Democrats of being complicit in murders committed by illegal immigrants.
But …
Only this White House would try to spin the president's reelection campaign as an "outside group."
10 a.m.: Cotton Says Trump's Support Not Enough to Vote for Bill
Arkansas senator Tom Cotton, one of the most right-leaning voices on immigration, said on Meet the Press that President Trump's support for a compromise to reopen the government would not necessarily guarantee his vote.
His comments illustrate the stubbornness of immigration hard-liners in Congress and the Oval Office, who have consistently yoked President Trump to the right, even when he has been eager to make a deal.
7:40 a.m.: Trump Wants to Abolish the Filibuster, McConnell Says No
The president has long professed his desire to get rid of the filibuster, one of the rare points of agreement between him and many liberal commentators. (Though much of his agenda has only needed 50 votes to get through because of budget-reconciliation rules, the spending bill needs 60.) He again tweeted his displeasure with the rule on Sunday morning:
But in a statement, Senate majority leader Mitch McConnell said, "The Republican Conference opposes changing the rules on legislation."
7:30 a.m.: Eric Trump Is Loving the Shutdown
Appearing on Hillary Clinton stalker Jeanine Pirro's show Saturday night, Trump's younger son said he thought the shutdown was politically beneficial for Republicans: "Honestly, I think it's a good thing for us." That's the spirit!
7:00 a.m.: An Incredibly Sad Detail From the Oval Office
What does Monday have in store? Find out in the updates below.