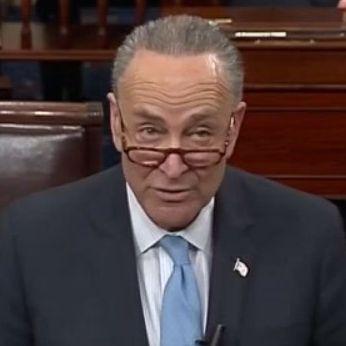 Chuck Schumer does his best to make his retreat look like a defeat for Donald Trump if not a win for Democrats.
Photo: C-SPAN
The 2018 government shutdown is ending after lasting for what amounts to a long weekend. What changed? Nothing much, actually. Just before a midday vote on a stopgap funding bill, Democratic Senate Minority Leader Chuck Schumer announced an "arrangement" with Mitch McConnell whereby he would support the bill in exchange for a commitment to hold a debate and vote on an immigration deal with Democrats having the opportunity to offer their own proposals.
It is unclear at this point whether Schumer's shift is the product of a decision to beat a strategic retreat from Friday night's hard-line position, or was forced by "centrist" Democratic pressure to cut a deal and end the impasse. Either way, it is largely being panned as a "cave," particularly since McConnell's assurances on an immigration vote are (a) largely procedural, and (b) aren't binding on the House or the White House.
The new spending bill (which the House is expected to approve later today) will extend government funding until February 8. It includes a six-year extension of funding for the Children's Health Insurance Program. If you look at the bill in isolation from the dynamics of how it was enacted, it's certainly not a bad deal for Democrats:
It is unclear whether Senate Democrats will stay together on spinning this development. Sixteen of them voted against the measure (along with Republicans Mike Lee and Rand Paul, who generally oppose stopgap spending bills); other than Dianne Feinstein and Jon Tester (who was focused all along on the absence of community health funding in the bill), these dissenters were from the progressive wing of the Senate Democratic Caucus. It will also be frequently noted that potential 2020 presidential candidates Cory Booker, Kirsten Gillibrand, Kamala Harris, Bernie Sanders, and Elizabeth Warren all voted "nay," presumably agreeing with what will likely be the progressive activist reaction to the "cave."
It is possible that another and more definitive confrontation will arrive just before the funding in this bill expires. If so, Republicans will enter the next potential shutdown crisis with their chief hostage, CHIP, having already been released. A very large political wild card is whether by then Democrats can made the fight "about" Dreamer protections that sizable majorities of Americans support, rather than their use of a shutdown as leverage. The intervening period could also provide multiple opportunities for conflict within the GOP over immigration policy, and for more strange and erratic behavior from the White House.
So the greater meaning of the brief government shutdown we've just experienced remains to be determined. For the moment, however, it sure looks like Chuck Schumer and a majority of Senate Democrats stared into the abyss of shutdown politics, and blinked.