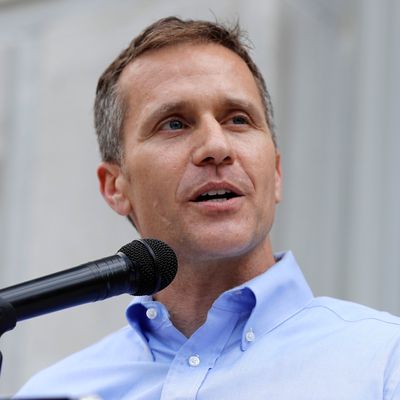 Greitens at a rally in Jefferson City, Missouri, on May 23, 2017.
Photo: Jeff Roberson/AP
Eric Greitens, the Republican governor of Missouri, has what National Review once called "an astonishing, almost too-good-to-be-true résumé": former Democrat, Rhodes scholar, Navy SEAL, founder of a nonprofit group that aids veterans, and best-selling author. At 43 he's currently the second youngest governor in America, and he hasn't done much to hide his presidential ambitions, visiting Iowa and registering the website "EricGreitensForPresident.com" back in 2009.
That might have been a bit premature. On Wednesday night Greitens admitted to having an affair following a report by St. Louis CBS affiliate KMOV. Considering the current occupant of the White House, that might not be a career-killing admission, but there's more: Greitens has been accused of taking a nude photograph of the woman without her consent, and suggesting he would use it to blackmail her. He denied that claim, via his attorney.
The story broke hours after Greitens, who was elected in 2016, delivered his State of the State address. KMOV aired a recording, said to be taken days after the woman's initial encounter with Greitens in March 2015, in which she confesses to her then-husband. It was provided by the ex-husband, whose wife did not know she was being recorded. The woman has not spoken about the story on the record, and KMOV did not name her or her ex-husband.
In the recording, the woman says she met Greitens when she was hired to cut his hair, and "had a big crush on him." She said she initially refused when he invited her to his house, suggesting that they get coffee instead, but he told her, "I can't, I can't be seen with you. This is wrong."
She agreed to come to his house, and that led to a sexual encounter, which was initially consensual. She tells her husband:
He said: "I'll make you feel better. I'll make you feel good. Come downstairs. I want to show you how to do a proper pull-up." And I knew he was being sexual and I still let him. And he used some sort of tape, I don't what it was, and taped my hands to these rings and then put a blindfold on me.
She continued:
I didn't even know. I feel like I don't even know. I was just numb. I just stood there and didn't (expletive) know … He stepped back, I saw a flash through the blindfold and he said: "You're never going to mention my name, otherwise there will be pictures of me everywhere."
She said Greitens later apologized, claiming he'd deleted the photo, and they had another sexual encounter later in that day.
"He took a picture of my wife naked as blackmail. There is no worse person," the ex-husband told KMOV. "I think it's as bad as it gets, it's as bad as it gets when someone takes advantage of something."
He and his wife tried to reconcile, but filed for divorce in March 2016. He said he wanted to get in front of the story because law enforcement and members of the media had started contacting his family, including his daughter. "I am not after anything, I am not a part of politics, I am not a part of anything, I just want to move on with my life," he said.
Greitens and his wife Sheena responded with the following statement, which only addresses the affair:
A few years ago, before Eric was elected Governor, there was a time when he was unfaithful in our marriage. This was a deeply personal mistake. Eric took responsibility, and we dealt with this together honestly and privately. While we never would have wished for this pain in our marriage, or the pain that this has caused others, with God's mercy Sheena has forgiven and we have emerged stronger. We understand that there will be some people who cannot forgive — but for those who can find it in your heart, Eric asks for your forgiveness, and we are grateful for your love, your compassion, and your prayers.
Sheena Greitens released this additional statement:
We have a loving marriage and an awesome family; anything beyond that is between us and God. I want the media and those who wish to peddle gossip to stay away from me and my children.
The Greitens' attorney, James Bennett, denied the blackmail allegation late on Wednesday night. "There was no 'blackmail,' and that claim is false," Bennet said. "This personal matter has been addressed by the governor and Mrs. Greitens privately years ago when it happened. The outrageous claims of improper conduct regarding these almost three-year-ago events are a lie."
The Kansas City Star and the St. Louis Post-Dispatch said they had received the woman's recorded confession, but initially opted not to report it because she declined to be interviewed and said she wanted no part of the story. Her attorney told KMOV, "No comment."
"With the governor's reliance on secretive dark money, his alleged destruction of public records, and overall lack of transparency, deception has been a key part of Eric Greitens's administration," said Democratic House Assistant Minority Leader Gina Mitten. "This story further undermines his credibility."
"We must end the culture of corruption," she wrote. "I'm calling on Governor Greitens to resign immediately and give Missouri the opportunity to restore some dignity to the governor's office."
Republican State Senator Rob Schaaf tweeted "Stick a fork in him."