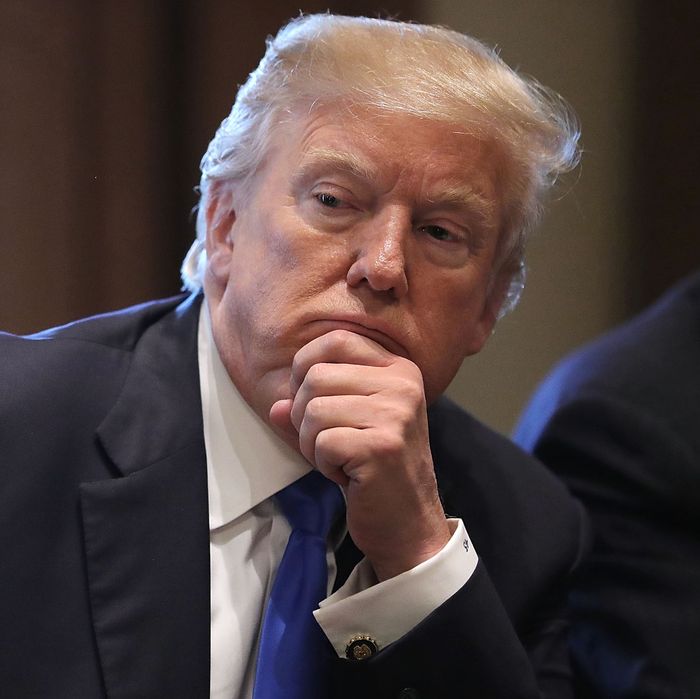 I'm pretty sure I never said that.
Photo: Chip Somodevilla/Getty Images
As part of his ongoing effort to prove he's "a very stable genius" and "like, really smart" following the release of a book that portrays him as the exact opposite, on Tuesday afternoon President Trump held a televised meeting with members of Congress on the topic of immigration.
This did not go as planned. The most notable moment was when Trump responded with enthusiasm to Democratic senator Dianne Feinstein's suggestion that they pass a "clean" bill making the Deferred Action for Childhood Arrivals program permanent. House Majority Leader Kevin McCarthy quickly jumped in to remind Trump that Republicans don't want to protect DACA recipients without getting some border-security measures (or maybe even a big, beautiful wall) in return.
But that's not what one might take away from the exchange if, for some reason, they opted to read the transcript released by the White House. The Washington Post's Ashley Parker noticed that the line where Trump agrees with Feinstein's proposal — saying, "Yeah, I would like to do it" — is "curiously missing" from the document.
When the Post asked about it, a White House official "said that any omission from the transcript was unintentional and that the context of the conversation was clear."
Surely, this was all an honest mistake. Video of the meeting is widely available online, so it would be a bit silly to try to mitigate Trump's mistake in the official record. Plus, there's absolutely no evidence that Trump has ever denied remarks that were caught on tape, or tried to convince people that their memory of something they saw with their own two eyes wasn't accurate.