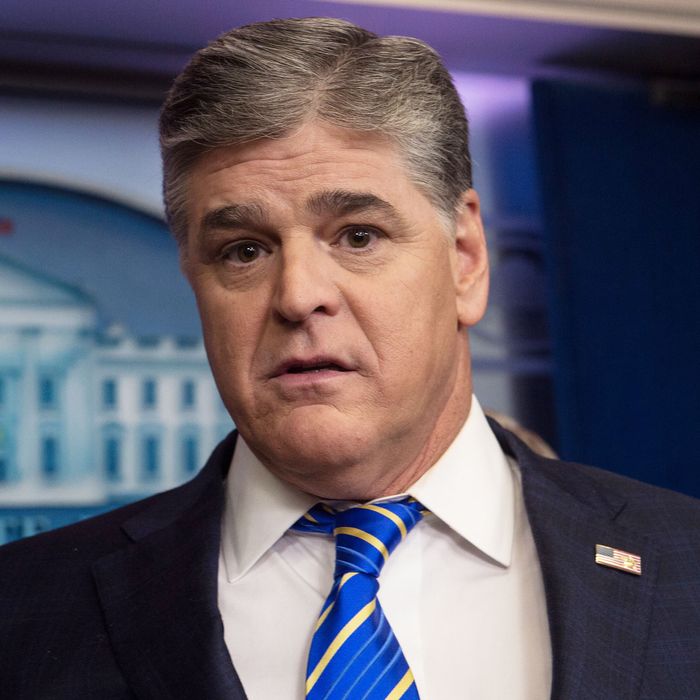 No puppet.
Photo: Nicholas Kamm/AFP/Getty Images
Sean Hannity, President Trump's most prominent water carrier in the right-wing media universe, couldn't quite figure out how to downplay a Thursday-night report in the New York Times that President Trump attempted to fire Special Counsel Robert Mueller back in June.
Hannity's first well-worn tactic: Blame the mainstream media.
"The New York Times is trying to distract you," Hannity intoned near the beginning of his hour-long Fox News show. "How many times has the New York Times and others gotten it wrong?"
But 40 minutes later, a sheepish, but not sheepish enough, Hannity was back on the Mueller beat, this time exercising a second well-worn tactic: Explaining away Trump's behavior, no matter how extreme, as justified.
"We have sources tonight confirming to [Fox News correspondent] Ed Henry that yeah, Donald Trump wanted to fire the special counsel for conflict. Does he not he not have the right to raise those questions? You know, we'll deal with this tomorrow night."
With that, Hannity pivoted to a video of high-speed car chase in Arizona —  just the kind of distraction he loves to accuse others of employing.
(One of the "conflicts" Hannity was referring to, it's worth pointing out, involved golf fees at one of Trump's clubs.)
The host's indifference to reports of Trump's radical plan was echoed by other reliable Trump defenders:
On the Fox News website Friday morning, the Mueller news was presented with the parody-like headline: "Trump Denies trying to fire Mueller; Obama-Farrakhan photo kept hidden for more than a decade." Later, a more traditional story appeared, which reported that Trump may not, technically speaking, have directed Mueller to be fired.
From Davos, Trump himself called the Times report "fake news," and members of cabinet weren't eager to talk about it. Fox and Friends, President Trump's favorite TV show, didn't even feign interest:
And there was nary a peep from Republican lawmakers, some of whom were once so alarmed about the possibility of Trump firing Mueller that they discussed legislation to prevent that possibility.
Since those days, the Republican Party has largely come to terms with Trump's authoritarian impulses on the matter.
On Friday morning, Hannity seemed to justify his behavior with a typically bizarre tweet that raised an obvious follow-up question: