Last week, Amazon put up one hell of a lightning deal: AirPods, for just $20! That's a pretty good deal considering a fresh, new pair of Apple's wireless earbuds would usually cost you $160 — and an incredible deal considering the discount that Amazon was offering, $980 off of the list price of $1,000.
The deal, brought to our attention by Splinter's Libby Watson, seemed too good to be true. Surely, this 98 percent discount on one of this holiday season's hottest tech items wasn't just a marketing tool used to move cheap Bluetooth earbuds made in and sold wholesale from China. After all, the steep discount was a featured Amazon Lightning Deal, a section of the site that the retail giant takes seriously, where deals pop up and you have to act fast or miss out on those savings forever.
The one big catch with these earbuds is that is was actually an earbud — you only got one. The right earbud, to be specific.
It's not tough to see what's going on here. Before its Amazon account was suspended (as it currently appears to be), electronics brand Hhusali was probably able to move a decent amount of fake AirPods. Or, as its official product listing describes them, "Bluetooth Earbud, Wireless Earbud In-Ear headphones Earpiece Earphone for iphone 8, 8 plus, X, 7, 7 plus, 6s, 6S ,and Android Phones."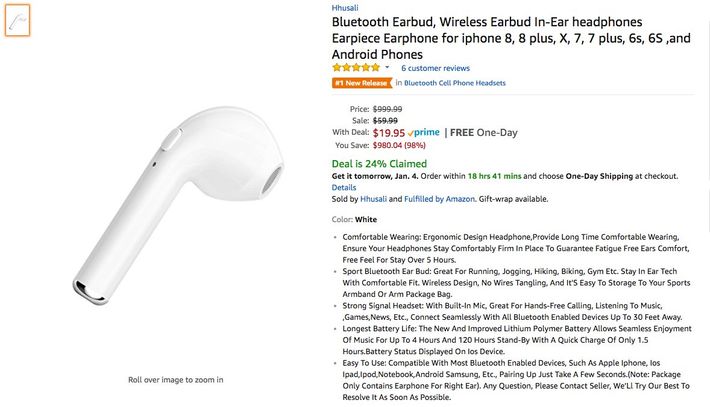 Also helpful for enticing prospective customers were the totally real and not fake reviews offered up by supposed buyers. "So far so good, these have done better. Honest review," wrote definitely real person Dean S. Hillyer in English, his native language.
"Nice item. Pretty product. I'm happy with our purchase," Lisa Kaouss noted, her odd use of plural pronoun implying that she would be sharing her singular earbud with someone else.
Others were less than amused, with many buyers complaining that they had expected two earbuds, which is a totally reasonable expectation.
One buyer, Michael Valle, had this to say:
THE EARBUDS LOOK GOOD THE ONLY PROBLEM WHEN YOU TURN IT ON IT SPEAKS CHINESE, WHEN YOU GET A CALL IT READS THE NUMBER IN CHINESE ALSO IT HAS A LOT OF STATIC
He gave it four stars.
The actual product being sold is known as the i7 earbud (version 4.1). While Hhusali's listing is gone, for obvious reasons, you can still find it listed by other sellers for similar prices. They tout the earbud's call-handling capabilities with musical copy such as "Hidden microphone to advanced technology for noise cancellaion [sic], in order to get high quality speech input."
If you search for the i7 on Alibaba, the Chinese equivalent of Amazon that also allows distributors to buy in bulk, you can find dozens of listings for i7 earbuds, all of which sell for prices in the single digits per piece. If you bought one straight from Alibaba, you could up that 98 percent discount to somewhere like 99.4 or 99.6 percent.
So at least a few people got taken for a ride by a perfect storm of deceptive practices on Amazon's marketplace platform, combined with dirt-cheap white-label products from a Chinese OEM. At least two of those ersatz AirPods, however, were purchased by intrepid tech bloggers here at Select All.
This is the Select All review of the Hhusali i7 earbud.
We were unable to find any specs listing the frequency response for the Hhusali i7 earbud, a measure of how well the earbud can reproduce high and low tones, so we have only our limited listening tests to go by. On Kendrick Lamar's "All the Stars," and Steely Dan's "Aja" the bass response was both muddled and muted. High-end sounds were either tinny, overly sharp, or badly distorted. Midrange vocals came through somewhat more clearly, but began to distort when the volume increased even slightly — even the relatively sedate vocals on Big Thief's song "Mythological Beauty" suffered from severe distortion when slightly increased in volume. The best metaphor we came up with for the sound quality was about what you'd get while being placed on hold with your cable company. You can clearly make out the song, but you're not getting much of the details.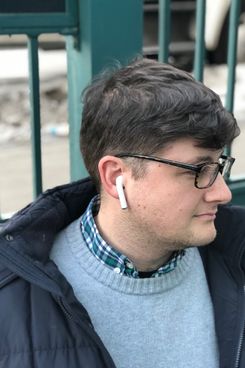 There was no noise cancellation for the earbud itself, a somewhat baffling design choice for an earbud sold and meant to be worn in only one ear. Volume overall was extremely low — even at full volume, the earbud simply didn't get that loud. This may be due to its relatively high speaker impedance of 32 ohms — we'd suggest in future versions perhaps lowering that number to something more like 25, even if it means sacrificing some battery life. Similarly, there was no Dolby Atmos support, and spatial separation was completely nonexistent. If you're looking for a single right earbud for movie night, the Hhusali i7 isn't it.
Ad copy found on the Amazon page says the Hhusali i7 earbud has "Build-in HD Mic and DSP intelligent noise reduction, CVC 6.0 noise cancellation to improve the quality of voice calls, enables you to call clearly at any place." DSP here likely means digital signal processing, while CVC may refer to a suite of algorithms developed by Qualcomm to help with ambient-noise cancellation.
Unfortunately, in real-world testing, the Hhusali i7 did not hold up well. When calling someone in a quiet office, we were able to hear the person on the other end of the line quite clearly, but were told that sound picked up by the Hhusali i7's mic sounded "weird" and "a little echoey, almost like you're underwater." Perhaps Hhusali needs to consider that further refinement is needed both in DSP intelligent noise reduction and CVC 6.0 noise cancellation.
We have to give the Hhusali i7 points for simplicity in control and design. The earbud fits firmly in your right ear — a vigorous head shake didn't dislodge the i7. Pairing is initiated by powering on the earbud and holding the single button on the earbud down. (A heads-up: Be careful to not double-click during this step, as it's possible to set the earbud's spoken language to Chinese — as noted by reviewer Michael Valle above.) Once you're paired, a single button press begins playing music, and another button press pauses it. If you get an incoming call, pressing the button once picks up, and pressing the button twice hangs up the call. Pressing the button for five seconds turns the earbud off altogether.
However, there did not seem to be an automatic shutoff function for the Hhusali i7 — a shame considering that it only has about three to four hours of battery life. There's also the somewhat baffling design decision to have the earbud continuously flash blue while in use, which is both distracting to those around you and at least a small drain on its battery life. There's also no low-battery warning for the earbud — when the battery is drained, it simply stops working.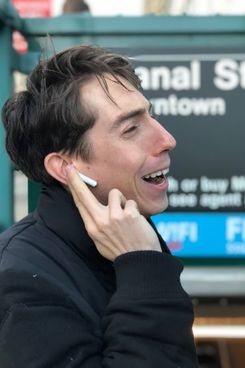 The earbud uses the Bluetooth 4.1 standard with Enhanced Data Rate. Indoors, we found that the headphones had a range of about ten meters with few obstructions. However, while later testing at our desk, we experienced several drops in audio — perhaps due to the interference of nearby Wi-Fi antennas or other radio signals. Out on the streets of Manhattan, sound quality degraded much further — the i7's effective range dropped to about one meter.
As promised, the i7 was also able to connect to two separate devices at once. However, despite buying two Hhusali i7 earbuds, there is no way to use both at the same time. The right earbud easily falls out of the your left ear when right-side up. It fits a bit better if you put the earbud in upside down, but the larger issue is that nearly every phone and device on the market only allows one Bluetooth audio device to be connected at a time. If you thought you could simply buy two Hhusali i7s and experience sound in both ears (we did), you're in for a rude awakening.
The earbud sports a solid 60 mAh battery for three to four hours of active battery life, but is charged by a USB 2.0-A to DC5V-2a power cable — an extremely obscure type of charger. Losing the single Hhusali i7 earbud would be bad enough, but losing the power cable may be even worse — it's not easy to find these things.
In the end, our experience with the Hhusali i7 earbud was "pretty bad." "It's really dumb that we did this" was a common sentiment, as was "Will the company reimburse us for this?" (Answers to that last question are, as of yet, not forthcoming.) There are plenty of other wireless earbuds that you could buy for a similar price that don't sound like listening to a concert from inside of a swampy Dumpster a quarter-mile from the venue. Also, you'd get one for each ear.
Overall, we'd say the Hhusali i7 is a 7.3 out of 10.
Pros
Amazon discount was $980 off — great savings!

The blue flashing light on the earpiece makes it ideal for urban bikers — motorists are sure to see you! Plus, you'll have one ear completely open to the sound of traffic

They do actually play music and pair to devices using Bluetooth

Did not, during testing, actively shock or otherwise harm us

Feels good to support a young upstart company like Hhusali compared to the monolith that is Apple
Cons
Only one earbud

Bad sound quality

Not actually Apple AirPods

Really obscure and hard-to-find charger that no other product you own will ever use

Can't pair them together on your phone to form a working set of earbuds

Cost us $20