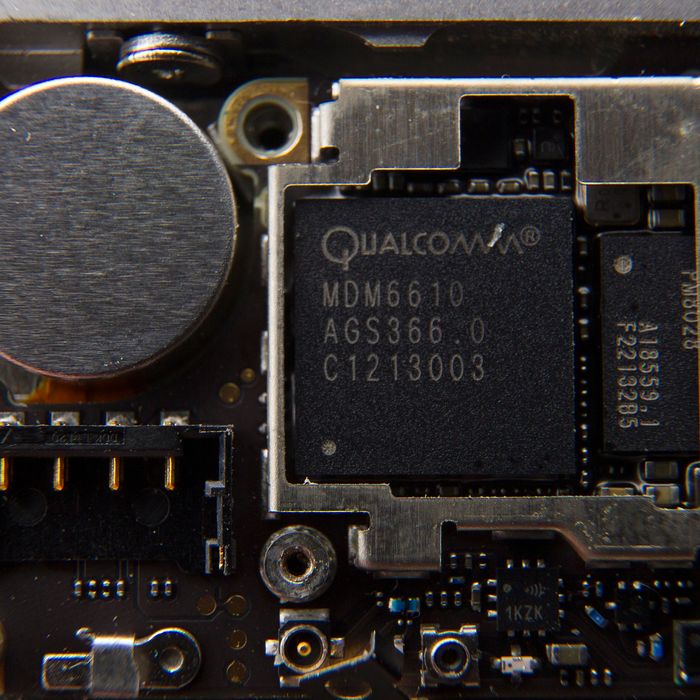 A Qualcomm baseband processor sits inside an iPhone 4S.
Photo: Brent Lewin/Bloomberg via Getty Images
There's a good chance you haven't heard of San Diego–based company Qualcomm. Or if you have, it's only as one of a list of brand names mentioned when reading about smartphones — it makes the Snapdragon processor found in nearly every major Android phone, and its modems, which allow your cell phone to grab data over the air, were found in every iPhone until the iPhone 7, and are still heavily used by both Apple and Android manufacturers. There's a near certainty that you own or owned something with a Qualcomm chip inside of it.
But you'll probably hear the name Qualcomm today. The European Commission has handed down a €997 million fine (or about $1.2 billion) against the chipmaker, thanks to a scheme to pay off Apple to continue to use its chips — and its chips only — in the iPhone, iPad, and other Apple products. That fine represents a hefty one percent of the company's $100 billion market capitalization, and comes as the company is facing a potential hostile takeover by rival chipmaker Broadcom.
As the European Commissioner for Competition Margrethe Vestager put it in a statement:
Qualcomm illegally shut out rivals from the market for LTE baseband chipsets for over five years, thereby cementing its market dominance. Qualcomm paid billions of US Dollars to a key customer, Apple, so that it would not buy from rivals. These payments were not just reductions in price — they were made on the condition that Apple would exclusively use Qualcomm's baseband chipsets in all its iPhones and iPads.
To be absolutely clear here: The EU didn't come down on Qualcomm for being dominant in the LTE space. It fined Qualcomm for making payments for Apple to not even consider using other chip manufacturers.
The generous interpretation of what Apple was doing here is "using its advanced market position to extract favorable deal terms." The less generous (and more accurate) interpretation here is that Apple was accepting a bribe.
Still, the on-the-ground reality is even muddier: Apple and Qualcomm are currently engaged in a lengthy lawsuit about Qualcomm extracting royalties from Apple for its patents, and Qualcomm has been machine-gunned with fines across the globe for its patent practices. There aren't any clean hands here.
Regardless, this Qualcomm deal absolutely had an effect on iPhone owners. While the Qualcomm deal was in place from 2011 to 2016, every iPhone used a Qualcomm modem. Once the Qualcomm deal expired in 2016, Apple began to use Intel chips in some of its phones, starting with the iPhone 7 (though it still uses both Qualcomm and Intel modems, depending on which type of network your carrier uses).
These sort of "exclusivity agreements" are rife throughout tech (and, more generally, the business world). You encounter one every day if you use an iPhone: Google currently pays Apple $3 billion a year to keep Google as the default search engine on the iPhone's web browser.
More broadly, the fine highlights the EU's strange new position on the world stage: It has become the fiercest watchdog of American tech companies, while the FTC in America has largely stood idly by, under both the Obama and Trump administrations. In June 2017, the EU handed down a $2.7 billion fine to Google for giving favorable rankings in its shopping engine. In August 2016, the EU ordered Apple to pay Ireland $16 billion in allegedly unpaid taxes. In May 2016, the EU slapped Facebook with a $136 million fine for misleading regulators about its acquisition of WhatsApp.
Apple did nothing illegal under EU law in the Qualcomm case — Vestager made that clear in a press conference in Brussels this morning. This case was entirely about Qualcomm's behavior, not Cupertino's. But the reason Apple didn't do anything illegal is simple and also somewhat maddening: It isn't a cartel.
EU law (and international law in general) generally takes a hands-off approach to allowing individual companies to extract the best deals possible for themselves. "The law is weak when it comes to bargaining, as powerful companies can take advantage of their market position to put pressure on their suppliers," says ABI analyst Dave McQueen. Regulators only step in if multiple companies act in concert together. If Apple had worked with, say, Samsung and LG to extract exclusivity payments from Qualcomm, all of those companies would be in legal jeopardy.
But the iPhone is monolithic enough that Apple didn't need any other company involved for Qualcomm to offer up cash. There's no evidence that Apple was the one to suggest this deal — it seems as if Qualcomm approached Apple with the idea, and Apple simply said yes. But still, you have to wonder why, exactly, Qualcomm deserves a billion-dollar fine for paying a bribe, but Apple is blameless for taking one.