I've been thinking about buying myself a watch lately, specifically an old Seiko Automatic like my grandfather wore. I've narrowed it down to a couple of models, but ultimately decided to wait to buy it.
But 30 minutes of looking at Seiko watches online now means that when I come to, say, New York Magazine's very popular vertical Select All, I see this: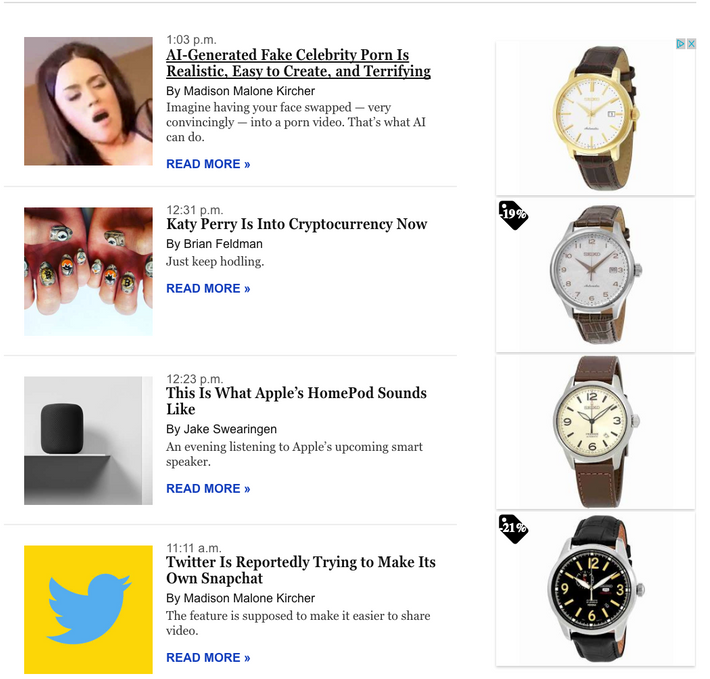 Of course, I don't just see those watches on Select All. I see them everywhere. These are known as "reminder ads," and have become incredibly prevalent over the last two years.
Placed on websites via Google's ad-serving platform (and most websites you visit are using Google's ad-serving platform), it's easy to see why they've caught on: You've already shown an interest in a product, and given enough nudges, maybe you'll just buy the watch instead of dithering over whether you want a gold or silver face.
They're also, frankly, annoying. Sure, they could nudge you to buy that spring rain jacket you've been putting off, but more likely, it's just reminding you of time wasted looking at some product that you decided against buying, for whatever reason.
So it's good news that, starting today, you can turn them off. According to a Help Center article, you do so like this:
To mute reminder ads:
1. Sign in to your Google Account.
2. Go to Ads Settings.
3. Scroll down to "Your reminder ads."
4. Click or tap the X next to an advertiser whose reminder ads you'd like to remove.
For what it's worth, we tried to do this here at Select All, and couldn't find the options to make this work. I reached out to Google to see if the changes are being rolled out across users, or if there's a time frame I should expect to see the changes, and will update if the company responds. In the meantime, I think I may just end up buying that watch.