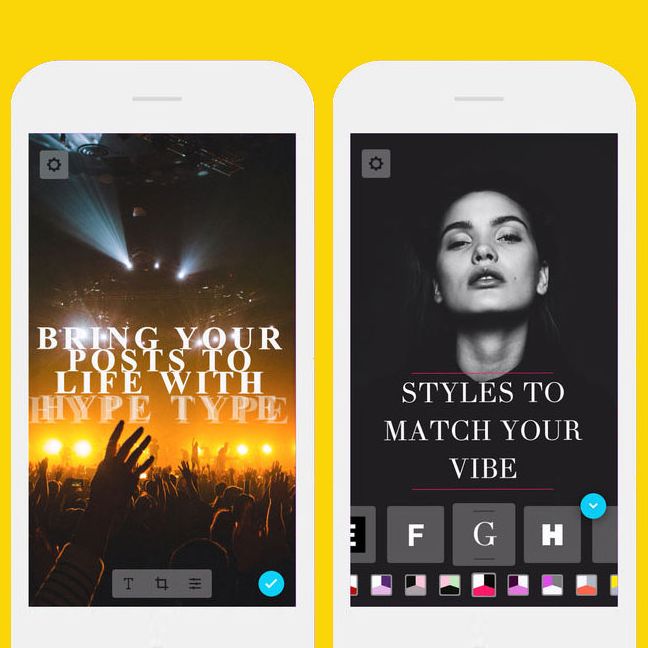 After a year of protesting, I gave in this summer and started using Instagram Stories like everybody else I know and every celebrity I don't. And then I figured out what all those people had already known for a year: Instagram Stories are extremely good. I've since embarked on a personal quest to find every aesthetic hack and trick there is to find. Which is what led me to a third-party app called Hype Type, which lets you add animated captions over your photos and videos before you upload them to your story (only available on iOS for now, sorry). The first time I used it — a thrilling clip of the arrival of a much-delayed subway — I promptly received several DMs from friends asking, "How did you do that?" Well, friends, this is how I did that.
Hype Type is free, but you can pay in-app for a few upgrades. I wound up going all in and paying the $2.99 to remove the "Hype Type" watermark and get the full suite of font options. You can also just remove the watermark for $1.99 or just get the fonts for $1.99. If you're the kind of person who gets into these types of apps — as in, you paid $0.99 this summer for Kirakira so you could make your content sparkly as heck while that was still trendy — this probably won't seem like a high price tag. Just look how much more fun this boomerang of my commute through the slush piles of lower Manhattan is when you add a little animation.
Using the app is easy enough. You open up Hype Type — you'll have to give the app access to your camera roll and microphone — and double tap on the screen to add your text. To use a photo or video you've already taken, gently swipe up from the bottom of the app. From there you can select which color combination and font you like and you can also add music (which seems like overkill). Once you're done, tap the blue check in the bottom, right-hand corner of the screen and then tap the Instagram icon from the menu of options that pops up. That will save the clip to your camera roll and prompt you to open Instagram and add it to your story.
Instagram has reportedly been testing a text-only feature in Instagram Stories, which lets users add slides to their stories with just captions. (A work-around for this is to layer a solid color — use the pen tool, pick your color, and then press and hold anywhere on a photo to cover it in said color — and add a caption over it.) Still, that's not nearly as visually interesting as an animated caption. Instagram, take note.