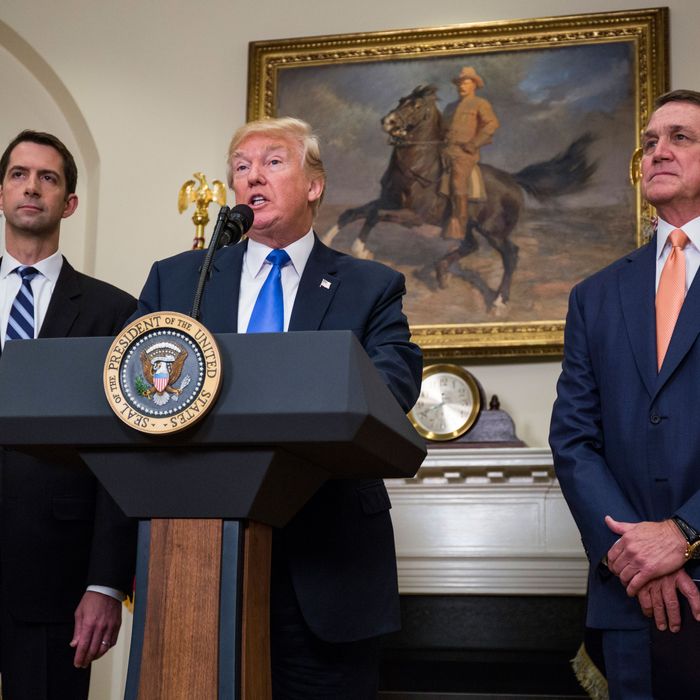 Trump has recently embraced the efforts of senators Tom Cotton and David Perdue to radically restrict and restructure legal immigration.
Photo: Pool/Getty Images
The latest White House immigration proposal seems to be going nowhere fast. As laid out by the famously restrictionist White House adviser Stephen Miller, it offers DACA-type protections and even a "path to citizenship" for 1.8 million Dreamers — more than double the number covered by President Obama's DACA program. But, in exchange, the deal would involve significantly beefed-up border security and internal-enforcement resources, as well as big changes to the legal immigration system. Hard-core conservatives (including Miller's boon companions at Breitbart News) hate the "amnesty" offer. Immigration advocates hate everything about it except for the Dreamer protections. Both Chuck Schumer and Nancy Pelosi rejected the proposal out of hand.
The really disorienting thing about the proposal is that it abandoned the narrow ground of prior negotiations, which revolved around Dreamers and various forms of border security — in other words, the plight of undocumented immigrants and how to prevent more of them from entering the country illegally. (Yes, the proposal's demand for internal-enforcement resources was ominous for the non-Dreamer undocumented population, with mass deportations becoming at least marginally more feasible.) The big departure was to shift "chain migration" — America's policy of allowing extended family members of U.S. citizens to immigrate — and the diversity visa lottery to the center of the discussion, as well as the proposal that even the levels of documented immigration needed to be lowered.
It's important to understand what a big shift this represents, given the long recent history of immigration debates in Congress that invariably revolved around the undocumented. Until Trump's presidential campaign — which emphasized "the wall" and opposition to "amnesty," while occasionally addressing legal immigration — calls for a general restriction on (or geographical redirection of) immigration of all sorts was the preserve of open nativists like Steve King of Iowa and his mentor, Tom Tancredo of Colorado. A turning point was probably the famous Trump campaign speech in Arizona in August 2016, in which he devoted a plank of his ten-point immigration plan to legal immigration, promising, in his words:
· To keep immigration levels, measured by population share, within historical norms

· To select immigrants based on their likelihood of success in U.S. society, and their ability to be financially self-sufficient. We need a system that serves our needs — remember, it's America First.

· To choose immigrants based on merit, skill, and proficiency

· And to establish new immigration controls to boost wages and to ensure that open jobs are offered to American workers first.
Trump also consistently emphasized the alleged national-security risks associated with visa and refugee policies, which are part of the system of legal immigration. Indeed, though it was not much understood this way at the time, Trump's serial efforts to implement a "travel ban" on people from certain countries were part of a broader focus on those who had entered the country legally. So, too, were the recent revocations of Temporary Protected Status for those fleeing humanitarian catastrophes in El Salvador and Haiti. None of the people affected by these policy changes were considered undocumented — until now, at least.
But the most important initiative that has been designed to change the terms of the immigration debate was the legislation introduced last August by Republican senators Tom Cotton and David Perdue. Backed immediately by Trump, the bill would kill the diversity lottery visa, limit "family-unification" entries to spouses and minor children, prioritize merit-based entries, significantly reduce refugees, and aim at overall reductions in legal immigration of 50 percent within ten years. If that all sounds familiar, it's because all these provisions are echoed in the latest White House proposal.
As an NBC headline put it, "Trump drags GOP to war on legal immigration." And, at first blush, it does look like a dubious move:
"It's probably why it's turned into such a standoff," said Andrew Selee, president of the nonpartisan Migration Policy Institute. "This started out as a fairly noncontroversial trade-off between a very defined set of legal rights for a very defined population in return for border security spending, but it became a fight about much bigger immigration issues."
But there's another way to look at this that makes more political sense. The "old" immigration debate focused on Dreamers, a smaller population of highly sympathetic undocumented immigrants. More generally, it also focused on people already in the country, which a majority of Americans are reluctant to see hauled off to transit camps and deported. The "new" debate that the White House and its conservative allies are trying to create is more about abstract immigration principles, in which the nativist case is not remotely as unpopular as liberals might imagine.
In an unusually nuanced report on immigration-poll findings released this week, NPR's Danielle Kurtzleben notes that, while Americans overwhelmingly want to let Dreamers stay in the country — and "aren't that wild about a 'wall'" — they also largely favor the kind of changes in legal-immigration policy that Trump, Cotton, and Perdue are proposing, according to a recent Harvard Harris poll:
Sixty-eight percent of Americans said they oppose "the lottery that randomly picks 50,000 people to enter the U.S. each year for greater diversity." And in fact, even more (79 percent) favored merit-based immigration over family-based migration, based on a question asking whether "immigration priority for those coming to the U.S. should be based on a person's ability to contribute to America as measured by their education and skills or based on a person having relatives in the U.S."
As Kurtzleben notes, there are legitimate questions about the wording of that poll, but it's clear that many would be receptive to the GOP's arguments on this topic. As for overall levels of legal immigration, the evidence is even stronger for the restrictionist position:
For decades, Gallup has asked Americans if they think the level of legal immigration should be "kept at its present level, increased, or decreased." In recent years, Americans have been closely split between holding steady (38 percent as of June 2017) and decreasing (35 percent). The remainder, around 1 in 4, want to increase legal immigration …




[A] Politico/Morning Consult poll asked it a different way, asking how they'd feel about halving the number of legal immigrants over the next 10 years. It didn't offer the option for holding it steady, just varying degrees of support or oppose. Nearly half, 48 percent, strongly or somewhat supported cutting legal immigration in this way; 39 percent opposed it. (The rest didn't know or had no opinion.)
That is, of course, the central thrust of the Trump–Cotton–Perdue proposal.
Obviously public opinion on all these complex issues is less than entirely stable. But you can make a good case that by conceding the very popular Democratic position on Dreamers, and refocusing the debate on the reasonably popular conservative position on legal immigration, the White House is trading up politically. No, it's not going to produce a bipartisan breakthrough; the once-vibrant support among Democrats for generally lower levels of legal and illegal immigration has all but vanished, even as conservative hostility to "amnesty" has grown more intense. But it could polarize the parties in a way that further isolates Republicans who favor a pro-immigration deal, while eroding the public-opinion foundation of the Democratic position.
No one knows at this point if this is the devilish reasoning behind the White House proposal. But even if it's not, it could cause new challenges for immigrant advocates and their allies in the Donkey Party.