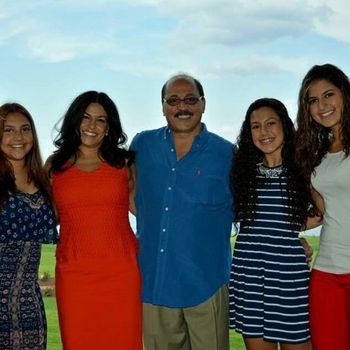 Amer Othman Adi with his family.
Photo: Courtesy Adi Family
After a painfully drawn-out process, Immigrations and Customs Enforcement deported Amer Othman Adi, a 57-year-old Palestinian businessman who had been in the U.S. since he was 19, to Jordan on Monday night.
The case of Adi, who lived in Youngstown, Ohio, with his wife and had four children, became a cause célèbre, attracting widespread local media coverage, protests, and the attention of lawmakers. It is one of many high-profile recent instances in which a long-standing American resident was separated from his or her family on a flimsy pretext — the sort of case that has proliferated since President Trump took office.
Adi, who was born in Jordan to Palestinian parents, came to the U.S. when he was 19. He received a green card through marriage, but was denied a second one in the 1990s when immigration officials determined that the first marriage had been a sham, a ruling that has followed him ever since. (His first wife has said that the marriage was legitimate, and that she was pressured by authorities to maintain otherwise.)
In the meantime, Adi had opened multiple businesses in Youngstown, employing hundreds of people and helping revitalize the city. Nevertheless, he was ordered to be deported in 2009 — then spared from that fate throughout the Obama years. But in September, ICE detained him at a routine check-in, and ordered him to buy a one-way ticket to Jordan. He and his second wife, Fidaa Musleh, sold their house and were preparing to depart on January 7, but were then informed that Adi had been granted a temporary stay of deportation.
"When we got that phone call in the morning, it was confusing, it was at the same time exciting. Is there a miracle happening — they're going to let [him] stay?" Musleh, who is a U.S. citizen, told Al Jazeera.
But when Adi showed up for another meeting on January 16, he was detained without explanation and thrown in jail.
Ohio Democratic congressman Tim Ryan had long been an advocate for Adi, and he led the charge again. The House Judiciary Subcommittee on Immigration and Border Security approved a "private bill," asking ICE to grant Adi a six-month stay of deportation. But ICE simply said no, maintaining that several courts had already ruled that he was in the country illegally. Adi was moved from Youngstown to Chicago, where he boarded a flight to Anman, Jordan, on Monday night.
Congressman Ryan said in a statement: "In a highly irregular rebuke of Congressional authority by ICE, Amer Othman was ripped from his four daughters, his wife, and the country that he has called home for over thirty years. Amer was a pillar of the community and brought commerce to a downtown that craved investment. He hired members of our community. He paid taxes. He did everything right. There are violent criminals walking the streets, yet our government wasted our precious resources incarcerating him."
Though deportations were actually down in 2017 despite President Trump's fervent wishes, ICE has been unleashed to arrest immigrants who pose no threat to their communities, often, as in Adi's case, when they show up for previously routine check-ins. In its single-minded pursuit of rounding up immigrants,  ICE has also staked out hospitals, churches, and schools.
As Slate's Jamelle Bouie put it on Tuesday, ICE has become "an empowered and authoritarian agency that operates with impunity, whose chief attribute is unapologetic cruelty."
The agency's increasingly unhinged behavior, in tandem with the Trump administration's decision to roll back DACA and protections for hundreds of thousands of foreigners who fled disaster to build lives in the United States, has created an atmosphere of fear and distrust among immigrants of all stripes — which is, of course, precisely what the Trump administration wants.
"I opened a business here when no one else wanted to," Adi said in early January. "I have been fighting this deportation for almost 23 years, I thought we had it solved. But when Donald Trump was elected I knew I was in trouble."