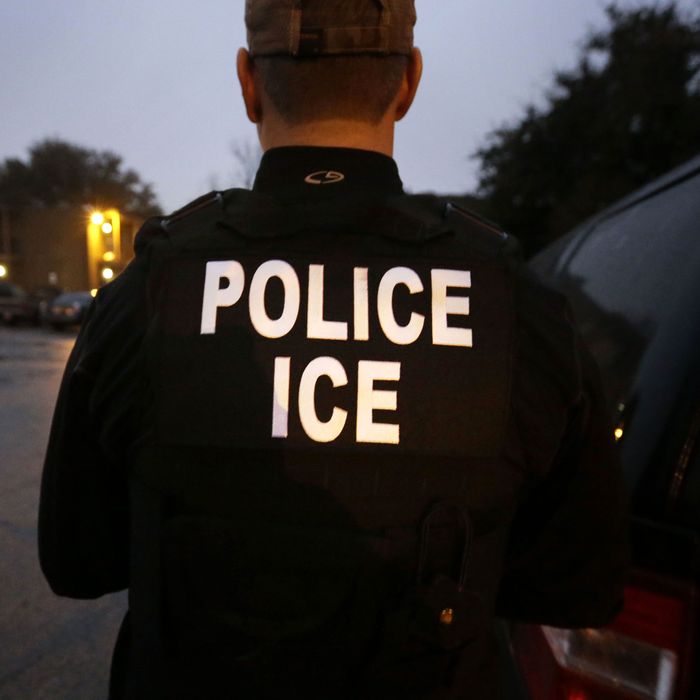 An ICE agent.
Photo: LM Otero/AP/REX/Shutterstock
The U.S. Immigrations and Customs Enforcement agency will gain access to a massive license-plate database, the Verge reported on Friday, raising fears that it will harness the data to advance its already emboldened crackdown on illegal immigrants.
An ICE representative told the Verge that the agency has contracted with Vigilant Solutions, which operates a database of over 2 billion license-plate numbers that it has gathered in partnership with private firms, like vehicle-repossession agencies, as well as local law enforcement.
The Verge explains how ICE could use its newfound information:
A historical search would turn up every place a given license plate has been spotted in the last five years, a detailed record of the target's movements. That data could be used to find a given subject's residence or even identify associates if a given car is regularly spotted in a specific parking lot.
Agents could also get "instantaneous email alerts" whenever a plate they're searching for is found.
"Like most other law enforcement agencies, ICE uses information obtained from license plate readers as one tool in support of its investigations," agency spokesperson Dani Bennett said in a statement. "ICE is not seeking to build a license plate reader database, and will not collect nor contribute any data to a national public or private database through this contract."
ICE has mulled using Vigilant's data before, but Jeh Johnson, who headed the agency under President Obama, canceled an agency-wide contract in 2014 amid privacy concerns.
Since President Trump took office, ICE has been granted new latitude to arrest and deport people who pose little criminal threat. The agency has made headlines for detaining, and in some cases deporting, residents who have lived in the United States for decades. It has also been accused of targeting immigrants' rights leaders, prompting fears of political retaliation.