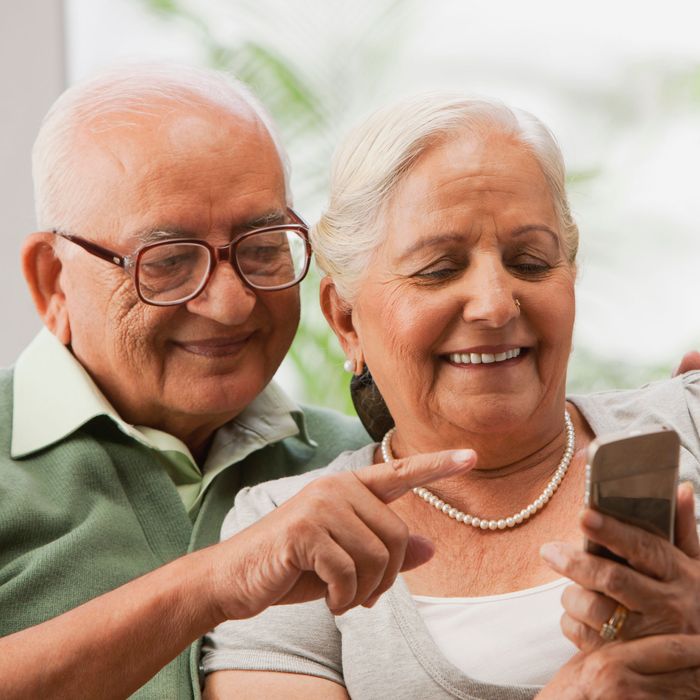 "Good morning."
Photo: Getty Images/Images Bazaar
Just think how nice it would be if you woke up tomorrow morning and everybody you text with had decided to send you a heartfelt "good morning" greeting, complete with some sort of cheesy artwork just to really let you know that they mean it. What a more pleasant world ours might be if we all did that. In India, Google recently dug into its data to figure out exactly why so many smartphones there were running out of space — The Wall Street Journal reports that one in three smartphones runs out of space each day — so quickly. Turns out, people were sending too many of those friendly text messages each morning. Too. Many. Nice. Messages. What a concept!
From WSJ:
Desh Raj Sharma, 71 years old, recently started using a smartphone. At around 6 a.m. every day he searches for and sends good-morning images to more than 50 friends and family using WhatsApp.




In one recent dispatch, a toddler sporting a fedora and holding his hand over his chest says, "Our heart is the only thing in the world that works without any rest. So keep it happy, whether it is yours or your dear one's. Good Morning."
Google, after "researchers peeked into Indian consumers' phones," which, hmmm, created an app called Files Go that would allow users to easily find files they should delete. The app has a specific feature for blanket-deleting "good morning" content. It has already been downloaded by 10 million users since December. Most of them live in India.
Of course, not everybody is into the barrage of friendly morning missives. Sharma's 24-year-old niece told the WSJ that she doesn't often read the messages her uncle sends each morning. "Most of the time my notifications are on mute." Cold.