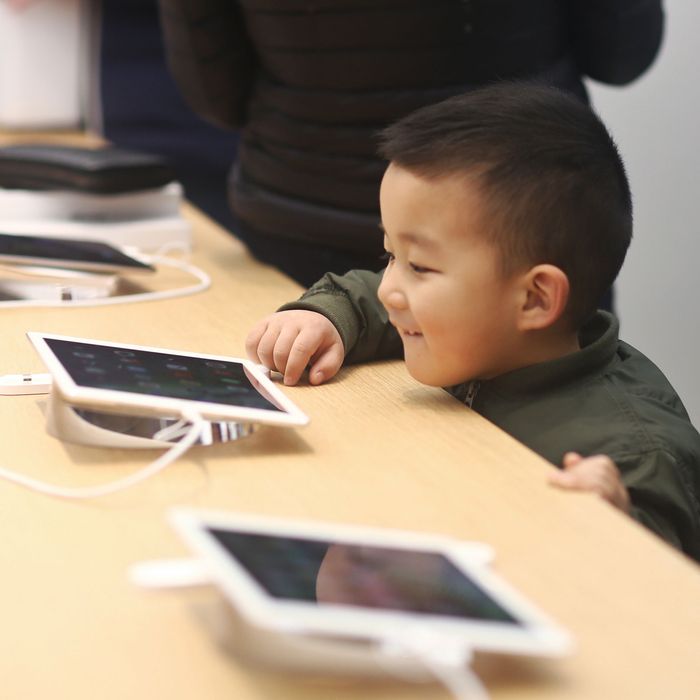 Photo: VCG/VCG via Getty Images
In an open letter posted over the weekend, the California State Teachers' Retirement System and investment firm JANA Partners lobbied Apple to study the effects of how its products affect children. The two organizations collectively control $2 billion in Apple stock. "[W]e believe there is a clear need for Apple to offer parents more choices and tools to help them ensure that young consumers are using your products in an optimal manner," they write. "By doing so, we believe Apple would once again be playing a pioneering role, this time by setting an example about the obligations of technology companies to their youngest customers."
The letter speaks of "a growing societal unease about whether at least some people are getting too much of a good thing when it comes to technology." Among the suggestions the letter includes are research, better parental controls, increased consumer education on the issue, and the creation of an expert committee.
Among the names recommended by the two shareholders for this committee is Jean Twenge, a professor of psychology at San Diego State University. Twenge is also the author of iGen, an intellectually lazy book the blames the iPhone for all of youth society's ills.
Exactly what, if any, effect the proposal will have is unclear. While $2 billion in stock might seem like a lot, Apple is a company with a $900 billion market cap. It could easily ignore the proposal, and likely will.