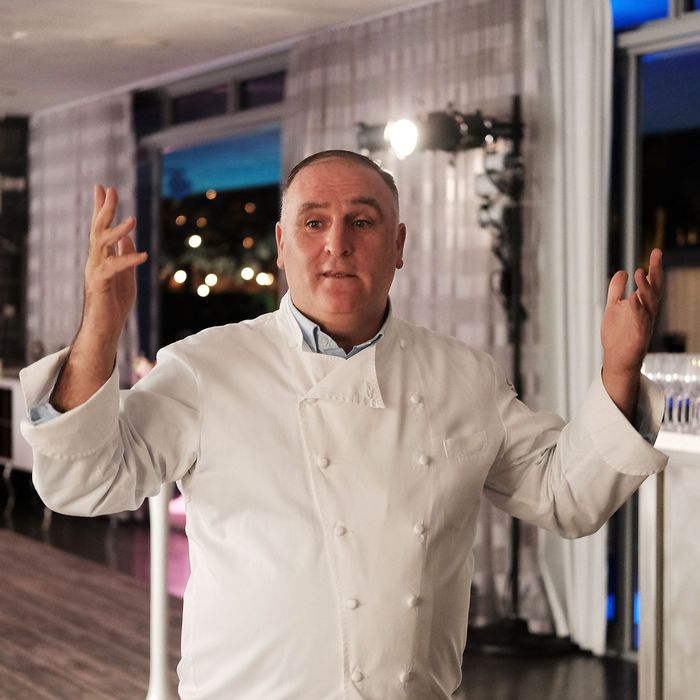 Andrés.
Photo: Jason Kempin/Getty Images
José Andrés, the celebrity chef who battled President Trump in a long-running lawsuit, said he was denied entry to an event in Washington Saturday night because Ivanka Trump was uncomfortable with his presence; Andrés later reversed course and admitted she had nothing to do with the incident.
Andrés was attempting to get into the after-party for the Alfalfa Dinner, a glitzy annual event that draws a crowd of about 200 current and former Washington power brokers. (John Kerry and George W. Bush gave remarks this year.)
A source "close to Ivanka Trump" told Fox News that she had no role in the matter, and as social media lit up with outrage, the host restaurant, D.C. stalwart Cafe Milano, offered its explanation on Sunday:
The Washington Post confirmed that account later in the afternoon. Andrés, it turns out, wasn't on the receiving end of a political vendetta; he simply did not have an invitation to the after-party in question and was surprised when he couldn't get in.
"I am thankful for José's clarification," said Ivanka Trump in a statement. "I had nothing to do with anything that transpired relating to him last night at the restaurant." Andrés responded graciously, and with that, what turned out to be a massive non-story came to a merciful end.
Andrés was slated to open a restaurant in the Trump International Hotel in 2015, but backed out of the deal after the then-candidate called Mexicans "rapists" and claimed they were bringing drugs and violence into America. The Trump Organization sued him for breach of contract and Andrés's Think Food Group countersued, contending that Trump's comments had hurt business. Legal proceedings lasted two years until the Trump Organization settled in April 2017.
Along with his culinary pedigree, Andrés has gained a reputation as a humanitarian. After Hurricane Maria devastated Puerto Rico, he set up a complex network of kitchens and food supply chains, feeding millions of people who had lost power, in an unprecedented effort by a private citizen.