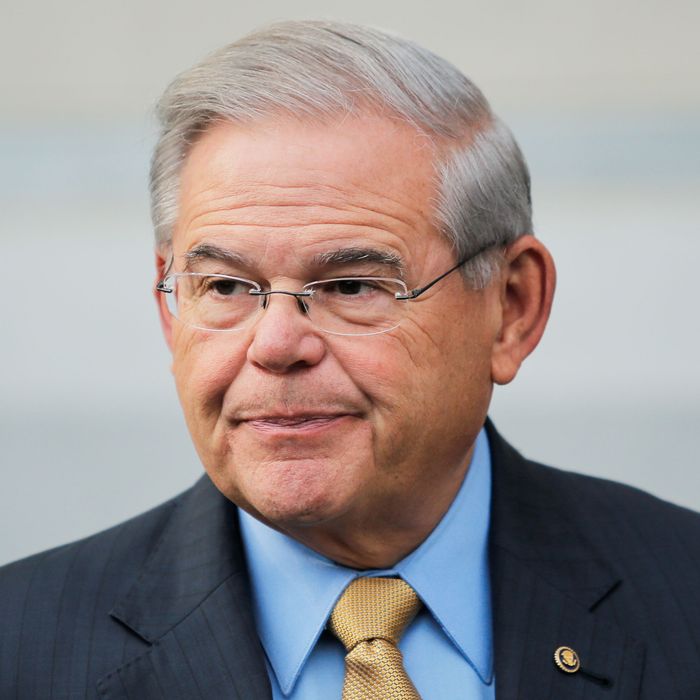 U.S. senator Robert Menendez.
Photo: Eduardo Munoz Alvarez/Getty Images
The Justice Department Friday said it plans to take Democratic senator Robert Menendez back to court on corruption charges after a deadlocked jury resulted in a mistrial in November.
Last month, Menendez told reporters he didn't think prosecutors would retry him. If they wanted to, he said, they should "bring it on." In a court filing Friday, the DOJ did just that, asking for the "earliest possible date" for a retrial and referencing the two grand juries that have already indicted Menendez and his co-defendant, ophthalmologist Salomon Melgen.
Prosecutors accuse Menendez of exchanging political favors for bribes, including luxury hotel rooms, rides on a private jet, and more than $600,000 in political contributions from Melgen.
After November's hung jury, Menendez suggested that he was ready to run for reelection this November, despite polls showing voters don't want him to. "To those of you who were digging my political grave so you could jump into my seat, I know who you are and I won't forget you," he said. The Democratic Party continued standing by him, too.
But Friday's announcement is sure to complicate Menendez's reelection plans and encourage more challengers. So far there's only one — former Hillary Clinton campaign staffer Michael Starr Hopkins, who intends to take on Menendez in a primary. The retrial could also allow national Democrats to finally move away from Menendez now that New Jersey has a Democratic governor. That would allow the party to push Menendez out of office, à la Al Franken, with the knowledge that he'd be replaced by one of their own.