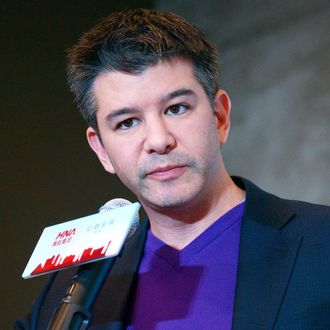 Travis Kalanick.
Photo: Wang Zhao/AFP/Getty Images
It's been months since infamous tech bro Travis Kalanick took a leave of absence and the company replaced him with former Expedia CEO Dara Khosrowshahi in August … and somehow we're still talking about him anyway. A lengthy piece published by Bloomberg on Thursday documents Uber and Kalanick's extended fall from grace — not that the company had the best track record or public opinion to begin with — from 2016 to 2017.
Perhaps the most interesting reported anecdote is the bit about how Kalanick reacted to seeing the video of him yelling at a driver, Fawzi Kamel. In the video, which was filmed on Kamel's dash cam, Kamel and Kalanick argued over Uber dropping its fares, a strategy Kamel said hurt him financially. "Some people don't like to take responsibility for their own shit," Kalanick said after getting out of the car and slamming the door. "They blame everything in their life on somebody else. Good luck!" According to Bloomberg, after seeing the video, Kalanick "literally got down on his hands and knees and began squirming on the floor," and began saying things like "I'm terrible" and "this is bad." Which, frankly, might be the most honest and self-aware things Travis Kalanick has ever said.
Following the video drama, Kalanick reportedly met privately with Kamel to smooth things over. In that meeting, Kalanick reportedly discussed giving Kamel some Uber stock. Wayne Ting, another Uber executive, was present during the meeting, which sources told Bloomberg left him "deeply disturbed" and prompted him to send an internal email concerned that Kalanick "'no longer had the moral standing' to lead Uber." In the end, Kalanick paid Kamel $200,000 out of his own pocket.