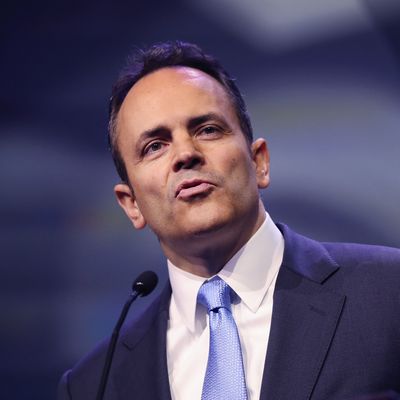 Kentucky governor Matt Bevin.
Photo: Scott Olson/Getty Images
One day after the Trump administration said it will allow states to require Medicaid enrollees to work in order to receive health benefits, Kentucky on Friday became the first to have its program approved.
Submitted in 2016, Kentucky's waiver requires able-bodied adults to complete 20 hours a week of so-called "community engagement" — which could include working, volunteering, or going to school — in order to maintain Medicaid coverage. The requirement doesn't apply to those with disabilities, the pregnant, or the elderly.
Bevin, who ran for governor in 2015 on a promise to repeal Kentucky's wildly successful Medicaid expansion, said Friday that the changes "will be transformational."
But "transformational" doesn't mean good. According to his own administration, the work requirements will result in 95,000 fewer people on Kentucky's Medicaid rolls.
Democratic congressman John Yarmuth, who represents Louisville, called the changes "dangerous and irresponsible." He added: "Make no mistake: People will die because of this."
Critics have derided the changes, which are sure to inspire legal challenges, as unfair and punitive to the poor. In addition to the work requirement, the waiver allows Kentucky to charge a premium for Medicaid and implement strict reporting requirements of income and work hours. These measures will make it harder to stay in the state's good graces, and enrollees who miss deadlines can be punished by getting locked out of Medicaid for six-month windows.
At times, Bevin has framed the waiver as an attempt to improve the health of a state that consistently shows up near the bottom of national rankings. But other times he admits the real reason for the waiver: to force people he sees as freeloaders to work for something he thinks they don't deserve. Or, as he said on Friday, the waiver will give enrollees "the dignity associated with being able to earn the things they are receiving."