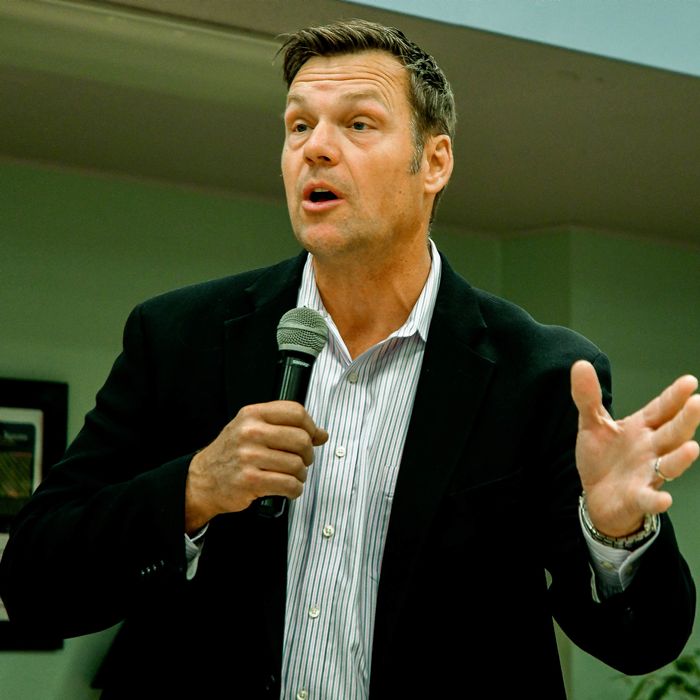 Kobach has bigger fish to fry back home as he runs for governor of Kansas.
Photo: Mark Reinstein/Corbis via Getty Images
You'd figure that the president's decision to fold his Advisory Commission on Election Integrity would make Kris Kobach, the vice-chairman and leading light of that "voter fraud" inquisition, the unhappiest camper around. But he has a good use for whatever free time Trump's action gave him. He's running for governor of Kansas, the obvious next step in his political ascent, particularly after he did not secure a Trump cabinet post.
And although you'd figure Kansans would have had about enough of right-wing ideologues after the disastrous administration of Sam Brownback, Kobach is generally considered the gubernatorial front-runner. He benefits from universal name ID, naturally, and even more from his opportunity to win the GOP nomination in this very Republican state by a relatively small percentage in what will likely be a crowded field.
He will probably gain a considerable chunk of Brownback's following, since he's vowed to reverse the tax increases that a Republican-controlled legislature enacted (overriding the governor's veto) to resolve a fiscal crisis last summer. As one Kansas City Star writer acerbically noted:
Because Kobach's priority has been fear-mongering, it was not entirely clear until his announcement for governor that he also stands for the same fiscal agenda as Kansas Gov. Sam Brownback. Kobach has now pledged to follow Brownback's lead, seeking a reversal of recent tax increases, cutting taxes and slashing services to allow hard-working Kansans to keep more of their money.




That agenda might help Kobach win the typical low-turnout, ultra-conservative Republican primary next August.
Kobach has another advantage involving Brownback: The term-limited governor, who was nominated for an obscure State Department "religious freedom" ambassadorship by Donald Trump last July, is still around because the Senate has not seen fit to hold a vote on his confirmation. Indeed, because it didn't happen before the end of the year, Trump will have to renew the nomination.
In the meantime, Brownback is doing untold damage to the prospects of Kobach's most prominent rival, Lieutenant Governor Jeff Colyer, who has been waiting to take the reins of executive power for six months now. Instead, he's having to stand by as Brownback delivers another State of the State Address and presents a state budget. And so he is tainted by Brownback's low popularity and by the inability to develop his own brand. It's a terrible dilemma.
Kobach suffers from no such handicaps, so he can campaign as the conservative's conservative and let the blundering Brownback and his frustrated would-be successor bear the burden of governing — or misgoverning — the state. Democrats are already treating Kobach as their likeliest rival, and unless they rear up and win back the governorship they lost in 2010, Kansans may be in for a double-dip exposure to the special pain of deeply reactionary leadership.