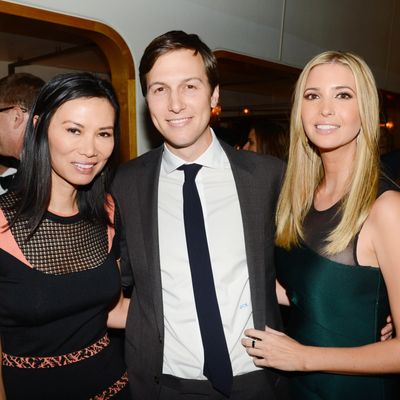 Javanka with a potential foreign agent and/or friend who happens to be Chinese-American.
Photo: Patrick McMullan/Patrick McMullan via Getty Images
There hasn't been an update in the Trump-Russia saga in the last few days, but those hankering for more Javanka-related intrigue can tide themselves over with a new report that the couple was warned about one of their friends potentially using their relationship to promote foreign interests.
The twist: The country in question is China, not Russia. And the friend is Wendi Deng Murdoch, ex-wife of News Corp CEO Rupert Murdoch. And this report comes to us via The Wall Street Journal, which is owned by News Corp. Also, somehow this involves former British prime minister Tony Blair and a 70-foot-tall Chinese spy tower in D.C.
Wendi Deng Murdoch struck up a friendship with her neighbor Ivanka Trump more than 12 years ago, and they have documented their relationship in magazine profiles and social-media posts. According to the Journal, in early 2017 U.S. counterintelligence officials warned Trump son-in-law/White House adviser Jared Kushner that Murdoch, who was born in China and is now a U.S. citizen, might be using her friendship with him and his wife to advance the interests of the Chinese government.
Specifically, they were concerned about the possibility that Murdoch was lobbying for the construction of a $100 million Chinese garden at the National Arboretum. The project, which would have been a gift from the Chinese government, was initially welcomed by the Obama administration as a symbol of goodwill between the two countries. However, the Journal reports that the project stalled after it was "deemed a national-security risk because it included a 70-foot-tall white tower that could potentially be used for surveillance, according to people familiar with the intelligence community's deliberations over the garden."
A representative for Kushner and Trump described his interaction with intelligence officials as a "routine senior staff security briefing." Sources suggested it was part of a broader effort by national-security officials to alert Kushner to the fact that some of his contacts may be pushing foreign interests. The Javanka rep also defended their friendship with Murdoch, saying they "have been friends with Rupert and Wendi Murdoch for a decade before coming to Washington and their relationship is neither political nor about China."
Murdoch's spokesperson said she "has no knowledge of any FBI concerns or other intelligence agency concerns relating to her or her associations," and "has absolutely no knowledge of any garden projects funded by the Chinese government."
A representative from China's embassy in D.C. called the Journal's report about Murdoch, "full of groundless speculations."
Speaking of speculations, the report also mentions the old rumor that Wendi Deng Murdoch had an affair with Tony Blair when she was still married to Rupert Murdoch. While both parties have denied having any romantic involvement, according to the Journal the story caught the attention of intelligence officials:
… British security officials discussed with U.S. counterparts whether the alleged relationship could be cause for concern, this person said. At the time, the Federal Bureau of Investigation said there was reason to be watchful about Ms. Murdoch, but that they hadn't looked into her in detail, the person said.
Michael Wolff, whose book Fire and Fury is full of wild stories about Javanka (or as he calls them, Jarvanka), offered something else to ponder: