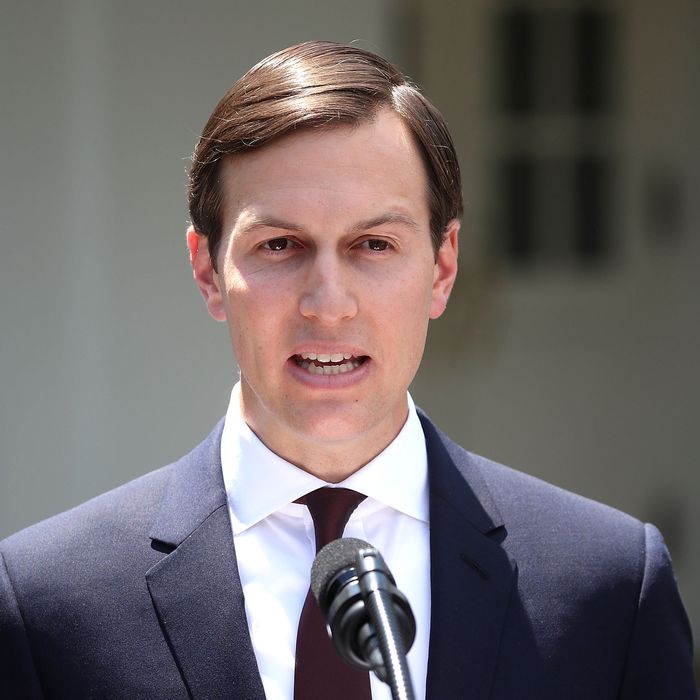 A diplomatic wunderkind.
Photo: Mark Wilson/Getty Images
The New Yorker reports that China has been courting Jared Kushner aggressively since President Trump's election, and that the real-estate scion's intimate meetings with top Chinese officials have made some U.S. officials uncomfortable.
Kushner met with Cui Tiankai, the Chinese ambassador to the U.S., in New York after Trump's victory, and then multiple times at the White House after the president's term began.
Some of those encounters included disgraced ex–national security adviser Michael Flynn; on at least one occasion, Kushner and Cui met alone. This was a major departure from previous administrations' protocol, which consisted of large gatherings that included China experts on the U.S. side.
Kushner's encounters with Cui, the article reports, "made some people in the U.S. government uncomfortable." They feared that China might have been using Kushner's access to Trump to sway U.S. policy. (Kushner was instrumental in convincing Trump to stick with America's "One China" policy near the beginning of his term.)
Others feared that Kushner's total lack of relevant experience made him likely to accede to Chinese demands without pushing back.
One official said, "He went in utterly unflanked by anyone who could find Beijing on a map. It was a dream come true. They couldn't believe he was so compliant."
A Kushner spokesperson told The New Yorker that there "was never a time — never — that Mr. Kushner spoke to any foreign officials, in the campaign, transition, and in the administration, about any personal or family business. He was scrupulous in this regard."
A year after Trump's inauguration, the article notes, Kushner still does not have a permanent security clearance, which is a subject of speculation. But considering his well-documented slipperiness surrounding Russia, it's a testament to both Trump's familial loyalty and the White House's disdain for propriety that he has exerted any influence at all.
Kushner has consistently misled Congress about his Russia connections. He "forgot" more than 100 details on his security clearance form; forgot to say that he knew about Russian attempts to contact the Trump campaign; failed to mention that he had established a secret "backchannel" with Russia between the 2016 election and President Trump's inauguration; and much more.
Who knew making a completely unqualified but mystifyingly confident family member one of the most powerful people in the country would be so complicated?