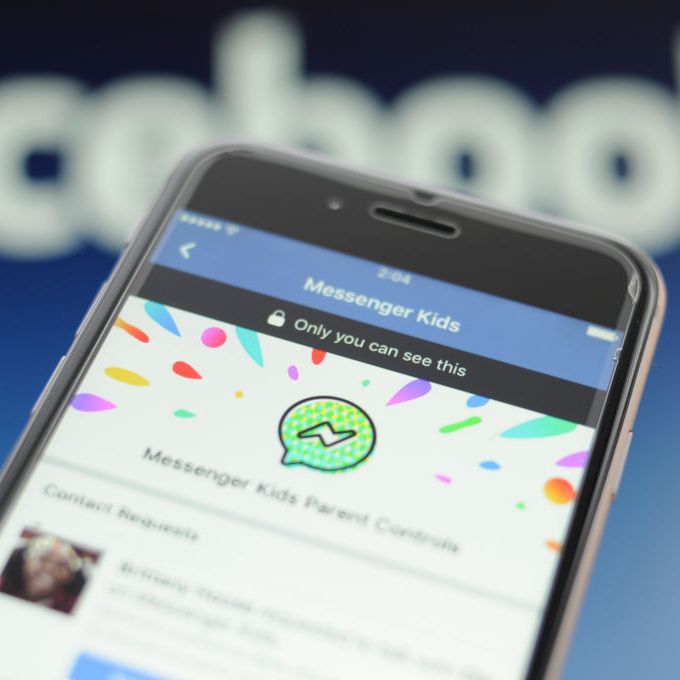 Facebook's Messenger Kids app on an iPhone.
Photo: Jaap Arriens/NurPhoto via Getty Images
Facebook's Messenger Kids had, rightfully, a hairy eyeball cast at it since the social-media giant rolled out a version of its Facebook Messenger service for children under 13 in early December. The service, an app for iOS and Amazon Fire tablets, doesn't require a Facebook account to use, because under federal law children can't have Facebook accounts until they are 13, and is designed to let children between the ages of 6 and 12 chat with their parent-approved friends and family.
The pressure on Messenger Kids increased today, with a group of child-advocacy groups such as Common Sense Media, civil-rights groups such as the ACLU of Boston, and dozens of pediatricians and medical experts all signing a letter sent today to Mark Zuckerberg. The letter, organized by the Campaign for a Commercial-Free Childhood, opens with this:
We are writing to urge you to discontinue Messenger Kids, Facebook's first social media app designed specifically for children under the age of 13. Given Facebook's enormous reach and marketing prowess, Messenger Kids will likely be the first social media platform widely used by elementary school children. But a growing body of research demonstrates that excessive use of digital devices and social media is harmful to children and teens, making it very likely this new app will undermine children's healthy development.
In response, a Facebook spokesperson delivered the following:
We worked to create Messenger Kids with an advisory committee of parenting and developmental experts, as well as with families themselves and in partnership with National PTA. We continue to be focused on making Messenger Kids the best experience it can be for families.
Facebook also took pains to say that no advertising is included in Messenger Kids. Of course, Messenger Kids, seen through a certain lens, works as a gigantic and very compelling advertisement for Facebook itself — and it's aimed directly at children.