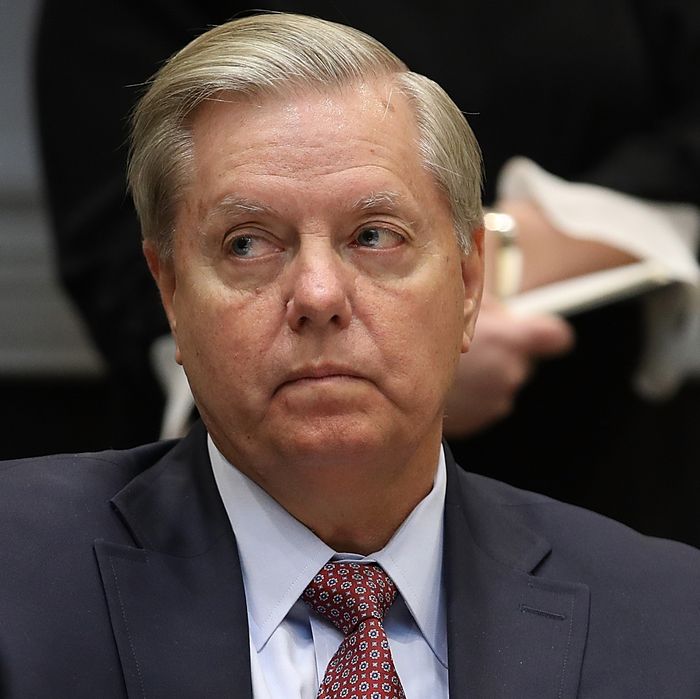 Graham's deeply concerned face.
Photo: Win McNamee/Getty Images
South Carolina senator Lindsey Graham said on ABC's This Week that if President Trump fired special counsel Robert Mueller, it would mark his downfall. "It's pretty clear to me that everybody in the White House knows that it'd be the end of President Trump's presidency if he fired Mr. Mueller," Graham said.
With his prediction, Graham may have been intending to send a message to Trump that there would be serious repercussions if Trump does dispatch the special counsel. But in the real world, it is far from clear that the president would face many consequences at all.
Last summer, the GOP seemed ready to maybe, possibly stand up to Trump if he went nuclear on the Russia investigation. But since then, the party has slowly but steadily drifted in his direction on the matter, to the point that, as Jonathan Chait wrote last week, "There is every reason to believe that Trump's party would continue to defend him regardless of how much justice he obstructs."
In another bit of wish-casting, Graham claimed that Trump is basically fine with the way the Mueller investigation is going.
"I see no evidence that President Trump wants to fire Mr. Mueller now," Graham said. The operative word in that sentence is "now." The New York Times reported last week that Trump did indeed attempt to fire Mueller last June, but lacked the fortitude to follow through on his threat after White House counsel Don McGahn refused. And the Washington Post reported on Saturday that Trump has also mulled getting rid of Deputy Attorney General Rod Rosenstein, who appointed Mueller in the first place.
Graham said he would pass legislation to protect Mueller "tomorrow." But leadership within his own party quickly made it clear that on this front, too, Graham is an outlier.