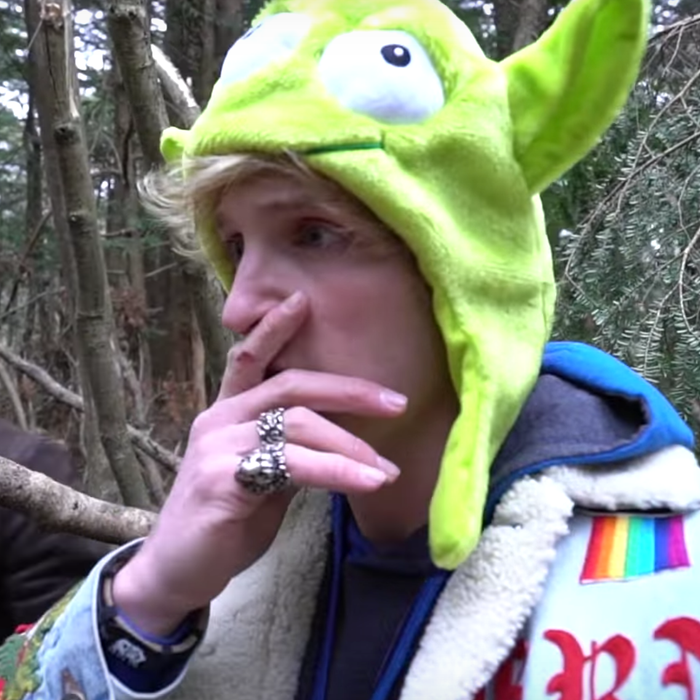 A scene from Logan Paul's video.
Photo: Logan Paul Vlogs/YouTube
Over the weekend, the YouTube star Logan Paul (older brother of Jake Paul) visited Aokigahara, a forest on the slopes of Mt. Fuji in Japan also known as the "suicide forest" for its status as a site of hundreds of suicides. While there, Paul seems to have filmed the body of a person who had hanged himself from a tree, and then posted the footage to YouTube with the title "We found a dead body in the Japanese Suicide Forest…" (Note: The video contains footage of what appears to be dead body with the face blurred out.)
"This is not clickbait. This is the most real vlog I've ever posted to this channel," Paul says in an intro to the video. "I think this definitely marks a moment in YouTube history because I'm pretty sure this has never hopefully happened to anyone on YouTube ever," he continues as minor-key piano music plays. "Now with that said: Buckle the fuck up, because you're never gonna see a video like this again!"
The 15-minute video is largely indistinguishable from the rest of Paul's YouTube uploads, and was intended to be part three of his "Tokyo Adventures." He makes a joke about Mt. Fuji not being where Fiji water comes from. He mugs for the camera. He wears some funny hats.
And then he and his entourage discover what looks like a body hanging in the Aokigahara. "Yo, are you alive?" calls out Paul. "Are you fucking with us?"
After Paul realizes that he is in all probability filming a dead body, he turns the camera back on himself. "So, a lot of things are going through my mind. This is a first for me." Paul (or one of the other members of his entourage) then films the body from a few feet away. "His hands are purple. He did this this morning," says Paul.
Paul then turns the camera back on himself. "Oh no, I'm so sorry, Logang," says Paul. (Logang is what Paul calls his community of fans.) "This was supposed to be a fun vlog."
"Suicide is not a joke," continues Paul. "Depression and mental illness are not a joke. We came here with an intent to focus on the 'haunted' aspect of the forest. This obviously just became very real, and obviously a lotta people are going through a lotta shit in their lives."
Other members of Paul's entourage, such as Andy Altig, have also posted their own versions of the visit to Aokigahara, titled "WE FOUND A DEAD BODY!!! **emotional**" (Again, this video contains footage of a person who appears to have recently committed suicide.)
Paul takes pains to say he isn't monetizing this video, and the YouTube description contains information for the American Society for Suicide Prevention. That said, the video has already hit 6.3 million views within 24 hours of being uploaded.
Reaction on Twitter has been swift:
Paul, meanwhile, has already moved on and is teasing his next YouTube video:
Update: 10:10 p.m. ET: Logan Paul has taken down the video (as has entourage member Andy Altig). Paul posted the following statement to his Twitter account, writing in part: "I've never faced criticism like this before, because I've never made a mistake like this before."