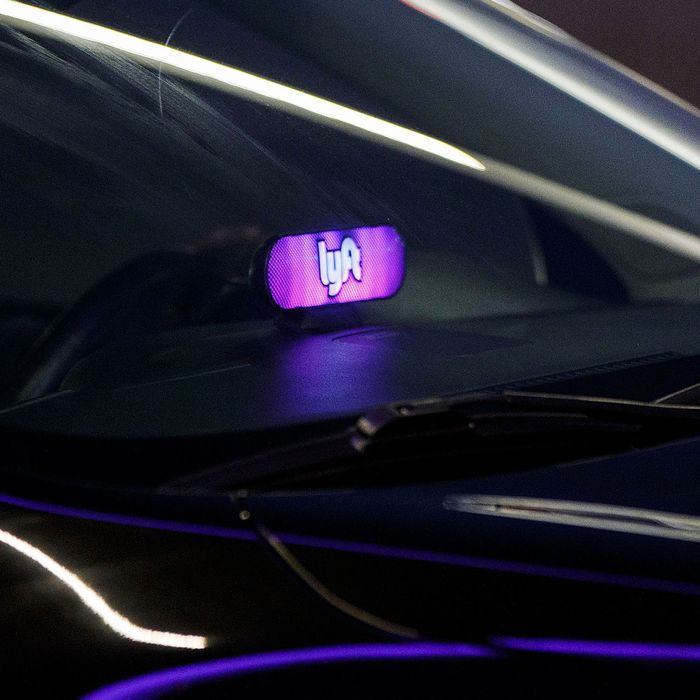 Photo: Patrick T. Fallon/Bloomberg via Getty Images
It's been almost a year to the day since the #DeleteUber campaign swept social media and sent thousands of customers to Lyft in search of a ride-sharing company that wasn't scabbing amid protests at JFK related to Trump's travel ban, and surprise! Lyft might not be as "woke" as it had declared itself. According to a new report from the Information, employees at Lyft have allegedly been up to the same tricks that Uber employees were up to — namely, abusing their platform to track people without their consent. The company is conducting an internal investigation into whether or not employees were tracking their significant others and looking up personal information about celebrities, including Mark Zuckerberg.
The allegations surfaced via Blind, an anonymous workplace whisper app, where somebody claiming to have worked at Lyft said that they had seen people abuse internal data for their own purposes. The person wrote that they had "seen people look their exes up" and "stalk attractive people they've met" while riding in Lyft Lines (Lyft's carpool option). The person said that they had heard a colleague boasting about having Mark Zuckerberg's phone number, and that "another employee has bragged about collecting the info of Hollywood actresses and porn stars."
A Lyft spokesperson told the Information that any data query — like tracking your ex-girlfriend — would require logging a documented request. "Employees are required to sign confidentiality and responsible use agreements that bar them from accessing, using, or disclosing customer data outside the confines of their job responsibilities," the spokesperson said. While the Blind post claimed that some employees had "unfettered access" to personal information about riders, another anonymous former Lyft employee told the Information that this is likely not true. "Abuse is probably possible. I don't know people that abused it, but I assume they'd be smart enough not to brag if they did." The former employee echoed the Lyft spokesperson in noting that anybody looking up a rider would have left bread crumbs.
If all of this sounds incredibly familiar, it should. Uber — among its endless saga of woes — ran into trouble in 2016 after news broke that employees were abusing "God View," an internal system that allowed employees to track any rider in real time. Alleged victims of God View abuse included Beyoncé. God View was later renamed "Heaven," and Uber said "fewer than 10" employees had abused it, and that they had subsequently been fired. Unlike God View, Lyft's system, according to the Information, only showed drop-off and pickup points by latitude and longitude. Which is significantly less creepy than an ever-updating map, but still not great if that information were to fall into the hands of, say, an abusive ex who happens to be a Lyft engineer.