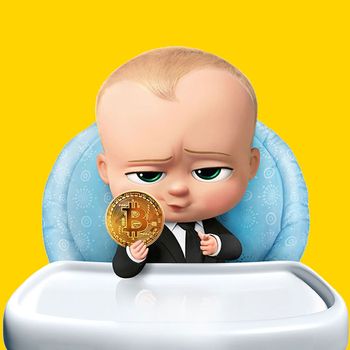 Photo-Illustration: DreamWorks; Getty Images
Ichim Bogdan Cezar, a man in Plymouth, U.K., thought he was ordering $4,100 worth of bitcoin-mining hardware on Amazon. Instead, he got a copy of the DreamWorks animated title The Boss Baby.
According to the Plymouth Herald, Cezar bought a Tanli ASIC Processing Bitmain AntMiner S9 for his brother-in-law in Romania, because Amazon didn't deliver the hardware to that country. However, when the package arrived, all it contained was a copy of The Boss Baby, a movie in which Alec Baldwin voices the "boss" of all babies who engages in a secret spy mission in a war between puppies and babies.
While Cezar initially struggled with getting a refund from the seller, a third-party operator using Amazon's marketplace, Amazon eventually helped resolve the matter and apologized to Cezar.
That said, the price of bitcoin has plummeted nearly 20 percent in the last 30 days, as the bubble on cryptocurrencies in general seems to have (momentarily) popped. The price of a DVD copy of The Boss Baby, a film that was nominated for an Oscar and had New York critic Emily Yoshida raving that it was a film that proved "we should not let bosses be babies, because they are babies," has remained relatively stable over the last month, making it (in the short term) a wiser commodity to hold on to.