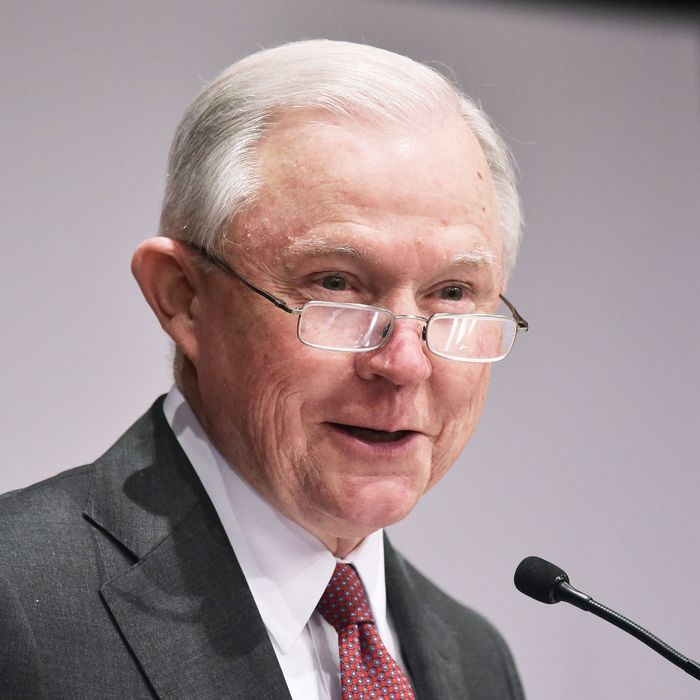 "Dream on."
Photo: MANDEL NGAN/AFP/Getty Images
Donald Trump has repeatedly suggested that he believes undocumented immigrants who were brought to this country as children — and who went on to obey all (non-immigration) laws, and graduate from college or secure gainful employment — should be allowed to stay in the United States. On the day the president ended Deferred Action for Childhood Arrivals (DACA), which had provided such immigrants with work permits and protection from deportation, he called on Congress to pass a legislative replacement for the Executive branch program. The president went on to say that if Congress failed to protect the program's former beneficiaries, he would "revisit the issue," and, ostensibly, protect them himself.
But that shouldn't be necessary. Last week, a bipartisan group of senators announced that they'd reached consensus on a DACA replacement bill: Even though the president and GOP leadership had claimed to support legal status for Dreamers as an end in itself (and thus should have been prepared to support legislation that does nothing but that), Democrats nonetheless agreed to back a DREAM Act that included funding for Trump's border wall, limits on the ability of legal U.S. residents to sponsor their adult children for immigration, and a reduction in diversity visas — provisions championed by Republicans and loathed by the progressive base.
And Trump took their offer as an insult.
Later, White House chief of staff John Kelly informed the senators that the administration did not merely want a Dreamer bill that could pass Congress with bipartisan support but one that could earn the approval of "conservatives like Sens. Tom Cotton (R-Ark.) and David Perdue (R-Ga.) and Rep. Bob Goodlatte (R-Va.)."
Tom Cotton doesn't like the term "Dreamers" — he prefers "illegal aliens." The senator is the lead sponsor on a bill to cut legal immigration in half. Demanding a bipartisan immigration bill that Cotton can support is like demanding a bipartisan agreement to cut Social Security that Bernie Sanders will gladly co-sponsor. If Barack Obama had made the latter request during "Grand Bargain" negotiations in 2011, everyone involved would have understood that he did not actually want to pass a Grand Bargain.
But Trump's grasp of political reality is so loose, it's genuinely unclear if he understands that he is asking for the impossible. And an internal White House memo, leaked to Axios on Friday, suggests that the president likely doesn't comprehend the absurdity of his position — and that his closest advisers on immigration want to keep it that way.
Shortly after Trump's meeting with the senators behind the bipartisan DACA bill, staffers from the Justice Department and DHS prepared an internal memo assessing the merits of the legislation. In a document titled, "Flake-Graham-Durbin Proposal Would Cripple Border Security and Expand Chain Migration," the staffers lamented that the bill:
1.Fails to Secure the Border: "provides less than 10 percent of the necessary funds to construct the border wall."




2. Increases Illegal Immigration and Guarantees Future Amnesties: "provides immigration benefits to certain illegal aliens who came to the United States as juveniles."




3. Proposal Not Only Grants Citizenship To Up to 3 Million "DREAMers," But Also Grants Legal Status to Their Parents: "grants a path to citizenship to an illegal population that is nearly five times larger than the population of DACA recipients."




4. Increases Chain Migration: "keeps chain migration in place while increasing the number of individuals eligible to bring in their foreign relatives through chain migration."




5. Fails To End the Visa Lottery.
It's worth remembering that Trump wasn't inclined to cancel DACA in the first place. It took a lawsuit from several Republican state Attorneys General — and an ultimatum from Attorney General Jeff Sessions — to get the president to cut the Dreamers loose. Even then, Trump had Sessions announce the termination of the program for him, and expressed openness to reviving DACA over Twitter on the very same day.
In September, a single conversation with Chuck Schumer and Nancy Pelosi convinced Trump to back a DACA bill that included no funding for his wall whatsoever. Less than two weeks ago, Trump told a bipartisan group of lawmakers that he would sign any DREAM Act that made it to his desk — and, momentarily, signed on to Senator Dianne Feinstein's proposal for a "clean" version of the bill that wouldn't include any border security measures at all.
After all of these incidents, immigration hard-liners in Congress — and far-right White House adviser Stephen Miller — guided Trump back toward recalcitrance. Miller has long been the most conspicuous obstacle to a deal. The Sessions acolyte and Breitbart darling has no interest in seeing Dreamers gain legal status. And as the administration's resident immigration policy wonk, he has repeatedly sent Congress the same long list of impossible demands, including proposals that lack the support of a majority of congressional Republicans, like a halving of legal immigration and $18 billion for a border wall.
The key revelation of the memo obtained by Axios is that Miller is not alone: Apparently, several of the administration's top immigration policy hands are also committed to sabotaging a Dreamer deal — or, at the very least, to jeopardizing such a deal by pressing maximalist demands.
This explains the incoherence of the White House's position. Trump is personally inclined, at least some of the time, to notch a bipartisan victory, claim credit for achieving something that Obama failed to do, and celebrate his success in convincing Congress to make a down payment on his wall. But he is also highly impressionable and deeply racist, and surrounded by far-right ideologues who are eager to exploit both those traits to their own ends.
At this point, the most viable path to a DREAM Act may be for Congress to simply ignore the White House, pass something roughly similar to the existing bipartisan proposal, and trust that, once the bill is in front of him, Trump will find the lure of a signing ceremony more compelling than the complaints of the West Wing's conniving nativists.