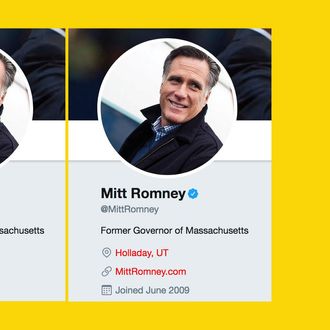 On Tuesday, president pro tem of the Senate, Orrin Hatch of Utah, announced he'd be stepping down next January after seven terms. Hatch, 83, holds the record as the country's longest-serving Senate Republican. Both President Trump and Steve Bannon had asked Hatch to run again, particularly when news broke that another famous Utah Republican, Mitt Romney, would seek the seat if Hatch stepped down. (Romney has been vocally anti-Trump, so it would be to the administration's benefit to keep him out of the Senate.)
Now it seems like he might be doing just that. Sahil Kapur, a politics reporter at Bloomberg, noticed that Romney quietly changed the location on his Twitter earlier Tuesday. At the start of the day he was tweeting from Massachusetts. By the day's end, Romney was located in good ol' Holladay, UT. Because he lives in Utah. And he'd like you to know it. Go Utah! UTAH!!!!
Folks, he's — maybe, probably, most likely — running.