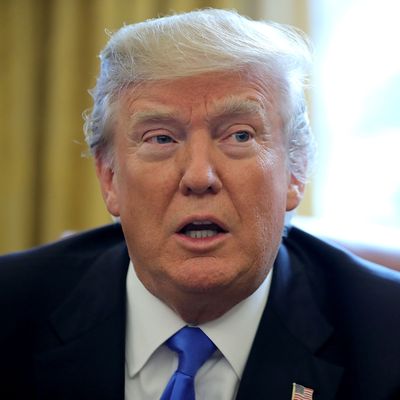 Trump.
Photo: Chip Somodevilla/Getty Images
Just before Christmas, the New York Times reported that while discussing immigration during an Oval Office meeting in June, President Trump had remarked that Haitians "all have AIDS," and that once Nigerians saw the United States they would never "go back to their huts."
The White House insisted that President Trump did not say anything of the sort. Press Secretary Sarah Huckabee Sanders said the top White House officials who were present "deny these outrageous claims," and remarked that it's "both sad and telling" that the Times would print such "lies."
On Thursday the Washington Post reported that while discussing protections for immigrants from Haiti, El Salvador, and African countries in the Oval Office, Trump remarked, "Why are we having all these people from shithole countries come here?" He suggested that the U.S. should be bringing in more immigrants from Norway, and singled out Haiti for special criticism.
"Why do we need more Haitians?" Trump he said. "Take them out."
This time, the White House didn't bother denying the comment. A statement from Raj Shah, the White House deputy press secretary, did not even directly address the "shithole" remark:
It's possible the White House didn't bother to issue a denial because this time Trump made the remark before multiple members of Congress, including Senators Dick Durbin, Lindsey Graham, Tom Cotton, David Perdue, House Majority Leader Kevin McCarthy, and Representatives Bob Goodlatte and Mario Díaz-Balart.
Or the White House may be betting that Americans have grown accustomed to a leader who kicked off his campaign by calling Mexican immigrants rapists and criminals, then repeatedly tried to ban immigration from several Muslim-majority nations, attacked the patriotism of black athletes who kneel during the National Anthem, and denounced the violence on "both sides" after a white-supremacist rally in Charlottesville, Virginia.
CNN's Kaitlan Collins reported that White House staffers aren't concerned about the blowback from Trump's remarks, and actually think it might help him with his base.
Presumably, most Republican lawmakers do not appreciate Trump making racist remarks about other nations — but many will tolerate it. The comment sparked predictable outrage from a long list of Democratic lawmakers:
Left-leaning journalists:
And people from the maligned countries:
Yet the number of Republican lawmakers condemning Trump's remarks was limited. Several were from Florida, which is home to an estimated 305,000 foreign-born Haitians. The most surprising response came from Florida governor Rick Scott, whom Trump is recruiting to run for the Senate:
If this report is true, it is absolutely wrong to say or think this. I do not think this way, nor do I agree with this kind of sentiment. I represent Florida, and we are an amazing melting pot where over 250 languages are spoken. I work every day to make this the most welcoming state for everyone — Haitians, Cubans, Venezuelans, and others from all around the world that call Florida home. I'm incredibly proud of our diversity.
Senators Jeff Flake and Marco Rubio responded on Twitter without clearly stating what they were referring to:
Senators James Lankford and Orrin Hatch allowed for the possibility that Trump was misquoted:
Representative Mark Sanford could only muster an "it is what it is."
Other Republicans did not respond to requests for comment, likely hoping that there will be some other controversy that pushes the "shithole" debacle out of the news. (Like Trump lashing out at Obama, perhaps?)
But there's already one GOP lawmaker defending Trump. Representative Lee Zeldin noted that he "wasn't elected for his ability or willingness to be politically correct," and isn't perfect, "but no president has ever been perfect."
Fox News made Zeldin's points much more forcefully. Jesse Watters of The Five suggested the remark was either an outright lie or proof of Trump's authenticity. "I think it's either fake news or if it's true, this is how the forgotten men and women in America talk at the bar," Watters said. "This is how Trump relates to people."
"If you are in a bar in Wisconsin and you are thinking they are bringing in a bunch of Haiti people or El Salvadorians [sic] or people from Niger, this is how some people talk," he continued. "Is it graceful? No. Is it polite or delicate? Absolutely not. Is it a little offensive? Of course it is. But you know what? This doesn't move the needle at all. This is how Trump is. He doesn't care. He shoots from the hip. And if he offends some people, fine."
And predictably, on his show and on Twitter, Tucker Carlson insisted Trump was right.
"President Trump said something that almost every single person in America actually agrees with," Carlson said. "An awful lot of immigrants come from this country from other places that aren't very nice. Those places are dangerous, they're dirty, they're corrupt, and they're poor and that's the main reason those immigrants are trying to come here and you would too if you live there."
The majority of Americans who are not among Trump's base might think the president should refrain from making racist comments about other nations, but according to the only news source he really cares about, he was right on the mark.