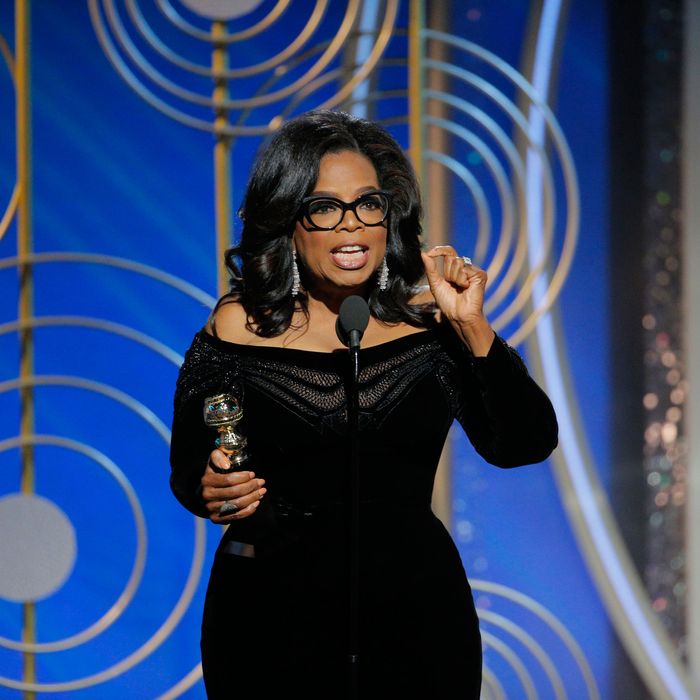 Oprah Winfrey.
Photo: Paul Drinkwater/NBCUniversal via Getty Images
One of the many hells that we've created for ourselves online is the personified brand. Faceless corporate entities participating in online culture and co-opting fun jokes in order to sell hamburgers and get you to watch This Is Us.
Last night, NBC's official account decided to livetweet the Golden Globes, offering running commentary as the ceremony proceeded. One tweet contained a GIF of Oprah Winfrey, the universally beloved celebrity, and the caption "Nothing but respect for OUR future president."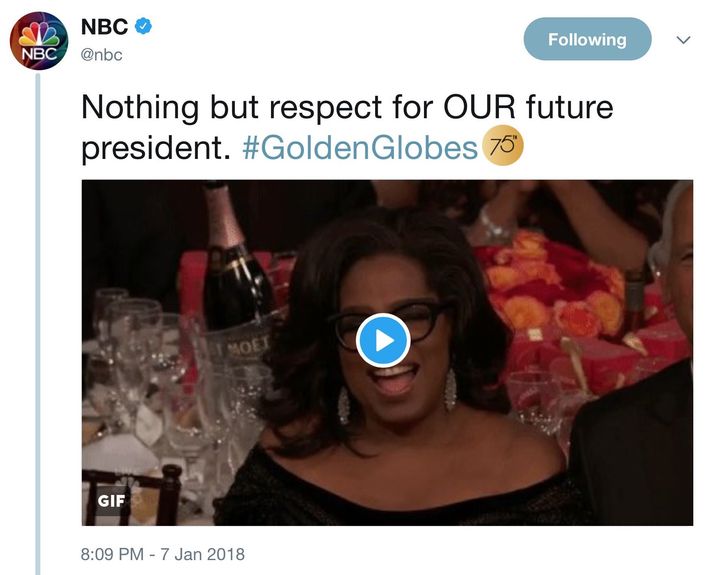 There are two ways of looking at this tweet. Maybe you see the tweet for what it actually is: a reference to a long-running meme in which a girl cleaned off Donald Trump's Walk of Fame star and captioned her tweet about it with "Nothing but respect for MY president." The post was quickly and widely parodied.
It's also a reference to a joke Seth Meyer made during the program last night.
Alternatively, it's possible that the brain worms have eaten large holes in your frontal lobe and you see NBC's tweet as some coded anti-Trump message. It would, after all, be absurd to suggest that a billionaire celebrity with no political experience could make it to the Oval Office.
All of this dumb backlash led NBC to get rolled by ridiculous right-wing outrage (maybe they missed the memo that online outrage doesn't really matter). The company deleted the tweet, blaming a third-party vendor that was running its account during the ceremony.
Anyway, that's one of many dumb controversies today. It's only Monday.