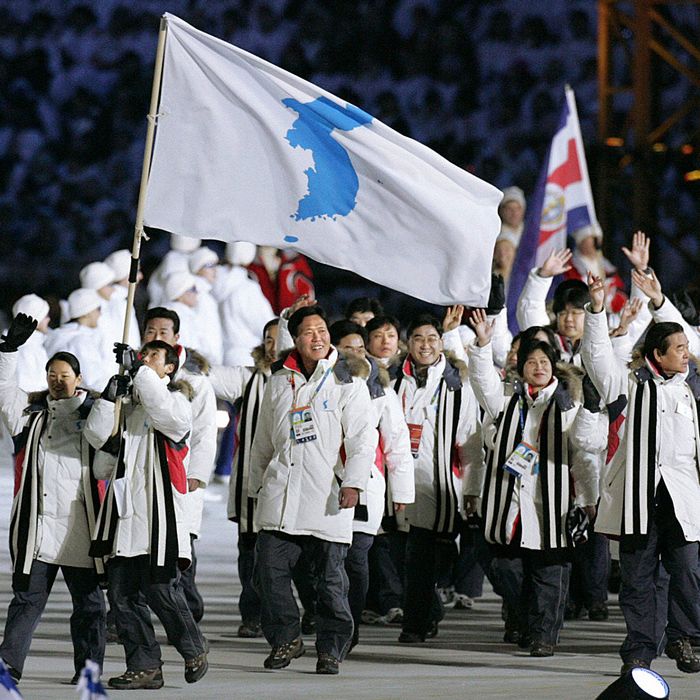 North Korea and South Korea marching under a 'unification flag' at the 2006 Winter Olympic Games in Turin, Italy.
Photo: Kyodo
Athletes from North Korea and South Korea will march under a unified flag at the opening ceremonies of next month's 2018 Winter Olympics in Pyeongchang, the South said Wednesday. The agreement to team up comes after the first major diplomatic talks between the two nations began earlier this month.
In addition to marching under the "unified Korea" flag, the two countries will come together to form a women's hockey team comprised of players from both nations. Ski teams from both countries will also train together at a resort in North Korea.
The agreement between Seoul and Pyongyang is a major step for the two countries, which have been locked in an increasingly tense standoff as North Korean leader Kim Jong-un continues nuclear and missile tests. It's also a win for South Korea's President Moon Jae-in, who was elected under a promise to pursue diplomatic solutions to his country's problems with its northern neighbor. Last June, he first suggested a unified team of North and South Koreans for the upcoming Games.
The last time the two countries marched under a unified flag was at the 2006 Winter Olympics in Turin, Italy. They also joined forces at an international table tennis tournament in 1991.
While the agreement is undoubtedly a positive step in inter-Korean relations, diplomatic leaders from South Korea's allies, including the U.S., are doubtful that it portends a long-term thaw in diplomatic tensions.
"I believe that North Korea wants to buy some time to continue their nuclear and missile programs," Japanese foreign minister Taro Kono said at this week. "It's not the time to ease pressure towards North Korea."