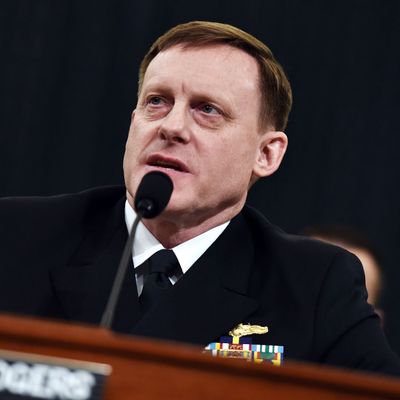 Admiral Mike Rogers.
Photo: Nicholas Kamm/AFP/Getty Images
National Security Agency head Admiral Mike Rogers is retiring in the spring, he reportedly told staffers in a "classified memo" Friday.
The memo has since leaked to NPR and Politico, among others. It's a fitting end to Rogers's four-year tenure at the NSA, which was marked by high-profile intelligence leaks and his efforts to prevent them.
Brought on in the aftermath of Edward Snowden's bombshell NSA leaks, Rogers was tasked with making sure nothing of the sort ever happened again. But he wasn't successful.
Rogers later ran afoul of the Obama administration in the waning days of 2016 when he met with then-president-elect Donald Trump at Trump Tower. The Washington Post reported at the time that Obama administration officials were lobbying the president to dismiss Rogers over the "unprecedented" move. He held on to his job though, which includes running the U.S. Cyber Command in addition to overseeing the NSA.
Though he stayed on under President Trump, Rogers didn't always see eye to eye with his new boss. Trump reportedly asked him last year to publicly state that his campaign did not collude with Russia, but Rogers wouldn't do it. His replacement is expected to be announced this month.