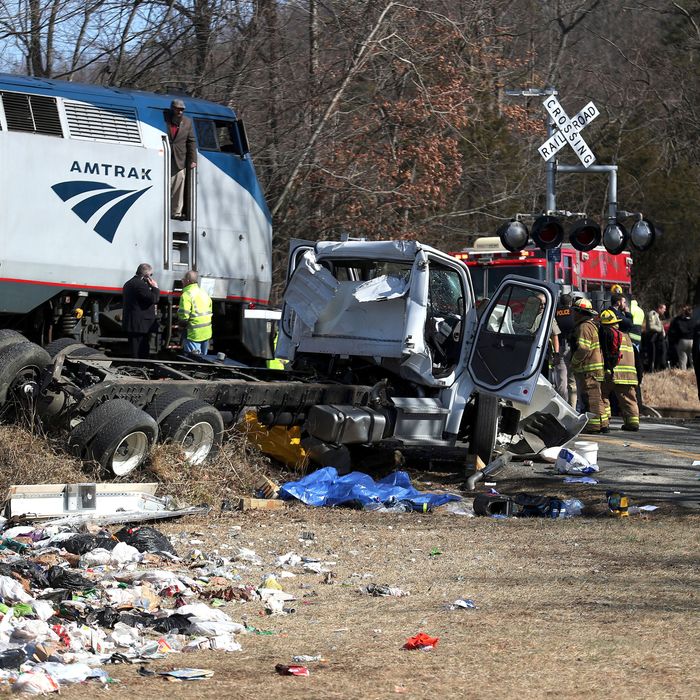 The aftermath of an Amtrak train crashing into a garbage truck.
Photo: Zack Wajsgrasu/The Daily Progress via AP
A train carrying Republican lawmakers and staffers to a retreat in West Virginia collided with a trash truck Wednesday morning, killing at least one of the truck's passengers.
Several members of Congress with medical backgrounds helped treat those on the truck, Representative Greg Walden of Oregon tweeted. Senator Jeff Flake told a reporter that he helped emergency crews when they arrived on the scene and said one person aboard the truck had died. White House press secretary Sarah Sanders confirmed the death in a statement.
"The president has been fully briefed on the situation in Virginia and is receiving regular updates. There is one confirmed fatality and one serious injury," she said.
"There are no serious injuries among members of Congress or their staff. Senior Administration officials are in regular contact with Amtrak and state and local authorities. Our thoughts and prayers are with everyone that has been affected by this incident."
"There was a feeling of an impact and you could feel we had hit something. It took us maybe a quarter-mile to stop," Senator Mike Lee told Ed O'Keefe of the Washington Post. He added that some people on the train were "roughed up. Most of us hit a knee or a head on the seat in front of us but nothing too serious onboard."
Lawmakers were on their way to the Greenbrier resort in White Sulphur Springs, which is owned by West Virginia governor Jim Justice. The retreat will go on as planned with lawmakers making their way via bus.