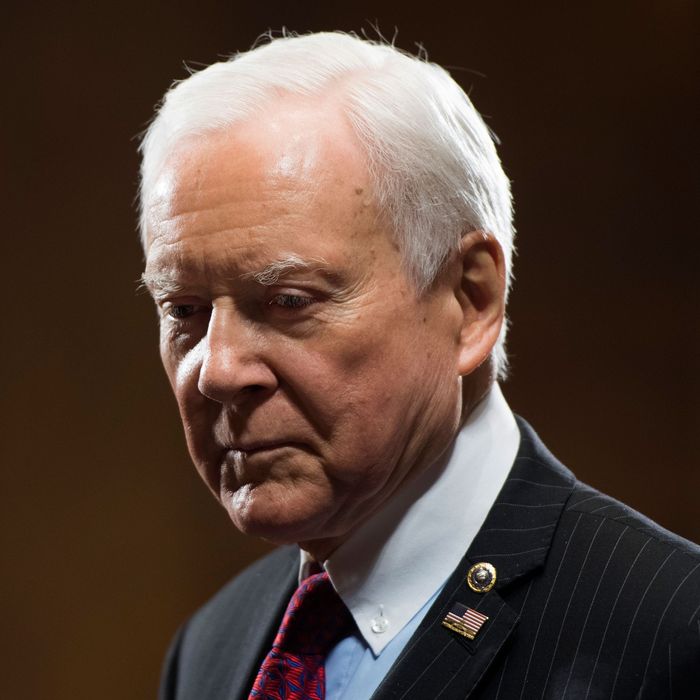 The very senior senator from Utah will not after all run for an eighth term, and will instead open a path to the Senate for Trump nemesis Mitt Romney.
Photo: JIM WATSON/AFP/Getty Images
After threatening to run for an eighth term this November, president pro tem of the Senate Orrin Hatch of Utah announced today he'd instead hang it up next January. The imminent departure of the 83-year-old Hatch opens the way for former Massachusetts governor and GOP presidential nominee Mitt Romney to run — or more likely cake-walk, given his popularity in Utah — for the seat.
Originally known as a fiery conservative when first elected to the Senate in 1976, Hatch gradually built a record of bipartisan policy accomplishments while chairing (or serving as ranking GOP member of) the Senate Labor and Human Resources, Judiciary, and Finance Committees. He had an unlikely but warm relationship with Democratic senator Ted Kennedy, with whom he worked closely on creating the Children's Health Insurance Program and the Americans With Disabilities Act. In 1997, National Review's Ramesh Ponnuru profiled Hatch as a "latter-day liberal." But despite annoying conservatives, he was invincible politically in Utah until 2012, when state legislator Dan Liljenquist won enough support from a nominating convention to push Hatch into a primary, citing both the senator's heresies from conservatism and his advanced age. (It was noted often that Hatch had claimed that veteran Utah senator Frank Moss was old and out of touch when he successfully ran against Moss in 1976.)
Hatch won his primary convincingly, but did promise his seventh term would be his last. That became a real problem for him when at various points in 2017 he began publicly considering yet another race. A Salt Lake Tribune poll last August showed 78 percent of Utahns wanting Hatch to retire. This sentiment seems to have been enhanced by reports that Mitt Romney would run for the seat if and only if Hatch stepped down.
Hatch's future became a national political football last year. Trump adviser and Breitbart News chief Steve Bannon initially listed Hatch as one of the targets of his right-wing purge of insufficiently Trumpian Republican senators. But when the Romney talk started, Bannon abruptly switched tactics and began begging Hatch to run yet again. A friend of Bannon — the president — tried to talk Hatch into sticking around during a late-year visit to Utah.
But it was all to no avail. Hatch apparently viewed the enactment of the GOP tax bill — which came out of his Finance Committee — as something of a career capstone. And so Trump & Co. will probably have to come to grips with a Senator Romney in 2019, a man with the national stature to become a lightning rod for anti-Trump sentiment in the GOP just as the 45th president prepares for a reelection campaign.