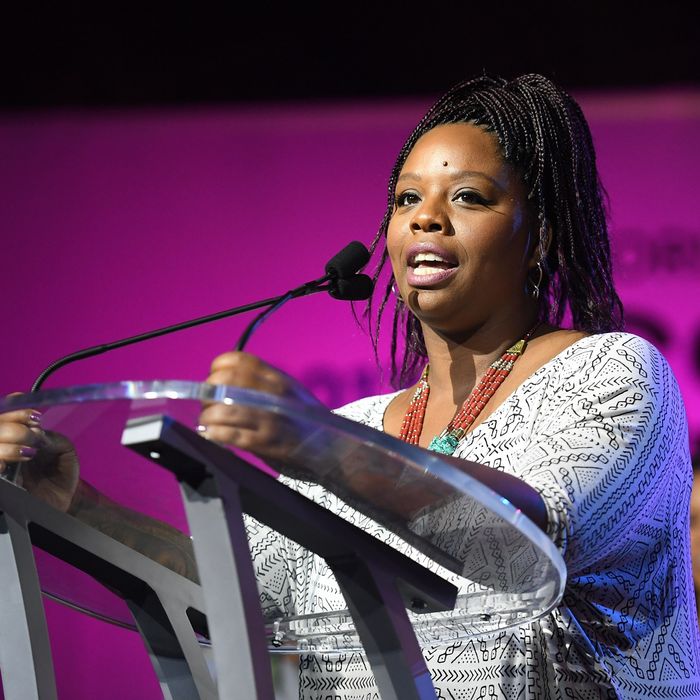 Khan-Cullors.
Photo: Paras Griffin
In the days following Donald Trump's election as the 45th president of the United States in 2016, Patrisse Khan-Cullors took solace in a talk from astrophysicist Neil deGrasse Tyson. Khan-Cullors listened as Tyson explained how humans, and the atoms and molecules in their bodies, are made out of the very stardust that helped create the universe. "And I know when I hear Dr. deGrasse Tyson say this that he is telling the truth," wrote Khan-Cullors in her upcoming memoir, When They Call You a Terrorist, "because I have seen it since I was a child, the magic, the stardust we are, in the lives of the people I come from."
She saw it in her brother, Monte, diagnosed with bipolar schizoaffective disorder, whose repeated, violent encounters with police she still carries with her today. She saw it during the fallout of the Trayvon Martin case, when George Zimmerman was acquitted. And she's seen it over and over again in the nearly five years since she co-founded Black Lives Matter, an international social movement to address systemic state violence facing the black community. Now, the organization, and its leadership, is facing questions about how it evolves and takes the next steps forward in the time of Trump. Called "unpatriotic," "criminals," and "terrorists," the movement is aiming to make a larger mark on creating legislation and social justice that can reflect the change needed in the larger conversation to protect and fight for black people.
As Black Lives Matter is set to celebrate its fifth anniversary later this year, Daily Intelligencer talked with Khan-Cullors about how her brother's encounters with police helped shape her, the current state of the movement, and where she sees Black Lives Matter going. Questions and answers have been edited for clarity and brevity.
You had a challenging life growing up in Los Angeles, specifically your time in Section 8 housing in Van Nuys. I was struck by your relationship with your father and how, at an early age, he emphasized to you that you, and your life, mattered. For you, how important was it to have someone like him stress it to you in what were less-than-ideal conditions?
It was powerful. I think so much of my life had me growing up under extreme poverty and really challenging conditions, with having the police in my neighborhood and seeing the impact of over-incarceration. Having a father love up on me and remind of who I was, and my strength against those conditions, really shaped why I'm an organizer today.
One of the more jarring parts of your story involves your brother, Monte, who was later diagnosed with bipolar schizoaffective disorder, and his repeated, violent encounters with police. When you were 14, Monte, then 19, was beaten over the head with billy clubs, shocked with a Taser, and choked unconscious. (He was sentenced to 32 months in jail for fleeing the scene.) How did his experience shape you?
It was painful. It was very traumatic. They talk about secondary trauma a lot. If you read about trauma, the person who witnesses the trauma also suffers trauma. Many call it survivors' guilt. I carry a lot of survivors' guilt, less now than I did then. It became this repeated story of him going in and out of jail, and living in a very precarious position. You didn't know when your loved one would be kidnapped again, you didn't know if they would be alive again. It caused a lot of anxiety when I was a child.
A big turning point for you, and your trajectory, came in 2012 when you first learned about the fatal shooting of Trayvon Martin. What made his story, and the acquittal of George Zimmerman, resonate for you in such a visceral way at that point of your life?
You know, with Trayvon and when he was first murdered and George Zimmerman getting acquitted in the murder, I was knee-deep in supporting one of my mentees and a case he caught where he was sent to prison for ten years. Mind you, nobody died or was physically hurt. I watched him receive a harsh penalty for a big mistake that he made, but I saw nothing happen to George Zimmerman who killed this human and took this child away from a family on purpose. I really had this moment. And in that moment when George Zimmerman was acquitted, I had a revelation of how this country is really targeting black people. We are the targets. That sentiment became central for Black Lives Matter.
Shortly after Zimmerman's acquittal in the summer of 2013, you wrote #BlackLivesMatter in a Facebook post from friend Alicia Garza echoing the outrage and sadness of the moment. (Garza would later co-found Black Lives Matter.) What were you feeling when you wrote that? Did you understand what could potentially come of it?
A lot of things. I think that's why I wrote the book. It wasn't just about the moment. It was a cumulative experience of growing up poor black in America. And that moment was so central for me, because I was so angry and devastated. There has to be another way we can shout aloud about our experiences. There has to be another way to galvanize people, galvanize the moment, galvanize the hurt. When Alicia wrote that black lives matter, it became clear we needed a hashtag to make it go viral. But we also needed a conversation to make sense of why it mattered.
Nearly five years into Black Lives Matter, what do you think is the current state of the movement? As a co-founder, what do you the perception is about the movement?
I think it's been a lot of things for a lot of different people. It's been a call to action, a sense of urgency. It's been a loving affirmation that black lives matter. It's been a viral hashtag, but also the name of a movement and organization. We've been able to use Black Lives Matter to have a broader discussion not just in white communities but also communities of color. Black Lives Matter has become central to the argument in this moment of 45 [President Donald Trump]. The first thing 45 said when he came into office was that it would be a law-and-order government. And we've seen that, we've seen the impact.
Speaking of the president, how do you think his administration has impacted Black Lives Matter during his first year in office? What's changed for you all?
It's been disorienting. He came out within first 100 days with the Muslim ban, the transgender ban, he brought in Jeff Sessions. He was very clear he was developing, and playing to, his alt-right base, and we saw that in his first 100 days. I think our movement has recalibrated and we're clear our focus is local. We're seeing groups across the country fighting locally and we're seeing the result of that. Because of that, the movement is morphing and taking a new shape on the legislative side.
During the next three years of his term, in what other ways do you see this administration affecting Black Lives Matter?
I think what people have to remember is this is a long-haul fight. The fight against 45 is not just against him. It's a bigger fight against white supremacy. It's a bigger fight against patriarchy. It's a fight against classism. 45 just happens to be the central figure of all those things right now, but if we had Hillary Clinton instead, we'd also be fighting against patriarchy and classism right now. But 45 allows for Mike Pence to exist and Jeff Sessions to exist. He allows them to become really powerful.
You've talked about how it's a terrifying time to be an organizer on issues like these. What drives you to keep doing this work?
I've been in this work since I was 16. I'm 34 now. I've spent pretty much half of my life in the movement. I've seen some of the most powerful amplification in this current time. I think what we're seeing in this moment — over the last 15 years of being in this movement — I could have never imagined we'd be in a moment where white supremacy is used like this, where we're talking about sexual violence like this, where we're calling out the corruption in law enforcement. What it does mean is that we're pressing on, even when we're not getting the media attention we think the work deserves, you keep doing the work. And that's what actually transforms systems.
The movement has certainly had its detractors, with the most vocal being from conservative media and pundits. This comes through in the title of your memoir, which is impossible to ignore — When They Call You a Terrorist. How does it make you feel when people call you and others associated with the movement terrorists?
We definitely didn't get into this movement for praise. What's been really clear for me is I'm accountable to those most directly impacted by violence. I'm accountable to my family. If I'm not upsetting someone on the right, or in power, then I'm probably not doing the right thing.
A large theme in your message in your memoir is that black women have more power to influence — and lead. This was evident last month in Alabama, where 97 percent of black women voted for Doug Jones in his upset victory over Roy Moore for the state's open U.S. Senate seat. What kind of a reminder do you think Alabama was for the role black women can play in initiating change?
What we're seeing in this moment is black women being the main architects and strategists of this movement. That's always been the case, but not always been at the forefront or even visible. We can't deny anymore that black women are saving America from 45 and the same for what happened in Alabama with Roy Moore. It's time not just to talk about black women at the forefront, but invest in them.
You've said and wrote that your goal with Black Lives Matter is to change the culture around these issues that have long been overlooked. How far do you think you've come in accomplishing that so far?
Good question. You know, I think what's so powerful about Black Lives Matter is we're the first movement able to take on law enforcement and make it a popular discussion. Up until this movement began, we had dozens of TV shows that popularize law enforcement as heroes and humanize them, and completely dehumanize us. Through Black Lives Matter and social media, we've been able to have a really challenging discussion with America about police and how much it is investing in policing. What we're seeing with Black Lives Matter is we've been able to shift the conversation. While we do use protests and civil disobedience in order to have a broader conversation, we're working on legislation and building legislative justice. That's been really powerful.
The evolution of the movement's mission, shifting the initial conversation from the
acquittals in these police-related shootings involving black people to anti-black racism as a whole, has been a fascinating one. Some have even gone so far to say that the phrase "Black Lives Matter" is too radical or alienating. Why does it remain crucial for you, and others in the movement, to keep initiating these discussions and telling these stories that some continue to brush aside or overlook?
With any movement, there's sort of the height of it. We've had our climax, but the story doesn't end. The story continues. Many of us are writing our books now. We're telling our stories, which I think is so important. So many other people have tried to tell it. We get to tell it from our point of view. We're organizing not just a global network, but also building new ones. People see others, like Elon Musk, and all the projects he's doing, but people might have a hard time seeing that black women do it, too. Black Lives Matter is one iteration of a much larger struggle to fight for black people's freedom.
For you, how does Black Lives Matter move forward from here?
I think our next phase, like any good organization, involves planning and going into strategic planning. The next phase is us asking, "What have we been able to do and accomplish? What do the next five or ten years look like?" I think that's an important next step for us and our movement. We haven't had the time to sit and strategize; we've been reacting. The next phase in 2018 is, "let's pull our sleeves up and see what the next five years look like."
I heard your child crying in the background a few minutes ago. About 30 years ago, that was you. What would you tell your younger self about what she'll go through, Black Lives Matter, and the moment you're living through right now?
I would tell her that your black queer life matters. Everything that you have fought for, for your family and yourself, you will see the fruits of your labor, that you and your community will be seen and heard.