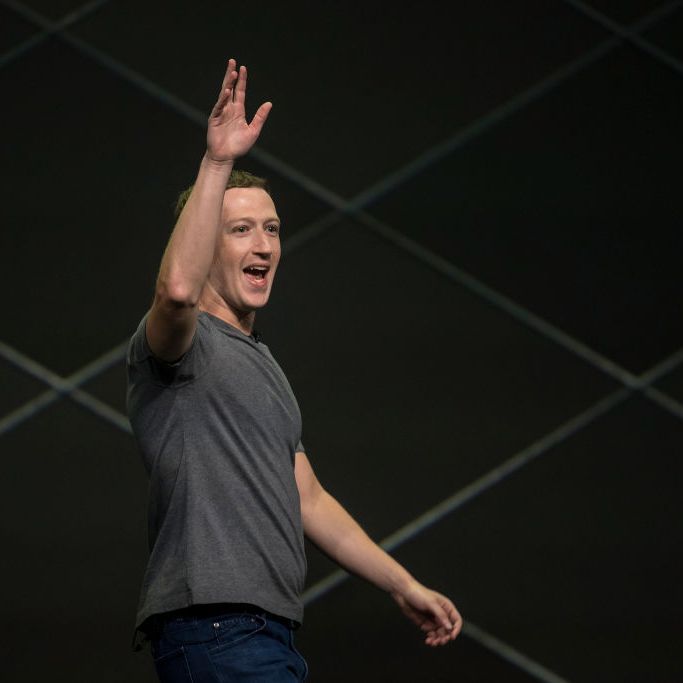 Mark Zuckerberg.
Photo: David Paul Morris/Bloomberg via Getty Images
With Facebook releasing its annual earnings report today, Mark Zuckerberg and Facebook are at an interesting moment. Both need to appear to be doing a bit of soul-searching in order to become, in a very Facebook-ian sense, more likable.
Zuckerberg spent the past year on a epic road trip and now regularly posts aw-shucks updates to Facebook about his life and growing family. Perhaps this is for the purely mercenary reason that he has become a living metonym for his company, or for the completely human and understandable idea that almost no one wants to be unliked. Facebook, while consistently posting stunning financial results throughout 2017, has found itself at the center of press and governmental scrutiny for everything from being used by Russia to meddle in the 2016 election to illegally allowing advertisers to exclude minorities from real-estate advertising.
When Facebook released its third-quarter financial results, Zuckerberg opened with a quote saying that Facebook needed to change. "Our community continues to grow and our business is doing well," he said at the time. "But none of that matters if our services are used in ways that don't bring people closer together. We're serious about preventing abuse on our platforms. We're investing so much in security that it will impact our profitability. Protecting our community is more important than maximizing our profits."
Today Facebook released its fourth-quarter and annual earnings report, and on paper it's a pretty picture. Facebook grew its advertising revenue by 49 percent year-over-year, and beat investor expectations by a good margin. But Zuckerberg opened with a similarly grim quote: "2017 was a strong year for Facebook, but it was also a hard one. […] Already last quarter, we made changes to show fewer viral videos to make sure people's time is well spent. In total, we made changes that reduced time spent on Facebook by roughly 50 million hours every day. By focusing on meaningful connections, our community and business will be stronger over the long term."
Two things to note here. One, while that 50 million fewer hours per day seems huge, it's important to place in that context of Facebook's 2 billion users:
Two, I would love to be able to see the analytics within Facebook that show that downplaying viral videos in the News Feed is the reason for this drop in users. (Anecdotally, viral videos are still very prevalent on my News Feed, and I'm not alone.) Because a cynic might think that Facebook is seeing less engagement time from its daily users so Zuckerberg chose to cast that as a noble sacrifice for the long-term good of the community and company, instead of people spending less time on Facebook for many, many other reasons.
Longer term, after-hours trading saw Facebook stock has lost nearly 4.5 percent of its value. It's not uncommon for stocks like Facebook to take dips like this after annual financial reports and quickly regain lost ground by morning as investors snap up slightly cheaper shares. But if Facebook's stock price were to go down significantly, or its earnings per share were to shrink, you have to wonder how many more financial statements would come with quotes from Zuckerberg openly discussing declining user metrics, or promises to put profits second.