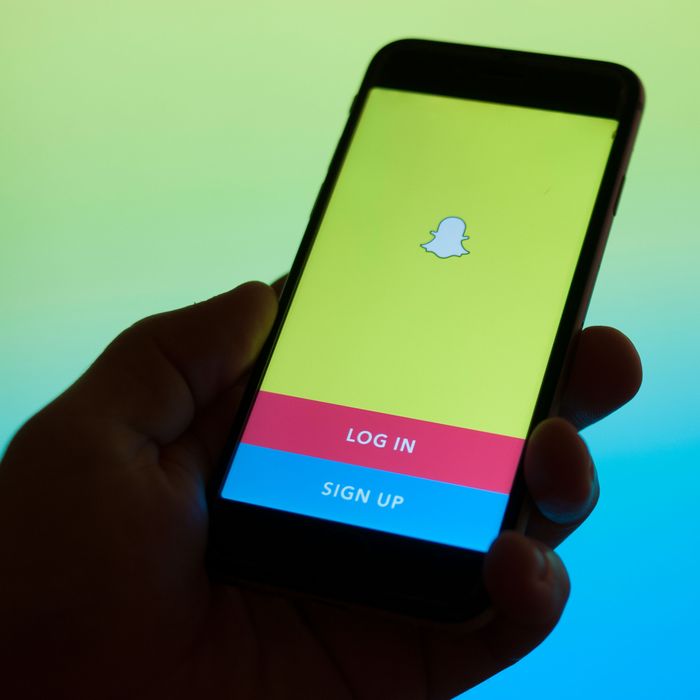 Photo: Jaap Arriens/NurPhoto via Getty Images
Snapchat announced that it would be redesigning its app back in November, in an attempt to make it more user-friendly. (Also in an attempt to stop the company from hemorrhaging any more money.) In a letter to investors, CEO Evan Spiegel noted that changes to the app would likely be "disruptive" to the company's business, at least at first. "We're willing to take that risk for what we believe are substantial long-term benefits to our business." Early reviews — read: Snapchat's Twitter mentions — are in and, well, Spiegel was right. This is definitely going to hurt Snapchat in the near future. Which is to say, people in the United Kingdom, Australia, and Canada — the only places where the redesign is as yet available — really don't seem to like the new Snapchat.
Changes in the new Snapchat include the removal of the Stories page. All stories are now shown on the left panel — this is where you'll see stories from people you follow and chats from friends you've been messaging with — of the app, and rather than using a chronological sort will now be sorted algorithmically. (Something app users historically love to complain about and then eventually get over.) The Discover section of the app will now integrate Snap Map and celebrity content alongside content from publishers.
TechCrunch analyzed the reviews of the newest version of the app in the Apple App Store and found that 83 percent of them were negative. Popular terms in those reviews included "new update," "Stories," and "please fix," Tech Crunch also reports. In Australia, Google searches for "how to get the old Snapchat back" have seen an increase. Snapchat hasn't announced when the new app will be available in the United States. Enjoy it while you can.