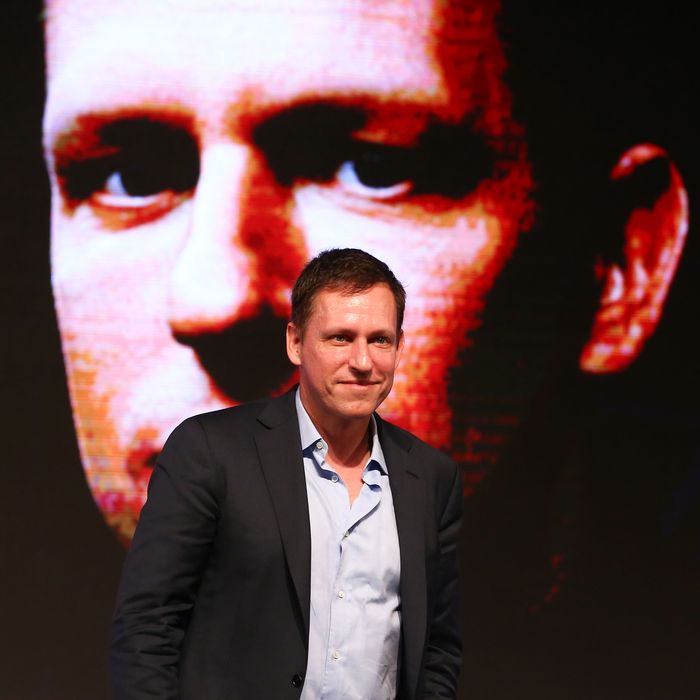 Peter Thiel.
Photo: Jose Image/VCG via Getty Images
Tech industry billionaire Peter Thiel has, according to Reuters, placed a bid for the remaining assets of Gawker Media. Should he succeed in acquiring the company's remaining assets, he will likely take the site offline for good, capping a decade-plus-long secret war against the famous (and infamous) gossip blog.
To recap: More than a decade ago, the Gawker subsidiary Valleywag published the fact that Peter Thiel is gay, a fact that was not a secret among Silicon Valley, but not necessarily known to the wider world. Thiel was not pleased, at one point likening Gawker writers to terrorists.
A few years after that, Gawker published commentary on and edited excerpts from a sex tape of Hulk Hogan. Hogan, represented by attorney Charles Harder, sued the site, owner Nick Denton and the post's author, A.J. Daulerio, claiming that the post violated his privacy. During the trial, Hogan's legal team dropped the one charge that would have been covered by Gawker's insurance policy, making them much more financially vulnerable should they lose. Suspicious! At this point, rumors began circulating that Hogan might have a mysterious benefactor bankrolling his legal case.
Eventually, in the spring of 2016, a jury found in favor of Hogan, and awarded him a staggering $140 million in damages, enough to bankrupt the company. Around the same time, Thiel revealed that he was the one funding Hogan. In August of 2016, all of the Gawker Media sites save for Gawker.com were purchased by Univision. Gawker.com was placed in stasis, its archive still online. Now, that archive is up for auction, and Thiel has submitted a bid to buy it.
It is not known how much Thiel bid on the website, and the bankruptcy-plan administrator does not necessarily have to select the highest bid. Thiel can, however, ask a judge to step in if his bid is significantly higher.
Should Thiel purchase the site, his ownership will be the latest event in a dark chapter for press freedom in America, in which a billionaire funded an outside lawsuit concerning a truthful piece of information, exploiting the court system to bleed a publication dry before it could appeal the verdict (First Amendment cases are often won on appeal) and then buy its corpse. Thiel has denied funding other lawsuits against former Gawker Media sites, but the attorney he hired, Charles Harder, is the legal representation in a few of them.
Furthermore, should Peter Thiel acquire the site, he will own some of the first, trailblazing coverage of celebrities currently under scrutiny amid the #MeToo movement, including posts about Harvey Weinstein and Louis C.K. Gawker also famously put renewed attention on the lengthy history of sexual-assault allegations against Bill Cosby. Thiel will control some of the most scathing coverage of the rich and powerful, including articles about himself and the current president of the United States. He will also control the fate of blog posts like "Why No Orange Pie?"
Thiel is well-known and, somehow, still well-respected among Silicon Valley's leaders, despite his attack on the free press and despite throwing in with the Trump campaign (he spoke at the RNC and then advised the presidential transition). Despite his efforts to suppress voices that he disagrees with, he remains one of eight members on the board of Facebook, the most powerful information-distribution network in the modern world.