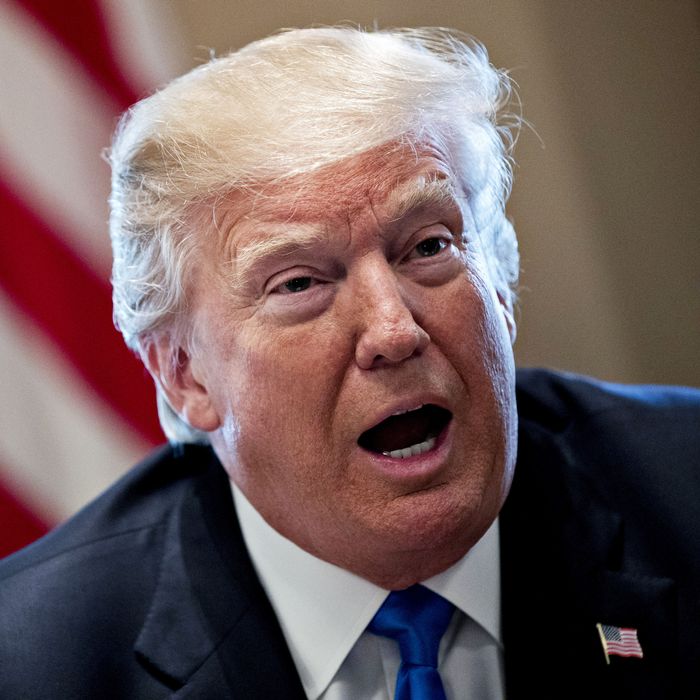 "Shithole."
Photo: Andrew Harrer/Bloomberg via Getty Images
In an Oval Office meeting Thursday, President Trump lashed out at lawmakers advocating for the immigrants from Haiti, El Salvador, and African nations and referred to the countries as "shitholes," the Washington Post reports.
"Why are we having all these people from shithole countries come here?" Trump reportedly asked. The lawmakers in the meeting, which included members of both parties, were "taken aback" by the comment, the Post says.
The language is new, but Trump has made his distaste known for the programs that allowed immigrants from those countries to remain in the U.S. And he's acted to reverse them. In November, his administration announced plans to strip 60,000 Haitians living in the U.S. of protected immigration status. Then earlier this month 200,000 Salvadorans who came to U.S. after a 2001 earthquake were told they need to leave by September of 2019 or face deportation.
In a statement, the White House did not deny Trump's "shithole" comment.
According to the Post, after Trump's "shithole" line he suggested that the U.S. admit more immigrants from nations like Norway. It was not immediately clear why Trump prefers immigrants from Norway over those from Haiti and El Salvador.