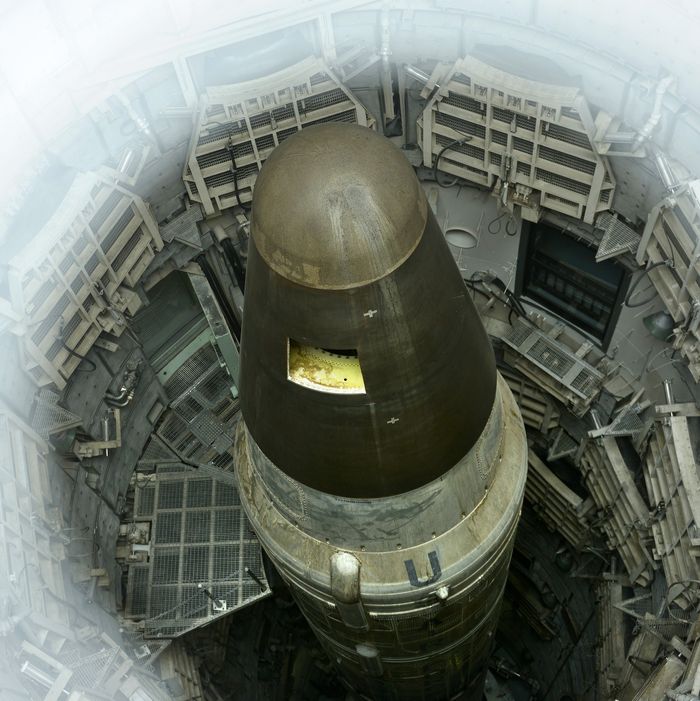 A deactivated Titan II nuclear ICBM.
Photo: Brendan Smialowski/AFP/Getty Images
The Wall Street Journal reported on Monday that the Pentagon plans on developing two new sea-based nuclear weapons to respond to Russian and Chinese military threats, according to a broad new Defense Department strategy that was ordered up by President Trump a year ago.
One of the weapons is a warhead that could be used in conjunction with a Trident missile, a rocket deployed on U.S. Navy submarines. It would take about two years to produce.
The other is a nuclear-tipped cruise missile, a revival of a system that had been dropped from the arsenal in 2010.
The Pentagon's rationale for the production increase is that Russia and China have not followed the United States' lead on de-emphasizing nuclear weapons, so the U.S. must adjust its strategy. "While the United States has continued to reduce the number and salience of nuclear weapons, others, including Russia and China, have moved in the opposite direction," one draft of the plan said.
The report contends that developing the weapons will also help the U.S. deter North Korea's nuclear aggression, which has ramped up at a far faster rate than experts had predicted.
Many critics disagree with these lines of thinking, but the proposals appear to have broad support within the Pentagon.
Last week, HuffPost published details from what appeared to be a different preliminary draft of the administration's Nuclear Posture Review, the final version of which is scheduled to be released in February. It emphasizes that the proposed new weapons are "low-yield" compared to standard nuclear weapons, though that hardly means they cannot cause tremendous destruction.
No strategy has been approved by Trump yet, but he has not been shy in the past about his enthusiasm for more nuclear weapons. In October, NBC News reported that he expressed interest in a tenfold increase in the country's arsenal, which has declined precipitously from its peak in the 1960s.
Trump's attitude is a radical departure from President Obama, who signed a major denuclearization treaty with Russia in 2010, and spoke of a world free of nuclear weapons altogether.
The Pentagon's program may encounter one major hurdle: cost. The Journal reports that a full nuclear modernization could eat up about 6.4 percent of the Defense Department's budget, more than double what it currently spends on nuclear weapons, and that "if the Pentagon doesn't secure the spending increases it anticipates, this could heighten the competition between nuclear and nonnuclear programs for budgetary resources."