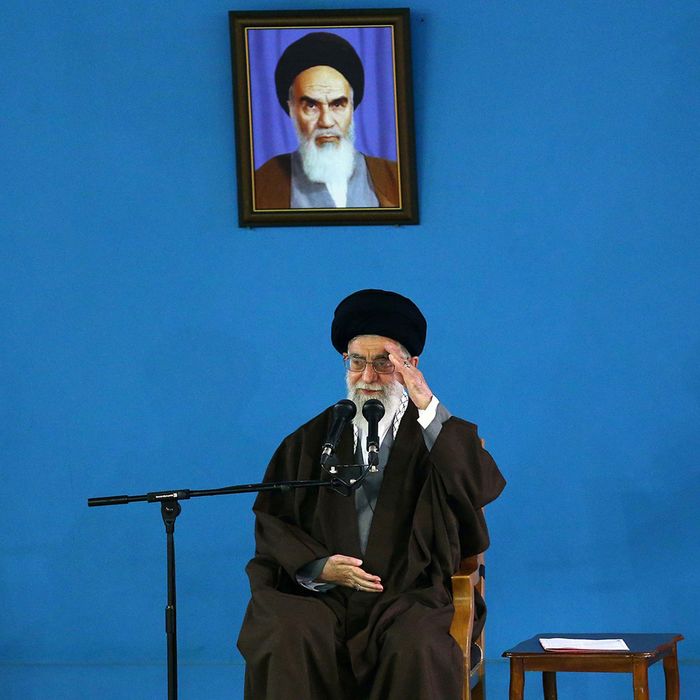 Ayatollah Ali Khamenei.
Photo: Anadolu Agency/Getty Images
President Trump announced Friday afternoon that he would extend sanctions relief to Iran for one more 120-day period, thus keeping President Obama's nuclear deal alive. But Trump said that if European allies did not renegotiate the deal to his liking during that period, he would terminate it.
In his statement, Trump makes clear that he is still no fan of the 2015 agreement, which he has repeatedly criticized as a "bad deal," "terrible deal," and "the worst deal ever" since mounting his run for the presidency.
He then outlines the terms under which he would agree to waive sanctions again in four months. They include an expansion of the deal to include Iran's ballistic missile program, an end to the agreement's expiration date, and automatic triggers for inspections of Iranian nuclear facilities. None of these provisions hold much appeal to the European allies Trump wants to renegotiate the deal with, but Trump insisted that he was serious about ending the deal if he doesn't get what he wants. "This is a last chance," the U.S. president said in the statement. "In the absence of such an agreement, the United States will not again waive sanctions in order to stay in the Iran nuclear deal."
The Trump administration also announced a round of sanctions aimed at Iranian figures who had helped suppress recent street demonstrations that turned violent. The most prominent among these is Sadeq Larijani, the head of the country's judiciary.
The violent street protests that have spread throughout much of Iran in recent weeks seemed like effective pretext for Trump to reimpose sanctions, since he could argue that Iran's sclerotic regime was on its last legs, and that the U.S. had even less reason than normal to prop it up.
But that move would likely play into the hands of the country's hard-liners, who could plausibly argue that America really is as devious as they have warned over the years, while creating even more tension in the Middle East. Trump's pro-deal Cabinet members, like Secretary of State Rex Tillerson and Defense Secretary James Mattis, appear to have won the day with this line of thinking, for the time being.
As on so many other foreign-policy matters, the United States finds itself isolated on the issue. The European countries which signed on, including the U.K., France, and Germany urged the U.S. to stay in on Thursday, claiming that Iran has been holding up its side of the bargain since the deal was signed. Those countries have vowed not to bolt the agreement even if the U.S. pulls out, but Iran's foreign minister Mohammad Javad Zarif said Thursday that "Iran's continued compliance [is] conditioned on full compliance by the U.S."
In October, Trump said that he would not certify the deal, a dramatic but largely ceremonial gesture that he is expected to repeat this week. He also told Congress to beef up enforcement provisions, warning he would pull out altogether if they did not. But despite Republican proposals to do so, the Senate has taken no action.
Sarah Huckabee Sanders said on Thursday that Trump "still strongly believes this was one of the worst deals of all time."